Samaria Gorge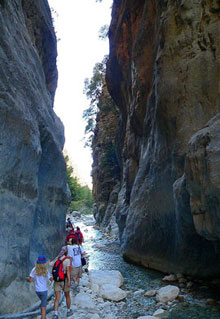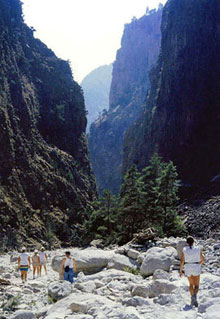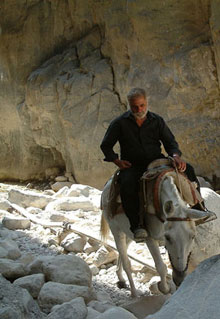 The Samaria Gorge is one of the longest gorges in Europe, 18km long and it will take you about five to seven hours to walk through it. There are guides that may accompany you and give you details throughout your exploration but you can also do it yourselves.
The gorge starts from Xyloskalo or a wooden stair, as it is translated in Greek, which helps the quick descendance. The trail follows the river bank along a beautiful forest with tall trees and a magnificent view. When you reach the church of Agios Nikolaos, 4km from the starting point, you can rest for a little while and enjoy the view before you move on. You will notice that the mountains are raising high and imposing reaching a level of over 2.000m from the sea.
Nothing can compare to the amazement and awe once you start walking and looking around, noticing its subtly unique beauty or the exhausted sigh of victory once you reach the end and look back at what you've accomplished. Have your eyes open since walkers usually have the opportunity to see a kri-kri on the way, meaning wild goats.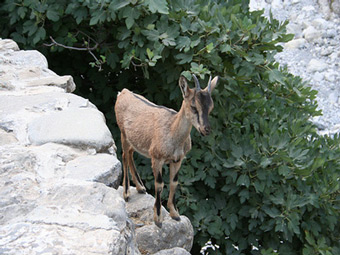 The most beautiful part of the route is Sideroportes where the opening of the two sides of the gorge are only 3m and 600m high. At the back you will notice that there is a view of the deep blue sea.
Most walkers can't wait to reach the end of the gorge, the village called Agia Roumeli, from where you can take the boat and go to Sfakia and then back to Chania by bus.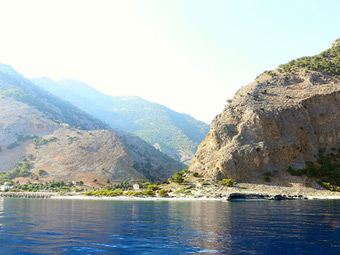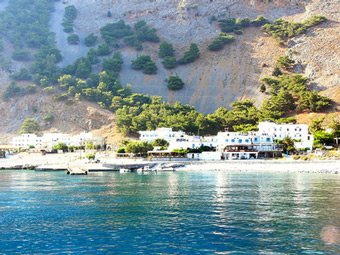 Just note that the gorge is a National Park and things like spending the night, lighting fires, collecting flowers or other plants, smoking or drinking alcohol are prohibited. Also remember to arm yourself with thick socks and suitable shoes.