Kythnos
It's been a year but a few months since I visited Kythnos. It was June and it was actually one of the very few islands that visiting was not my idea; it was Hope's, my best friend. She'd heard about Kythnos' hot springs and wanted to visit them. So, we both took our spouses and children and went to Kythnos.
While we were traveling, as usual, I tried to give Hope and the rest some information about this island and what it's like. Surprisingly, Hope had done her homework and took the chance to inform the others herself.
Kythnos (or Thermia, as it's locally known because of those hot springs) attracts more Greek visitors than foreign tourists. Why is that? Well, there are certain things that a tourist wants to find at the island he's going to visit: people, nightlife, sites. Kythnos doesn't really have many things to offer.
OK, let me be honest. Here's how I see it: you should visit Kythnos. It deserves the time you'll offer it. But. make sure you combine your visit with a trip to another island nearby. See, Kythnos is one of those special islands that you visit only for a specific reason, but that reason is good enough to do so. It's kind of like Delos: it's a great place, but who would visit it without paying a visit to Mykonos as well? OK, you can't exactly spend a night at Delos so my example was bad, but I hope you get the gist.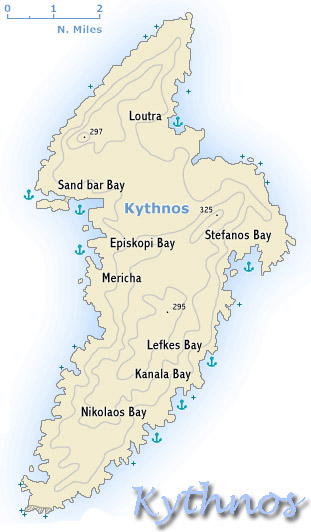 What does Kythnos look like?
Kythnos has three major cities, each of them with its own kind of charm. The capital, for example, Hora, is a beautiful mix of red roofs and Cycladic cube-shaped houses. It's not as ravishing as other Cycladic capitals, but it struggles to get there. Dryopida has red-tiled roofs as well, along with winding streets. It's a picturesque town that used to be the island's capital in the Middle Ages. As for Merihas, it's a typical Greek fishing harbor, a laid-back, cheerful and tidy place. Kythnos, quiet and barren, has a dramatic, rugged interior that makes it ideal for walking.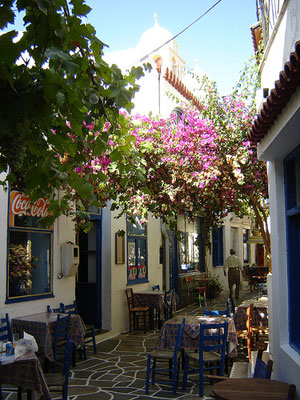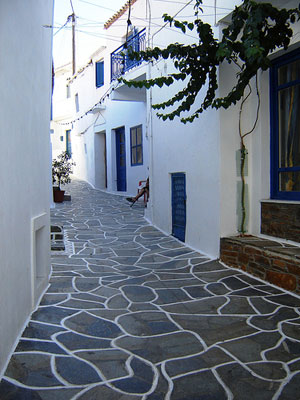 Are there any places I should visit?
First of all, there's the church of Agios Savvas. Founded in 1613 by the Venetian Cozzadini family whose coats of arms it bears, this church embraces both Orthodox and Catholic worship. The remarkable carved, wooden iconostasis (17C) is on display. You can also see the date of the building on the lintel above the great door.
Another church you should visit is the Basilica of Agia Triada (Holy Trinity). Recognizable by the ancient architectural remains on the ground beside it, it's the oldest church on the island, even though it's not really noticeable. See, its present-day appearance is a result of numerous modifications undertaken over the centuries.
Finally, there's the Monastery of Panagia tou Nikous. Its long white outer wall can be seen from afar. Under Turkish occupation, a clandestine school was hidden in its cellar. Further south, a path leads to the Hordaki locality where the ancient monastery of Prodromou stands, containing a carved, wooden iconostasis from the 16th century.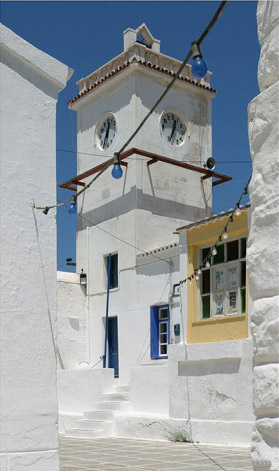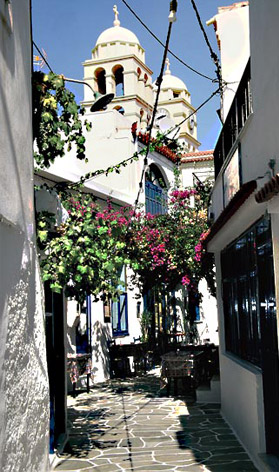 How about Kythnos' archaeological and historical sites?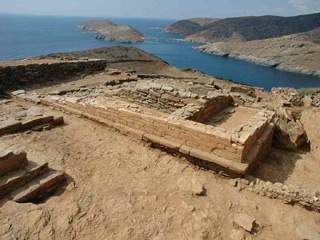 The only place that comes to mind is Vriokastro, the ancient capital of Kythnos. Probably inhabited since the end of the 5th century BC, it occupies a vast site stretching as far as the islet of Agios Loukas. There, you can still see three water tanks dug out of the rock. The foundations of a tower and the defensive wall of the city are preserved, now partially submerged.
Are there any good beaches in Kythnos?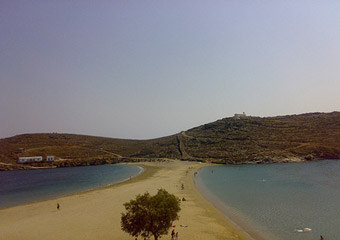 The island actually has about 65 beaches. You'll find the best of them further north along the coast from Merihas.
The nearest beach to the port is Martinakia but if you don't mind the walk, the beach of Episkopi is a lot better: a 500 metre stretch of sand with a lone taverna. Then there's the beautiful bay of Apokroussi with large trees fringing the sandy beach. Flambouri and Agiou Dimitriou Bay are yet another two brilliant choices.
The most popular beach of Kythnos has to be Megali Ammos, which has a taverna and rooms to let. Small coves are dotted along the eastern stretch of coastline from Kanala to Agios Stefanos.
Of course, when I say "popular beach", I don't include Loutra in that list. Loutra is the island's biggest attraction, with its mineral-rich waters in the north, where the radioactive thermal springs are widely believed to have curative properties. The sulphurous springs can reach temperatures of 52 C! These waters can heal people suffering from all kinds of conditions, from rheumatism and arthritis to gynecological problems, which is why so many people visit Kythnos just for this place.
Where should I eat in Kythnos?
First of all, there's Ostria, on the waterfront near the ferry quay. It has reasonable Greek fare and seafood is by the kilo. Then there's Taverna to Kandouni, near the port police on the waterfront. To Kandouni specializes in grilled meats. Yalos in Merihas has tables on the beach and does a fine pikilia of Greek starters and great specialties like kalogiros (a casserole of meat, aubergines, tomatoes and feta).
What about Kythnos' nightlife?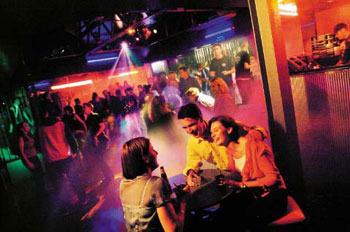 As I said before, Kythnos is not big on the way of nightlife. However, there are a couple of bars that are decent enough for you to visit. First, there's Byzantino, in Merihas. Then there's Akrotiri, in Merihas again, an open-air night club. Finally, Kousaros and Apocalypse, in Hora and Dryopida respectively, are music bars that attract the very few night owls of this island.
How do I get to Kythnos?
There are three services per week to Piraeus, Sifnos, Milos and Serifos. A catamaran goes to Mykonos and Tinos once per week too.