Limnos
Have I mentioned my friend Hope before? Well, now I will. See, Hope's dad's hometown is in Limnos, so she was my official guide when I visited this beautiful island. This was about twenty years ago. I'd known Hope for years and I'd wanted to go with her and visit her home island for years before we finally did, actually, but there was one slightly. gigantic problem: her grandma.
You know how grandmas can be, right? Well, imagine Hope asking her if she could bring a friend with her, a friend that happens to be a guy, and have him sleep at her room. That would equal marriage. or murder! So, when her grandma couldn't go to Limnos last year, we finally found the chance we had been waiting for and went together.
Now let me talk facts. No, wait, they're interesting facts, don't scroll down just yet. OK, so Limnos is the mythological landing place of Hephaestus. What does that mean? Well, according to mythology he was thrown from Mount Olympus by Hera because she didn't want him when she saw how ugly he was - hence the god's walking with a limp. Limnos has been thought to be the home of Hephaestus mostly due to its volcanic origins.
Limnos is a quite peaceful place. It's suffered from the presence of the military that left it isolated from the tourist BOOM in the seventies and eighties. But thankfully, now Limnos uses this fact to promote itself and its semi-seclusion. See, even in high season, you shouldn't expect the mass tourism that you will find in other Greek islands. I know I did (Hope always exaggerates, I should have figured it out) and I was happily 'shocked' to see that while there were people around me, they were not stepping on me, if you get what I mean.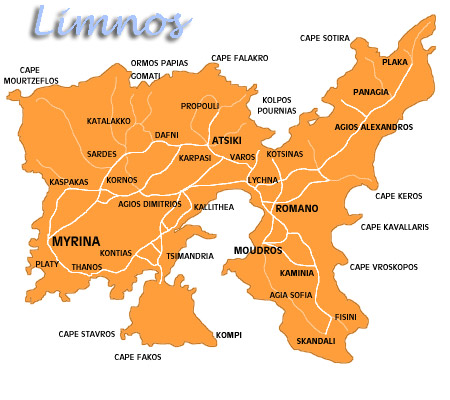 What does Limnos look like?
Well, Limnos reveals a quite surprising diversity of landscape: numerous unspoilt bays (the centre of the town is actually squeezed by two bays: the gulf of Mudros to the south and the bay of Pournias to the north).and rocky points, sandy beaches and fishing harbors, surrounding a rustic interior with several lakes and pink flamingos. OK, did that sentence make any sense? Well, more or less, that's what you will find in Limnos. Myrina, along with the rest of the island, is not especially touristy. It has cobbled streets, late-Ottoman houses and an unpretentious bazaar.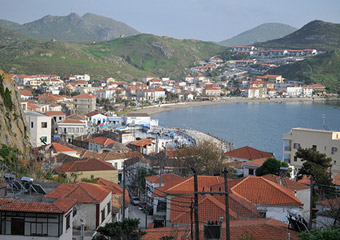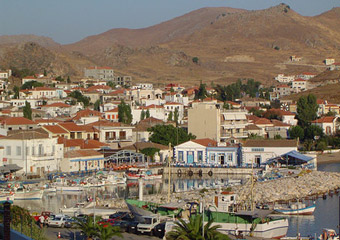 Why should I visit Limnos?
As I stated, Limnos is a beautiful, somewhat silent island; low profile, if you like. If you can't handle the mass of tourists that roam the Greek islands, then Limnos will be a refreshing option. It's not like it's an insulated place though either! There are people and there are definitely places that you can visit - as I said before, it's the military that caused this lack of tourism, not that the island doesn't deserve the attention. Anyway, read more and you will see why Limnos is worth visiting.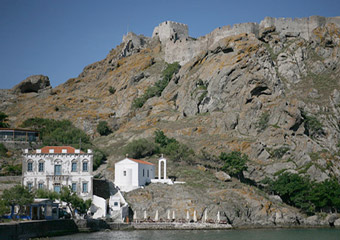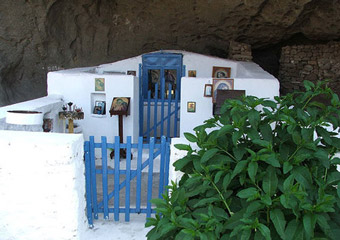 Which places should I not miss in Limnos?
Since I'm always separating the places you should visit from the archaeological sites, this section is not going to be too big. See, most of the places you should see in Limnos are of either archaeological or historical value.
OK, so let's start with the archaeological museum. The Museum is a three-storey building located on the Romeikos shore near the high-school that displays items from the numerous sites of the island (Myrina, Poliohni, Ifaisteia, Kaveirio) which have been excavated by Italian archaeologists. The most striking exhibit of the museum is the famous copy of Love, a work by the sculptor Lyssipou.
Other than the museum, there are three places you should not miss: the bay of Agios Ioannis, the island of Agios Efstratios and the Sahara of Limnos. Let me take them one by one! The bay is an attractive cove lined with several pretty beaches, crystal-clear waters and sand. The island, named after a missionary saint who prayed there, is 33.5 km south of Limnos. Nature is intact in the island that has no asphalt roads and is ideal for lovely walks. You can access most of its splendid beaches by boat. As for the Sahara, it's a very appropriate nickname for Limnos' unique landscape of desert-like sand dune.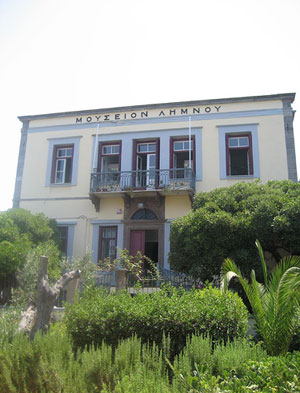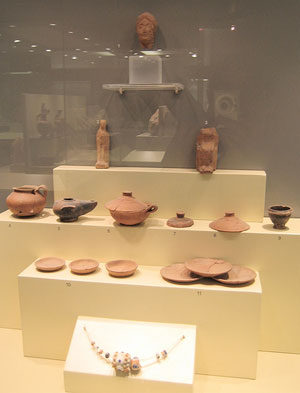 What about the archaeological and historical sites?
Have I ever told you I'm a fortress person? I mean. OK, here's the thing: every Greek island (and city for that matter) has a bunch of archaeological and historical sites, one more important than the other. And I love visiting all of them; I enjoy learning things and admiring the breathtaking beauty of the past. But the time of my life is when I visit a fort. It might be the Fortezza's fault, I don't know, but I really love forts.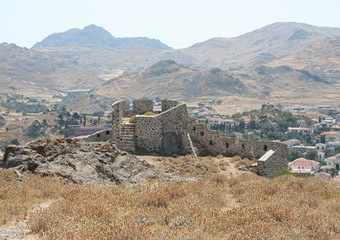 Thankfully, most Greek islands (or all of them?) have at least one. But my two favorite forts are the one in Rethymno and this one in Limnos. The Kastro spreads across the headland; it was once the island's acropolis. It is a Byzantine fort but its foundations date back to the classical times, when it was the site of a temple of Artemis. Generally, it has been modified by the Venetians, the Genoese and the Ottomans who took the island in 1478. But. you know what the best thing about this Kastro is? Its amazing views. It makes an excellent evening climb just for views over western Limnos.
Another place you should not miss is the Ifaisteia. Situated on the shores of Tigani Bay, it was founded by the Pelasgi and used to be the largest city on the island until the Byzantine era. It's obviously named after the patron deity of Limnos, Hephaestus (Ifaistos in Greek). Most of the site has yet to be completely revealed and all that is visible are outlines of the Roman theatre, parts of a necropolis and foundations of Hephaestus's temple, but it's still quite impressive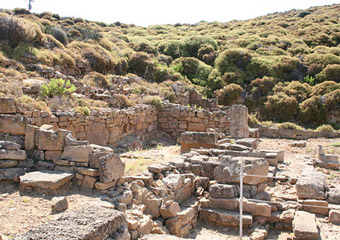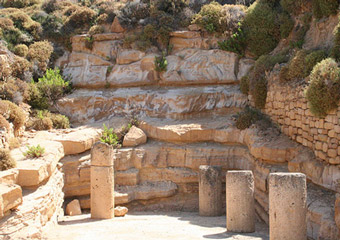 Right across Ifaisteia you will find Kaveirio (or Kabeirio), which is more thoroughly excavated. It's named after Kaveirioi, gods who were worshipped in Limnos. Unfortunately, little remains of the shrine and its stoa other than a number of column stumps and bases.
Below the ruins, steps lead down to the Cave of Philoctetes, a sea grotto that takes its name from the wounded Homeric warrior who was supposedly abandoned there by his comrades on their way to Troy until his infected leg injuries were healed.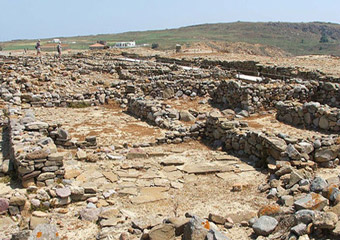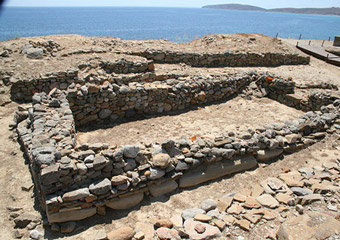 If you take the coastal road to the north, you will reach the Ruins of the Sanctuary of Artemis Selene. Built in the 7th century BC for the patron saint of Myrina, they're currently hidden inside the.
But, OK, let me put it this way: if I were Limnos, Poliohni is the place I would take pride in. Its beautiful ancient ruins may not be as impressive as others, but do you know that it is among the oldest of the organized communities in Europe? It's even older than the legendary Troy. Besides, the site has been well restored and many stone houses are scattered along the street endowed with a well.
Does Limnos have any decent beaches?
Well, I could say 'no', but my photo album from my vacation there would say otherwise. So, yes, Limnos has a couple of decent beaches. First of all there's Riha Nera that, as its name implies (Riha Nera=Shallow Water), is ideal for children. Then there's Rea Maditos near the city, quite wide, and Avlonas Beach, a non-organized paradise with mirror-like waters. Agios Ioannis beach is Hope's favorite. It's surrounded by huge volcanic rocks and has crystal-clear waters. As for the one I adored the most, that's Thanos beach, surrounded by rocks as well, with fine sand and azure waters.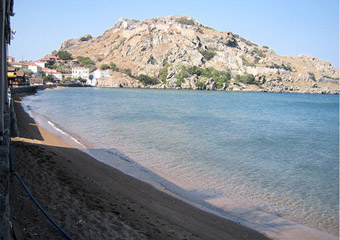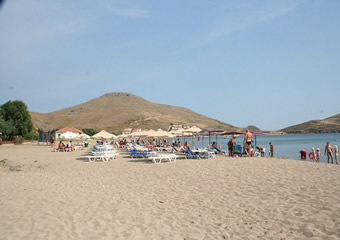 What about eating?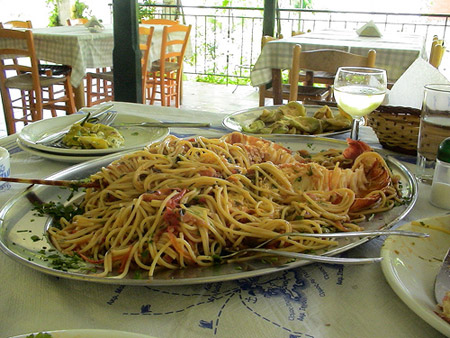 OK, I should inform you that Hope gave me a piece of her mind quite a few times so that I could write this section. What do I mean? Well, she has a house and a kitchen, so paying for food was not something she planned for or intended to do, but I made her come with me and eat out so that I could check Limnos' restaurants. So, basically, four are the places I think I can recommend to you.
First of all, Avra. It's where the boats dock and it's simply one of the best restaurants in town. Then there's O Glaros, in the Turkish harbor, which will cost you pretty much 20 euros, but the view of the castle and especially the lobster will be worth it. O Platanos has excellent traditional fare and is suitably situated by a pair of plane trees. As for Thanasis Taverna, it's a fairly obvious community-run taverna that stands overlooking the harbor and serves quite delicious dishes.
Does Limnos have nightlife?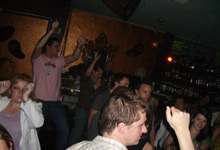 I'll be honest with you. Limnos is not exactly famous for its nightlife. I mean, don't get me wrong, there are a couple of bars and dance spots you could visit, but Limnos is mostly a calm island. Most of the bars are along the stretch of Riha Nera, but there are also some scattered in the rest of the island, like Kapatkios on the beginning of Romeikos beach, a quite decent bar and pub.
OK, how do I get there?
The airport is located in the centre of the island, 22 km from Myrina, north of the gulf of Moudros. There are 3 flights per day in the summer from and to Athens or Thessaloniki. If you choose to come by boat, you will have to leave from Rafina in Athens, not Piraeus. There are 4 ferries per week in the summer. Myrina is also connected to Thessaloniki, Kavala, Lesvos, Chios, Samos, Kos, Rhodes and Kalymnos.