Samothraki
It was about eleven years ago when I decided to visit Samothraki and it was June. Unfortunately, we had already made plans to go to Crete again and stay in my family's house and no one was in the mood for another trip before that. Plus, Samothraki is an island difficult to access so I was pretty sure they'd say no. So I chose to just let it go and bring it up another day.
But then something happened that changed everything. They forgot my birthday. As you can understand, I didn't say anything; I just let it pass and decided to not talk to them until they realized what they'd done. One day later, Leela was the first one to remember. As you can guess, I was pretty angry and I didn't want to forgive them. but then I changed my mind and told them I'd forgive them if we went to Samothraki.
One week later, we were traveling to Samothraki. If you exclude the moments when I reminded them that they forgot my birthday (just to mess with them), I'm happy to say it was ten times better than they thought it'd be.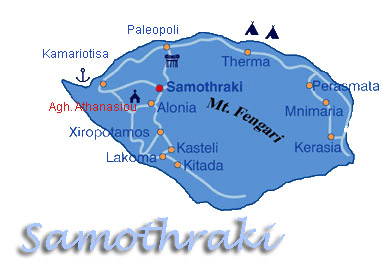 What does Samothraki look like?
Samothraki's natural attributes are dramatic, big and untamed. There are thick forests of olive and pine, dense shrubbery and damp, dark glades where waterfalls plunge into deep, icy pools. Hora nestles almost invisibly in a circular pine-flecked hollow. The streets are twisting cobbled, the houses are crumbling, basalt-built and red tiled, some of grey stone while others white-washed. The landscape is brooding.
Are there any places I should not miss in Samothraki?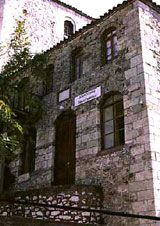 First of all, I have to mention the island's major site's museum: well laid-out, with English labels, its exhibits include terracotta figurines, vases, jewelry and a plaster cast of the Winged Victory. The island also has a little Folklore museum; I didn't get to visit it unfortunately, but I hear it's pretty good.
The most popular base of Samothraki is Therma (alternatively known as Loutra): an attractive setting with a profusion of plane and horse-chestnut trees, dense greenery and gurgling creeks. Therma is a spa hamlet; the hot springs are divided into three categories, depending on the temperature of the waters. Taking a bath there will undeniably be a great experience, even if you don't have arthritis or rheumatisms.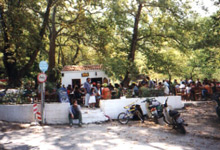 Finally, you can walk along the Fionas River to the Vathres rock pools. After an easy 40-minute walk along a fairly well-marked track you will come to a large rock-pool fed by a dramatic waterfall. Locals call the river "The Murderer", because the winter rains can transform it into a raging torrent.
What about the historical and archaeological sites of Samothraki?
This time, I'm not going to focus on the island's Kastro, even though I love castles myself. I'm just going to make an honorable mention to this crumbled Byzantine-Genoese fort at the edge of town, which I just did, and move on.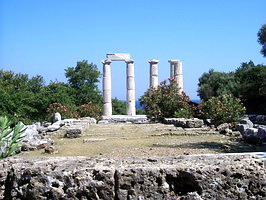 So, the place I want to focus on is the Sanctuary of the Great Gods. This magnificent site, lying in a valley of luxuriant vegetation, used to be the major religious centre of the Aegean. The ruins that are still visible today are mostly late Hellenistic. Though overgrown, they're still eerily impressive; obvious monuments include a partly re-erected temple of the second initiation. The site's most celebrated relic though, the Winged Victory of Samothraki, cannot be found there; it's in the Louvre in Paris. The whole site is labeled in Greek and English. So, make sure you absorb everything from this place; see the sacred rock; be stunned by the prominent Doric hieron; discover the remains of a theatre nearby; follow the path to the Nike Monument; approach the ruins of the ruinenviereck, a beautiful medieval fortress. Discover the Sanctuary.
Yeah, I know this sounded like a movie trailer, but I hope it convinced you of this site's beauty.
What about Samothraki's beaches?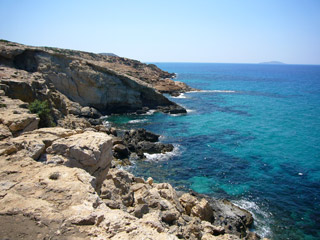 To be honest, Samothraki doesn't really have many magnificent beaches. Luckily, there are a few that are well worth visiting. For example, there's Pahia Ammos, on the south coast, a superb sandy beach nestled between two arms of rock that extend into the sea.
Vatos Beach is equally postcard-perfect, but it can only be reached by tour boat. It's sandy and scenic and it's used mainly by nudists.
Finally, Kipos Beach, on the southeast coast, has no facilities or shade, but it's secluded and the waters are crystal-clear, ideal for snorkeling and diving. It's kilometers-long and pebbly.
Where should I eat in Samothraki?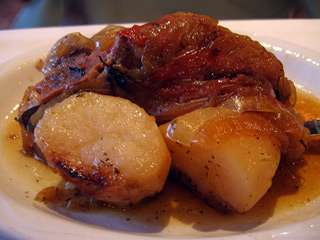 There are several good restaurants in Samothraki. First of all, there's Klimataria Restaurant, at the eastern end of the waterfront road. This pleasant place serves an unusual specialty called gianiotiko: an oven-baked dish of diced pork, potatoes, egg and other goods. Definitely try the pastitsio.
I Synantisi is pretty good as well. It serves excellent fresh fish. Psistaria Pizzeria Skorpios on the other hand serves great home-made pizzas and grilled meat.
Fengari Restaurant in Loutra cooks its food in traditional Samothraki ovens. It is hidden away on a backstreet.
What about Samothraki's nightlife?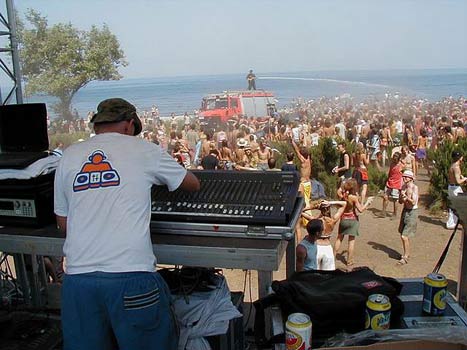 Again, I'll be honest. A meal and a night cap or two before bed is about as lively as it gets in Samothraki when it comes to nightlife. There are the occasional barakia (small bars) on the waterfront of Kamariotissa that buzz with locals and tourists or visitors in the summer, but the entertainment is essentially laid-back.
How do I get to Samothraki?
There are three daily flights from Athens to Alexandroupolis. Then, there are daily ferries crossing from Alexandroupolis, occasionally twice a day in the summer and at least twice a week from Kavala. There are also daily hydrofoils from Alexandroupolis.