Thirasia
They say that Thirasia is a small-sized Santorini. It is a small Greek island situated on the west of Santorini in the Cyclades. Its population reaches up to 250 people and its inhabitants are mostly occupied with agriculture. The islet's cliffs are less sheer than those of Santorini but ascending its 250 steps from the port is quite difficult especially during the summer that the weather is very hot. The view of the caldera from Thirasia is quite stunning as well as the sunsets and sunrises.
The only beach of the island is full of pebbles and pumice and not sand at all. You will find it next to the small harbor. The only track of the island will lead you to the church of Agia Irini which is said to have given Santorini its current name (Santa Irini - Santorini).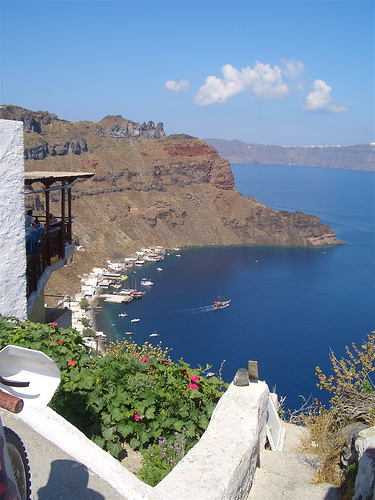 Santorini and Thirasia were once an item but they were separated by a severe earthquake in the third century B. C.
Tourists usually get to the island by boat as a part of a volcano trip that first gets you to Nea Kameni for a visit to the crater of the volcano then at the hot springs of Palaia Kameni for swimming and then to Thirasia for a few minutes before they head to Oia for the sunset. When I decided to take my own volcano tour our guide didn't even let us get off the boat when we were to Thirasia to my great disappointment. The island looked absolutely beautiful and picturesque with a few people sitting here and there, a tavern to the right and a building that looked like a hotel. The idea of spending a night there crossed my mind but as a local informed me afterwards this hotel was closed since all the tourists that stayed there had a problem moving to and from Santorini since there are no frequent boat transportations. So the hotel had to close down. This suddenly filled my heart with disappointment. It was such a waste! Someone had spent so much money in order to build a hotel in an island such as Thirasia that would also help the locals profit from tourists. From their reaction during the volcano tour and their comments it was obvious that the tourists really like the place and that they wouldn't mind spending some time there if they had a way to visit Santorini. It's not just me; the local people complain about this as well, you can understand why.
There is a waterbus that sails from Amoudi (the small port below Oia) at midday and returns at 5 pm (ask the local travel agents for more information). It's free of charge and goes to the village of Riva from where you can take the bus and go to Manolas. Agia Irini, the church mentioned above is in Riva. I have also heard of a boat that sails from the old port of Fira but this may not be the best solution since it doesn't operate regularly.
What I'm sure of, though, is that Thirasia will astound you as most of its visitors.