Nisyros
There's this thing you probably should know about me: I'm an obsessive person. I mean, I'm not a psycho, but I can get very obsessive when I find a certain thing I like. When I was a kid, I was obsessed with mythology. I've also been obsessed with movies, songs or TV-series, I've been obsessed with foods, celebrities or maybe even things like being ambidextrous. Oh God, I think I spent an entire month of my life trying to learn how to write with my left hand before I decided to give it up. I still use the keys and eat or brush my teeth with my left hand.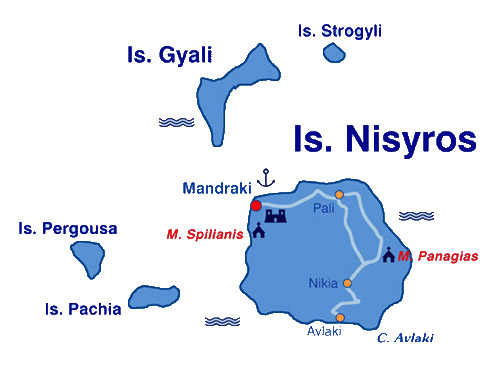 What's the point of me telling you this?
When I was around 15, I got a new obsession: natural disasters. I think it was a movie I'd seen, but I'm not sure. Anyway, I suddenly started searching for books and movies that would include floods or earthquakes or volcanoes. As you may imagine, I wanted to visit Santorini that year. I wanted to see the volcano. But my parents wouldn't let me; maybe they thought I was too young for Santorini, or maybe they were scared. Anyway, since I couldn't visit Santorini, Nisyros was my next option.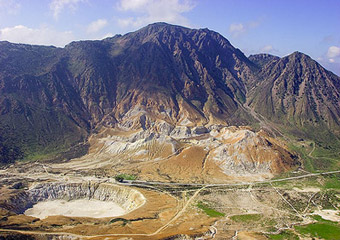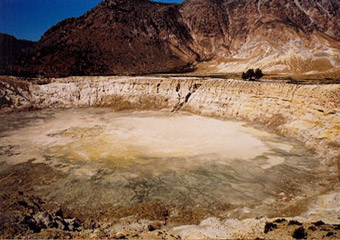 Now, some left-over from my mythology obsession years: legend holds that Nisyros used to be one with Kos until Poseidon, the god of sea, tore it from it while pursuing the Tiran Polyvotis, then hurled it on top of him and trapped him underneath. They say the miserable Titan still sighs and fumes, unable to escape. Of course, that's just the island's volcano.
What does Nisyros look like?
First of all, let me say that this story I told you, about how Nisyros was created? Well, it has some geological background. Nisyros was indeed a part of Kos once.
Someone once called Nisyros the Polo mint island: green outside, white in-side and with a hole in the middle. I'm not sure if this really applies, but if it does, I hope I'm right about what white stands for: the white houses with the wooden balconies that hang cheerfully from them. I also think I know what green stands for: Nisyros is lush and green, with terraces of olives, figs and almond trees. Now that I think about it, the hole in the middle could stand for the dormant volcano (which was last active in 1933, by the way). So, yeah, that description is pretty much accurate.
Nisyros is an island that's mostly ideal for walking. It's almost round, with no stunning beaches but with quite a few places you can visit. What makes it unique though is the volcano, the fact that it has its own volcano.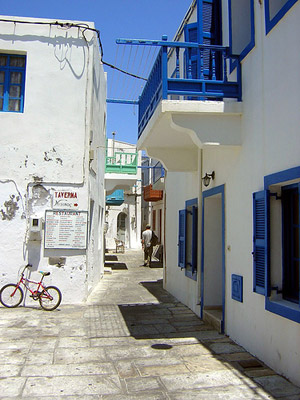 Are there any places I should visit in Nisyros?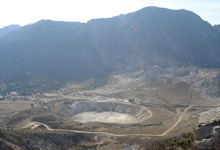 Well, obviously, the first place that comes to mind is the volcano. The easiest way to visit the volcano is by tourist bus. You will of course have to share your experience with hoards of day-trippers, but that will definitely not stop you from having a great time, trust me. The volcano has five craters, the largest one being Stefanos.
Other than that, there's the Historical and Folk museum, on the way up to the Kastro. It has a reconstructed traditional island kitchen, emboideries and a small collection of local photographs. Then, there are the thermal spas of Loutra, with hot springs straight from the volcano that ease arthritis and rheumatism.
What about the historical and archaeological sites?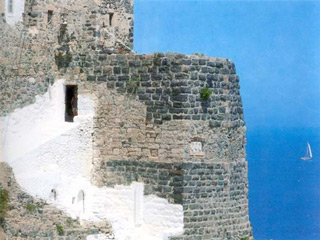 Nisyros has two ravishing castles that you can pay a visit too. The first one is the Castle of the Knights of Saint John (previously known as Enetikon, if I'm not mistaken). Built in 1325 high up the cliff face, it shelters the monastery of Panagia Spiliani (Mary of the Cave), which dates from around 1600. Inside the monastery there's a carved iconostasis that holds a beautiful Russian-style icon of the Virgin and the Child, decked in gold and silver offerings. The library inside holds rare editions and a number of ecclesiastical treasures.
The other castle is Paleokastro, the ancient acropolis of Nisyros dating back 2600 years. Its remains include Cyclopean walls that were made from massive blocks carved from the volcanic rock and Doric columns.
Are there any good beaches in Nissyros?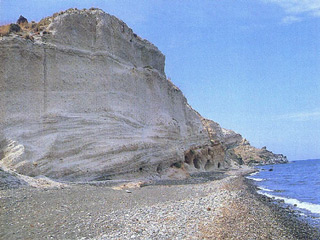 As I mentioned before, Nisyros doesn't have any spectacular beaches, but there are a few that are decent enough. The best one you will find is Hohlaki, a beautiful beach with blue-black volcanic pebbles where you can swim when the wind is not up. Gialiskari is another rather good beach, with black and white crystals, near Loutra. Miramare Beach on the other hand is nicer for fish tavernas than for bathing.
Where should I eat in Nisyros?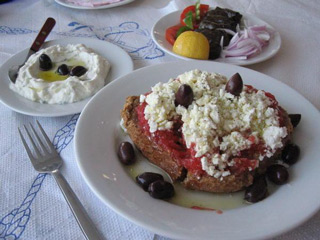 If I remember correctly, Nisyros has about 13 restaurants or tavernas. Most of these are rather good, but since I can't name them all, I'm only going to refer to the ones I have mentioned in my notebook.
One of them is Captain's Taverna, an excellent taverna with home-made dishes like pittia and wild caper salad. Irini in Plateia Elikiomeni offers a wide range of delicious dishes, from ladera (oily) to roasts.
Ouzerie Paradiso just beyond the harbor is ideal for an atmospheric evening aperitif. Panorama has perhaps the best food but it's a bit pricy. As for taverna Nisyros, it's one of the most popular and authentic places in Nisyros, with great food (even though the portions are a bit small).
What about Nisyros' nightlife?
Unfortunately, Nisyros is not big in the way of nightlife, or at least the typical way; you know, bars and clubs. Some of the tavernas I mentioned are what passes as nightlife here, since everyone gathers there and they have fun, talk and laugh and stuff.
How do I get to Nisyros?
There are ferries several times per week to Kos, Kalymnos, Tilos, Symi and Rhodes and 1-2 times per week to Astypalaia, Leros, Patmos, Piraeus, Symi, Paros, Naxos and Syros.
As for hydrofoil, there are almost daily connections with Rhodes and Dilos and variable services to Kos, Kalymnos and Symi.