Paxi
So, what do I know about Paxi? Well, not much. I've visited this island twice and yet the only random piece of information I have to give you is that according to mythology, Paxi was created by Poseidon for his mistress. I don't even remember the name of the mistress, or any other details of this tale for that matter. Usually, I'm quite good when it comes to memorizing useless but interesting facts, but at the moment my mind is totally blank. I'm sorry.
Well, all I can do is tell you about my personal experience with Paxi. It's been five year since I visited this magnificent island and even though it was almost as short as a visit can be (3 days), it was a memorable trip. It was right after I'd visited Corfu. We'd already spent two weeks there with my friends Chris, Georgia and Isidora (instead of one, like we'd planned) and spending an extra week to another island was an idea that our parents were not willing to hear. Luckily, after lots of begging and promises, we convinced them to send us the money to go to Paxi for three days.
Obviously, I'd done zero research, since it was a decision of the moment. We were just sitting at the beach of Myrtiotissa when suddenly I mentioned Paxi and Georgia said "why don't we go there too? We'll call our parents, have them send us some money and just go." Of course, none of us believed it would actually happen, but it did and it was one of those things that work out greatly, even if you haven't planned them.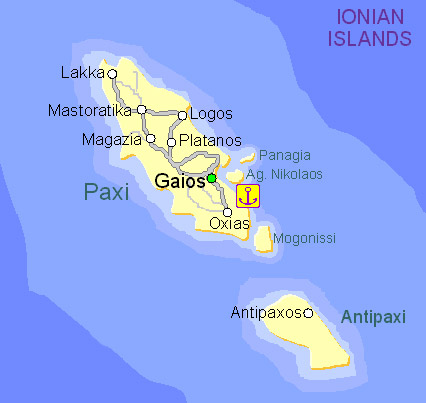 So, what does Paxi look like?
Paxi is a beautiful little island, green and wooded. It has a few farming villages and thick groves of olive trees, rugged west-coast cliffs, several sea-caves and various pebble beaches. The town is small-scale, with two harbors: the main port where the ferries dock and, just a short walk away, the small harbor which is lined with 19th-century pink, cream and white-washed houses with Venetian-style shutters and balconies. Among the narrow streets you'll find several bars and tavernas.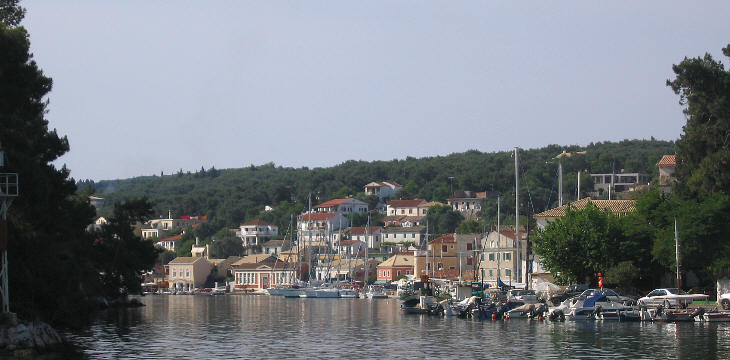 Are there any places I should not miss in Paxi?
Well, in a tiny island like Paxi, there are not many places you could visit, but there is something that comes to mind: the Cultural Museum. Housed in a former school on the southern waterfront, the Cultural Museum has an eclectic collection of local history. Unfortunately, its hours are erratic so you'll have to pass by to see if it's open. You're more likely to find it open in the evening though.
What about the archaeological and historical sites of Paxi?
Again, there are not many places you can visit in such a small island, but there is something I can recommend to you: the Kastro. Built by the Venetians in 1423 and still well-preserved, you'll find it on a rocky islet facing the harbor, Agios Nikolaos. Nearby there's an old windmill. You can also visit the Grammatikou Mansion near Lakka, fortified by a tower.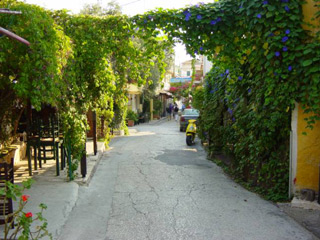 Traditional Villages
Although Paxi are small they don't seem to have a lack of traditional corners. Quite the opposite to be precise. I dare you to confirm this information by visiting some of the villages characterized as traditional and some more that I found very intriguing.
Take a look at my page Paxi Traditional Villages for further information.
Are there any good beaches in Paxi?
Thankfully, there are several pretty good beaches in Paxi. Even my friend Chris took a dive (which seemed to be the case that year with him, he hates swimming, yet that year he liked it). The beaches of the island are mostly small and pebbly. Local people call them "spiatzes". You will reach many of those by car or motorcycle and others following a trail or better yet by boat. Some of the best beaches of the island are Plaka, Spiatza, Paxos, Balos, Agia Marina, Mogonissi, Kloni, Gouli, Kamini, Kakia Lagada, Alati, Pnigmenos, Kipiadi, Pounta, Levrecchio, Kipos, Marmari, Harama, Kanoni, Planoi, Arkoudaki, Orkos, Lakkos, Monodentri, and Glyfada.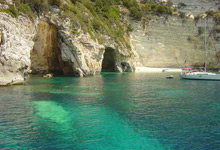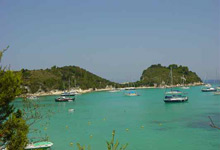 For additional information on the beaches of the island visit my page Paxi Beaches.
Where should I eat in Paxi?
Surprisingly, most restaurants in Paxi are quite pricy, because they try to take advantage of the day-trippers from Corfu. There are some decent choices though.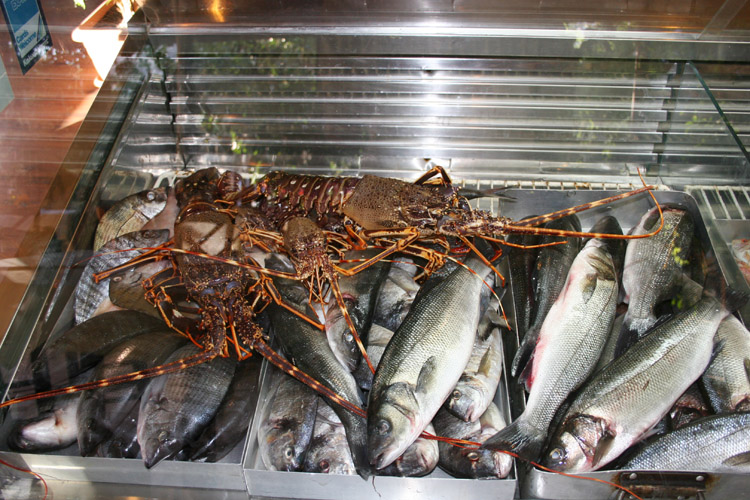 Restaurant Mambo, for example, is perhaps the best restaurant in Gaios. The tables are outdoors and they're always full as it is a favorite with locals. Mambo has admittedly the best baked feta I've ever tasted; you should also try dishes like chicken souvlaki, grilled squid and meatballs.
Then there's Taverna Dodos. Tucked away in a colorful, lamp-lit courtyard garden, this family taverna serves tasty Greek dishes, along with some great choices for vegetarians.
Taka-Taka is also a good choice for fish and if you are a fan of Italian food make a stop at La Rosa.
George's Corner, a cheap and rather cheerful place that serves great gyros and pitas, omelettes, burgers and pizza.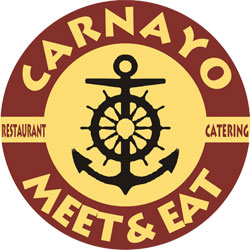 CARNAYO MEET & EAT
Carnayo is situated in Gaios, 100 metres from its harbour and attracts both tourists and local people. Excellent cuisine and service personally cared by the owner and chef who promises to satisfy even the most demanding gastronomical desires! Traditional and modern cuisine are blended with the comfort of the restaurant with the elegant design and the hospitable staff. A wide selection of bottled wines is offered at the restaurant's wine cellar. The restaurant is open all year round, private functions for up to 250 people can be accommodated while the menu is offered at reasonable prices.
CARNAYO MEET & EAT see more...
What about Paxi's nightlife?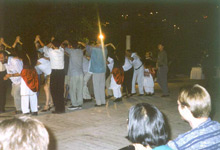 Unfortunately, Paxi isn't exactly big on the way of nightlife. Paxi is more of a romantic island. I know, some of you may think it's lame (I have experience, my friends are experts in calling things lame right away), but you can do what we did: just come up with ways of having fun yourself. There are lots of beaches where you can light a midnight fire and just sit around it.
How do I get to Paxi?
There are ferries sailing from Igoumenitsa on a daily basis. The trip's duration is about 2 hours. For information call the port police of Igoumenitsa tel. +30 26650-22240, 99400.
There is also a small ferry from Corfu with quite infrequent itineraries while high-speed boats come and go more often. For information contact +30 26610-32655.
Two or three excursion boats also sail from Parga for daily trips. Call +30 26840-31227 to learn more about it.