Samos
This may sound a bit weird to you, but Samos is one of the islands that I had a very hard time getting to visit. because of my wife. I'd wanted to visit Samos for a long time, long before we were married (we got married in 1997), but I just never got to do it and then 2000 came and everything got complicated.
See, Samos suffered several savage forest fires in July 2000, fires that took away some of its beauty (thankfully, not even half of it) and terrified everyone on the island, as well as the whole country. Now mind that if there's two things my wife fears more than death, it's snakes and. fire. She's so afraid of fire, I'm afraid to ask what caused this phobia, because I fear I might hear some terrifying tale I'm not ready to know.
But, you get the gist. When I told her I wanted to visit Samos. she freaked out. There wasn't even a conversation; her answer was final: "no". She wouldn't listen to me, there was no way of convincing her. So, I decided to wait it out. It took me a few years to finally realize she was never going to change her mind about it, so one day five years ago (a couple of months before she got pregnant to our son), I just went up and told her I bought tickets. Let me just tell you, her face was priceless, in the sense of "oh my God, he's going to go there and they'll start lighting fires again and who knows what will happen". Suffice to say, she's never spent so much money on phone calls as she did that year (of course, she didn't come with).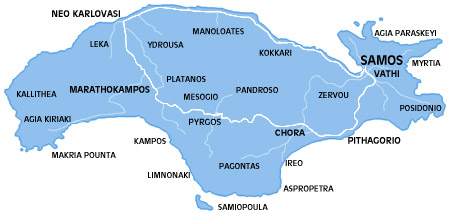 Samos Hotels
If you search for accommodation in Samos I recommend you to visit Samos Hotel Online Bookings. There, you can make your reservations directly to the hotels and find rooms in low prices and useful guest reviews.

So, what does Samos look like?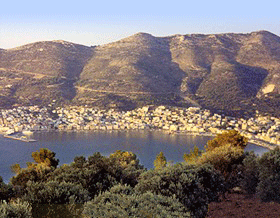 When I arrived in Samos, I have to say I was a bit partial about it, due to my wife's fear. I was expecting to see an island that had been (what's the word?) "scarred" by what had happened to it. In a way, it was. But it was nothing like I'd imagined. Samos is almost subtropical, with vine terraces, cypress and olive groves. The surviving forests are by far more than the ones burnt, forests of black and Calabrian pine. The dense mountain greenery is populated by hordes of birds and in the summer, there are pink flamingos, wild flowers and orchids. Most of the villages are hillside. All in all, Samos may have suffered in the past, but it's one of the prettiest is-lands in Greece.
Which places should I not miss in Samos?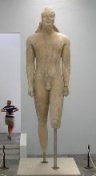 First of all, there's the Archaeological Museum of Samos, which is one of the best in the provinces of Greece. It contains finds from the Sanctuary of Hera and most of the exhibits are a legacy of Polycrates' time. What the museum takes pride in (or if it doesn't, it should) is a 5-metre nearly intact Kouros, the largest ever found.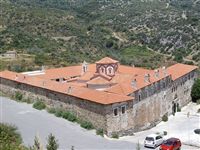 Moni Megalis Panagias is another place you should not miss. Founded in 1586 by Nilos and Dionysios, it's the second oldest on Samos and it contains Samos' best surviving frescoes from that period. It was probably built above a temple of Artemis, which it replaced. It was ravaged by fire in 1990 shortly after the last monk died.
What about Samos' archaeological and historical sites?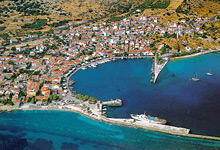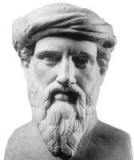 The first place that comes to mind when someone asks me that is Pythagorio. Named after Pythagoras who was born there in 580 BC, Pythagorio occupies the site of Polycrates' capital. This place is full of monuments, three of which earned Herodotus' highest praise. You can visit sights like the 19th-century manor of Lykourgos Logotheris (built in 1824, specifically), the church of Metamorfosis, the ruins of Aphrodite, the extensive remains of Roman Baths (with a few door-ways still intact).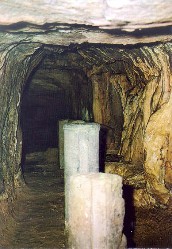 Then there's Efpalinio Orygma (Eupalinios' Tunnel), an aqueduct built by Polycrates (or more like, hundreds of slaves and Polycrates) in the 6th century BC. It's one of the technological wonders of the ancient world; just think that surveying was so good that two work crews beginning from each end met with no vertical error (and a horizontal one of less than 1%). You can visit much of it, walking among the ledge that was used to remove rubble from the channel far below.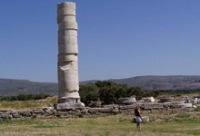 Then there's the Hera Temple, west of Pythagorio. This place went through many. phases, you could say. The first temple, built in the 8th century BC, was replace by a stone one of the Ionic order, built in the 6th century BC. This collapsed due to either an earthquake or a design fault and Polycrates ordered a grand replacement. The new temple was started at 525 BC and building continued off and on for centuries but it was never completed. Nevertheless, the site is more than impressive; it's stunning.
Are there any good beaches in Samos?
Well, let me just say this: when I finally bought the tickets to Samos, I searched the net to find some information a-bout the island and I found a whole site dedicated to the beaches. That has to mean something, doesn't it?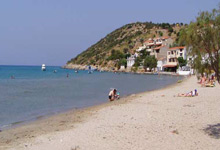 Psili Ammos (=thin sand) is probably your best bet, the most magnificent beach on Samos. It's a lovely cove near Pythagorio, bordered by trees and looking across the water at Turkey. It's extremely popular, especially with fa-milies, due to its gentle, shallow waters.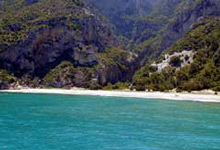 Megalo Seitani is another ravishing beach, situated on the mountainous north-west coast of Samos. It can only be reached on foot but the walk is more than pleasant. Megalo Seitani sandy and pebbled, with no facilities and quite secluded,so it's an excellent choice if you're a nudist.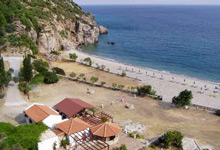 Then there are several other beaches worth ago. There's Potami, a lovely beach near Karlovassi, long and pebbled. Tsambou Beach, just out-side Avlakia, a beach with pebbles and crystal-clear waters, with su n beds and umbrellas available. There's the sandy Long Beach, probably the biggest beach on Samos, very popular with windsurfers due to the strong northern winds.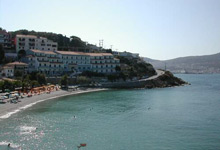 Gangou Beach, near the centre of Samos Town, a beach with clean and crystalline waters that has frequently been awarded with the blue flag.
Where should I eat in Samos?
There are lots of places where you can eat in Samos, several decent or even exceptional restaurants.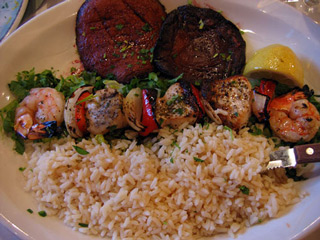 First of all there's Kotopoula, a lovely vine-cloaked restaurant hidden by a leafy plane tree in the backstreets. It's rather popular with locals and the revythokeftedes, as I'm told (I don't eat them), are very delicious. The spit-roasted chicken is the dish I can suggest safely though, since I've tasted it and I agree with everyone who says it's unique.
The Garden, just off Lykourgou Logotheti, with a garden setting (a tree-filled outdoor terrace). Its specialties are delicious Greek dishes, with fish soup as its highlight.
Restaurant Remataki is an excellent restaurant in Pythagorio, with an imaginative menu that includes several Greek specialties: revithokeftedes, piperies Florinis (Florina peppers), gigantes (lima beans), dolmades (aromatic rice wrapped in vine leaves).
Finally, don't miss Loukas Taverna, in Manolates. Located on the top of the hill, it offers not only tasty and quite cheap food, but also excellent views. Give the courgette flowers a try, they're delicious.
What about Samos' nightlife?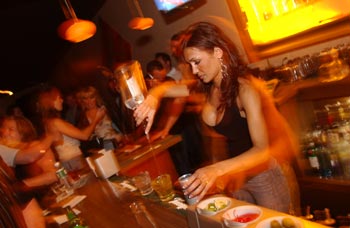 Samos offers an intense and varied nightlife, with lots of place for everyone's taste.
One of the best places is Notos Bar on Tarsanas Beach. Throughout the day it's this place with world music where you can relax; in the evening, it turns to a live bouzouki courtesy of the talented Yannis.
Edem plays live Greek music; Escape and Riva Bar are ideal for romantic people; Metropolis is the spot for the younger people; as for Nisi Taverna, it plays live Greek music.
How do I get to Samos?
There are five daily flights from Athens to Samos. There are also many charters from northern Europe, rising to twenty per day in July and August. As for by sea, there are daily ferry connections with Piraeus, Ikaria and Patmos, 5-6 times per week with Kalymnos, Kos, Lipsi and Leros, 4-5 times per week with Lesbos, Agathonissi and Chios, 3 times per week with Mykonos and twice per week with Paros, Thessaloniki, Alexandroupoli, Naxos and Limnos.