Greek People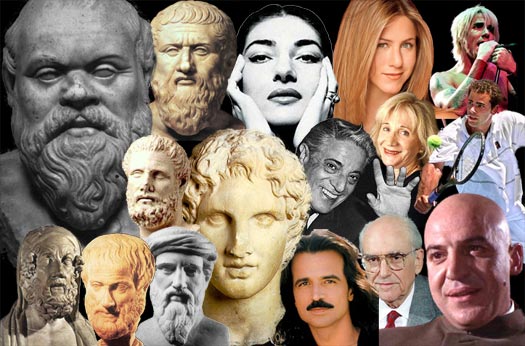 Greece is a country that has to present many famous Greek people known for their achievements and their influence to the civilization of the country in different domains.
Since these people are personalities that worth to be acknowledged I decided to include a special page referring to them according to their place of birth. So, in every island's page you will also have the opportunity to read some extra information regarding the famous Greek people that have helped my country distinguish. These may be artists, politicians, people of literature or science, athletes or just simple people that have offered something to this country and are admired by many.
I will mention a few names here just to give you an idea by starting with Alexandros Papadiamantis, born in Skiathos, who didn't have the opportunity to see his works published since this happened after his death, Nikos Kazantzakis who is famous all over the world and many famous films directed by world known directors have been influenced by his works, El Greco or Domenikos Theotokopoulos as was his real name, the famous painter, sculptor and architect of the Renaissance. Moreover, Odysseas Elytis the acknowledged poet and Nobel prize winner of 1979 is a personality mentioned in my site along with Nana Mouskouri the world known singer with the magnificent voice born in Chania Crete, and Eleftherios Venizelos the known politician from whom the National airport of Athens took its name.
It would be an opportunity to read some more information about this people and get to know them better not because they are Greeks but because they offered something to the humanity as a whole, whether this was a book, a poem, a song, a world record or a reformation plan they all have something to be acknowledged about. Let alone that it was also an opportunity for me to learn more about my compatriots.