Tilos
As I've already mentioned several times, visiting every major Greek island had been my goal ever since I was a little kid. Well, when I finally accomplished it, I was really thrilled so I started running around, telling everyone. Well, my parents were thrilled as well at first, but then they sat down and counted the islands and realized something. "But, when did you visit Tilos?" was the question that popped up. That's when my parents found out I'd visited Tilos. See, it was about 22 years ago and I was 15. We'd already had a big fight that summer because I wanted to visit Santorini and they didn't allow me to, so I decided to go to Nissyros instead. But I was so pissed I decided to go book extra tickets to Tilos as well without telling them anything. I said I'd spend some weeks in Nissyros, when in fact I'd be spending half the time there and the rest in Tilos.
Now you may think they didn't react since, well, I'm 20 years old and it was a long time ago, but. you're mistaken. They couldn't punish me or anything of course, but let's just say that they weren't talking to me for a couple of days. Yep, that's the way my parents react when they're angry. They may be 57 and 60, bur they're stll duite colorful personalities.
Anyway, Tilos was not the kind of island my parents would have a problem with me visiting back then anyway. It's a serene island that retains the traditional character of the Dodecanese. Tourism has not widely impacted on the slow and carefree lifestyle of the islanders in any way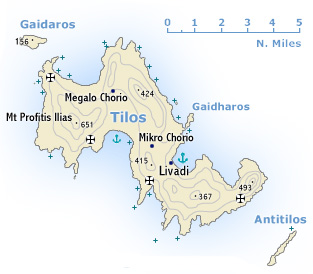 What does Tilos look like?
Livadia is Tilos' main port; it's a sleepy, pleasant enough place, but a little hot and humid. Megalo Horio is the capital. Tilos looks rugged and barren but inland it shelters groves of figs, almonds, walnuts, pomegranates and olives. It's a tranquil and unspoiled island with good, uncrowded beaches.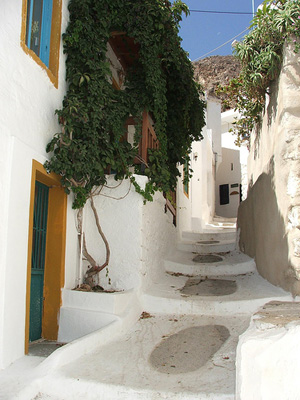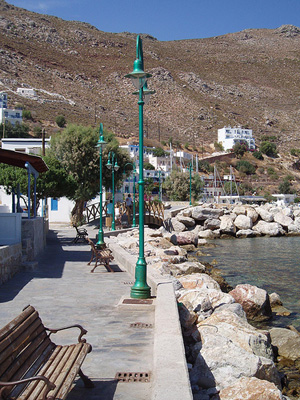 Are there any places I should not miss in Tilos?
First of all, there's the Potami Gorge. Potami Gorge offers a rather pleasant walk; it's very picturesque, with its oleanders and the goats just stranded around.
Then there's Moni Agiou Panteleimona. Though uninhabited, it's well maintained and with some fine 18th-century frescoes. The island's minibus driver takes people there on weekends.
Finally, there's the museum, which contains pygmy elephant bones and a video about the island accompanied by an ancient song by Erinna.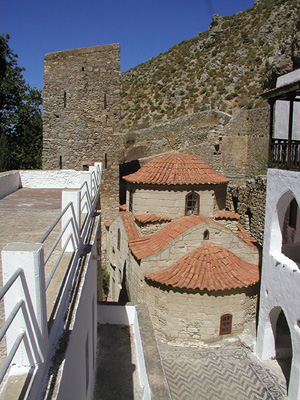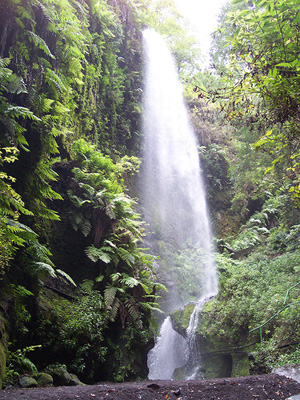 What about the archaeological and historical sites of Tilos?
The only archaeological site that comes to mind is the Knight's Castle. Built by the Venetians who incorporated a classical gateway and stone from the ancient acropolis, the Castle is a beautiful site that you should not miss. Along the way, you will pass the ancient settlement of Tilos precariously built in its time on rocky ledges overlooking Megalo Horio.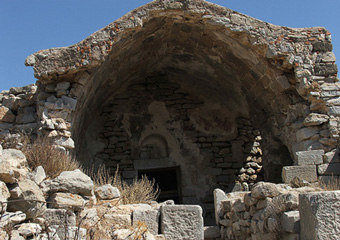 What about Tilos' beaches?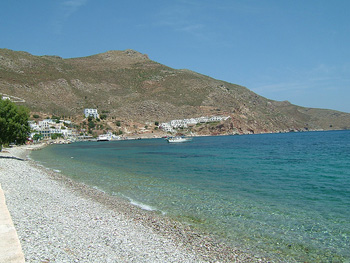 As I already mentioned, Tilos' beaches are unspoiled and rather uncrowded, basically ideal for even a short visit. Lethra Beach, for example, is an undeveloped pebble and sand cove with limited shade. Stavros beach is a fine pebble beach, just an hour's steady walk along a well-marked trail that starts from near the Tilos Mare hotel away. At the far end of Eristos you can retire for an all-over tan. Finally, don 't miss Livadia Bay, a ravishing pebble bay near the main settlement.
Where should I eat in Tilos?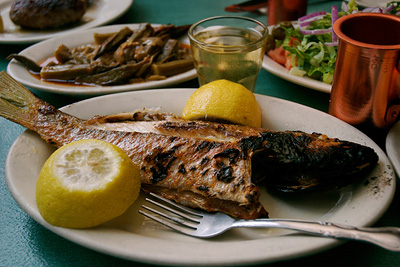 Luckily, there are several quite good restaurants in Tilos, where you can have a more than decent meal. One of them is Sofia's Taverna, just 100 meters along the beach road. The food is delicious and home-cooked, made by fresh local products.
Restaurant Irina is another safe bet. In a relaxing waterside location, Irina serves tasty home-made food - I recommend the mousakas and the papoutsaki (aubergine slippers). I also hear the stifado is great.
Then there's Taverna Blue Sky, on the harbor. Blue Sky is great for grilled fish and vegetarian mezedes. Run by Italians, it has a slight Italian spin on the food. Definitely try the pasta, it's a treasure.
Finally, there's Calypso, with a daily changing menu and showcases dishes such as shark with basmati rice or organic salads, combining elements from Greek, French and Vietnamese cuisines.
What about Tilos' nightlife?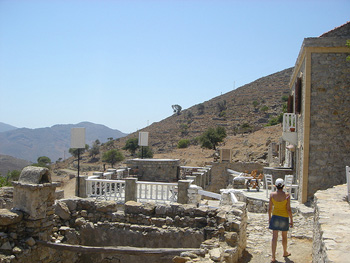 There are a few summer bars on Livadia's waterfront, but the ones who really want to party head for the abandoned village of Mikro Horio. See, there you will find Mikro Horio Music Bar, which belts out music most of the night without having to worry about the neighbors, since there aren't any. Mikro Horio attracts a fairly young crowd.
Other than that, places you can visit are Yorgo's, Omonia and La Luna Bar on the quay, with an electric mix of international and Greek music.
How do I get to Tilos?
You can get to Tilos by sea. There are connections 4-5 times per week with Rhodes, Kos and Kalymnos; 3-4 times per week with Symi and Nissyros; twice per week with Piraeus, Patmos, Leros and Kastellorizo; once per week with Naxos, Paros and Syros. Additionally, by hydrofoil there are regular links with the islands of Rhodes, Nissyros, Kalymnos, Symi, Chalki and Kos.