Kimolos
I'm ashamed to admit it, but there's not really much I can tell you about Kimolos. It's not that it's not a pretty island, because it is. It's just. Well, for starters, I only spent two days in Kimolos and that was during my second trip to Milos, fourteen years ago. Secondly, Kimolos is just a small island, so you can see pretty much everything within days.
That's exactly what I did. I took Leela, we took our camp equipment and we got to Kimolos. Before the evening of the second day, we'd seen pretty much everything there was to see so we just relaxed, talked and met other campers until it was time to go back to my brother in Milos.
So, what did I learn about Kimolos? Well, I learned that it's northeast of Milos (which you probably guessed - or at least that it's near it). I learned that it receives a steady trickle of visitors, especially day-trippers (from Milos). I learnt that until fairly recently, Kimolos and Milos were like Siamese twins, connected by an isthmus with a town on it, dating back to the Mycenaeans, but the isthmus sank taking the city with it. Finally, I learned that it was once known as Echinousa and that it took its modern name from kimolia ("chalk" in Greek) which it once produced.
Other than that, what I learned is Kimolos is another beautiful Greek island, good at what it's there to offer. My advice? Do what I did. Combine your holiday. Visit Milos and while you're at it, pay a visit to Kimolos as well. It will refresh your vacation and give you the space to relax. At least that's what it did for me and Leela.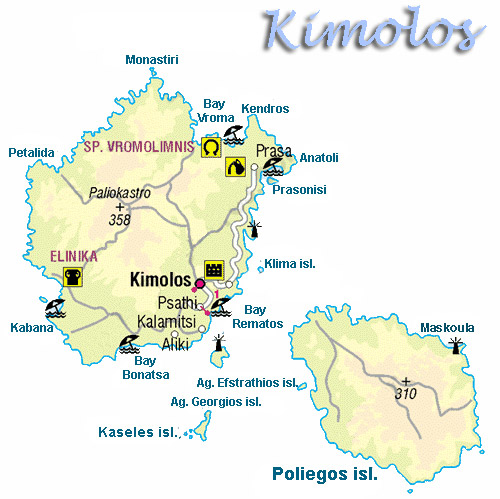 Kimolos general information
Kimolos is a quiet, untainted island with plenty of beaches and freelance camping (which is why Leela and I chose to not book a hotel room). There are no cars and even the tourists are few. Kimolos is rocky and barren, a volcanic island with patches of green. Chora is a tangle of paved lines with flowers at every turn. The houses are mostly snow-white, the alleys are paved and there are several churches and fine sandy beaches. Kimolos has two settlements, Mesa Kastro (or Palio Chorio) and Exo Kastro (or Kainourio Chorio).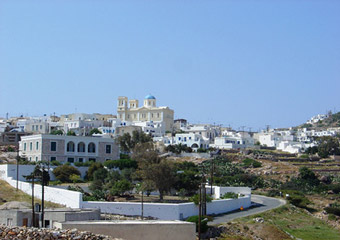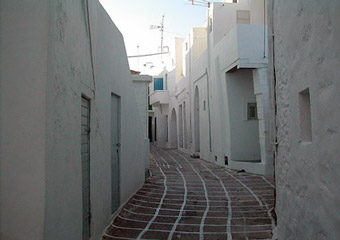 Kimolos sightsChurches, caves, the archaeological museum
As I said before, Kimolos has several churches. I can't choose which one deserves to be visited and which one doesn't, so I'll just tell you the one I remember: Panagia Evangelistria, which was built in 1614; Panagia Odygitria, built in 1873; Taxiarchis, built in 1670; Chrisostomos, built in 1860. But the one I have to set apart from the rest is the Catholic Church, the ruins of the Madonna of the Rosary. That's one place you should visit.
Kimolos also has two caves Chris and I had a great time exploring. The first one is the Cave of Vromolimni. The other one is the Cave of Konsolina, named after the wife of the French consul who found refuge there when she was chased by pirates.
Finally, do visit the Archaeological Museum. It houses figurines, vessels and other findings from the excavations in the ancient city.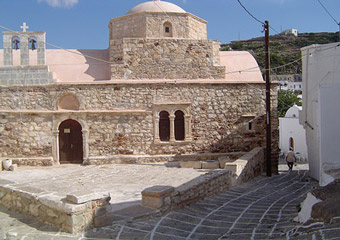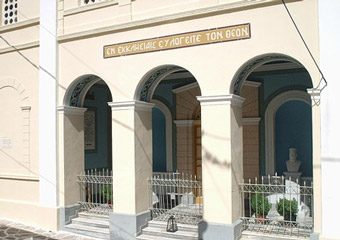 Kimolos historical sites Venetian castle, Elliniko necropolis
There are two places you can visit. The first one is the ruined Venetian Castle. Yes, Kimolos might be a small island but it still has a Castle, a beautiful one. It was built by Marco Sanudo at Kimolos' highest point. Within its forbidding walls you'll find the island's oldest church, Christos, dating from 1592.

Then there's also Elliniko necropolis, which is whatever survived of the city that sank with the isthmus I mentioned before. At the bottom of the strait you can see remains of houses and tombs that sank underwater after an earthquake in the 1st century AD.
Kimolos beaches Crystal clear waters, different beaches for different tastes
Kimolos is the ideal destination for swimming. This is not only due to the island's clean waters and its natural beauties but also to the fact that even in August one can find isolated beaches to enjoy swimming. Get to know the beautiful beaches of the island Tsi Dekas, Mavrospilia, Lakkos, Therma, Agioklima and a dozen more by visiting my site Kimolos Beaches.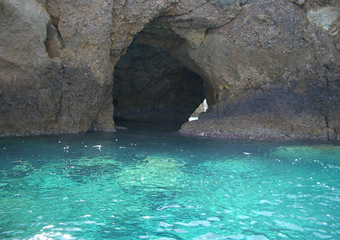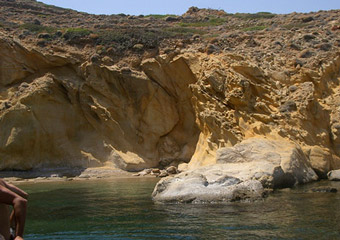 Kimolos restaurants The best spots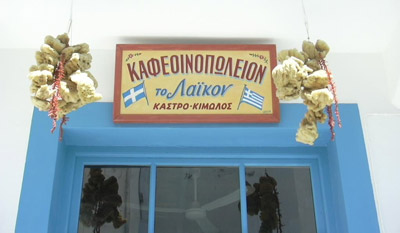 To be honest, the place where Chris and I ate both days is To Kyma, a fine restaurant for Greek standards. But there's another taverna I hear is pretty good, Taverna Aliki.
Try also Prasonisi in Prasa and Nikos, Bochoris and Panorama in Chorio.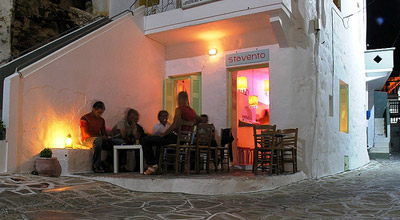 Kimolos' nightlife
Unfortunately, Kimolos does not have a wild nightlife, something to be expected since it's such a small island with very few tourists and mostly day-trippers visiting it.
Access to Kimolos
You can reach Kimolos by sea, leaving from the port of Piraeus, the trip duration is 7,5 to 8 hours. There's also a quicker ship which reaches Milos after a 4,5 hour trip. From there you will have to wait for a little while in order to take the small ferry which also takes cars, to take you to Kimolos. The trip is nice and cheap and lasts only half an hour.