Kos
When I was in primary school, I had this classmate, Nikki, whose mom and dad were from Kos. She'd lived there for a couple of years until they moved to Athens and she came to my school. Nikki had the habit of talking about Kos all (I mean, aaaaaall) the time. Now if I was like all the other kids, I would've grown tired of hearing about it. But I'm not, so I just listened to her and wanted to visit Kos more and more.
That happened four years ago, when I was sixteen. It was Georgia (as usual), Isidora, Mario, Michael and me. Michael's Isidora's cousin and he's four years older than us, so back then he was twenty. That means two things: we had a car. and a "guardian". Michael was our "dad" for the holiday.
In high season, English, German and Swedish tourists roam Kos, among others. That's one of the things I remember reading in the books. What else do I remember? Kos was declared "European City of 1995" for its self-improvements. It's the second largest island of the Dodecanese, it's famous for producing the Kos lettuce and it's known as the "Floating Garden".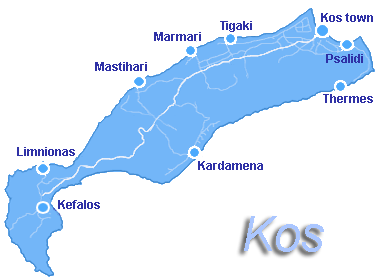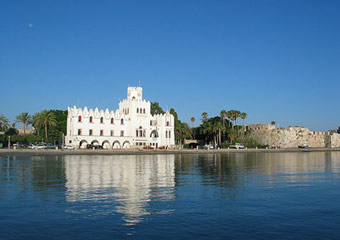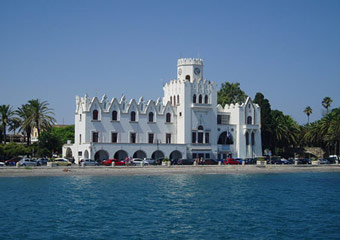 Kos is a dolphin-shaped island. Don't come here looking for anything very Greek; the kafeneia and ouzeri have been replaced by fast-food joints and euro-cafes. The streets are packed with T-shirt and ta-tty gift shops. Even the architecture isn't particularly Greek, mostly due to the 1933 earthquake, since the Italians contributed some attractive Art Deco buildings. fo So, what is Kos exactly? Kos has been described as a mini California: sweeping golden hills, vineyards, groves, orchards, pale cliffs. The first things you see when you arrive are the silhouettes of the mountains behind, palm trees and a medieval castle by the port.
Kos Hotels
If you search for accommodation in Kos I recommend you to visit Kos Hotel Online Bookings. There, you can make your reservations directly to the hotels and find rooms in low prices and useful guest reviews.

Are there any places I should not miss in Kos?
First of all, there's the archaeological museum, housed in an Italian Art Deco Building that lays out like a Roman house. The museum has an excellent collection of Kos' Hellenistic and Roman finds, but the prize exhibit is a 4th century BC statue of Hippocrates, with a compassionate expression. Imagine, that statue is so ecstatic that even Michael (a let's-party-all-night-long kind of guy) was stunned when we saw it.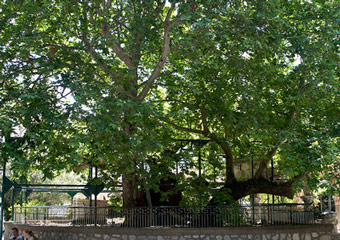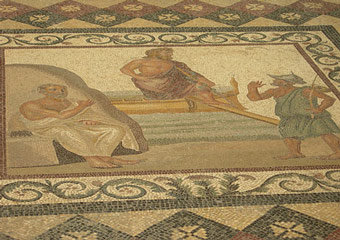 On the northern end of the agora, you will find Hippocrates' plane tree, 52ft in diameter. Legend holds that the tree was planted by the doctor himself and has been around for 2400 years. The tree is estimated 700 years old though and it's most probably a descendant of the original tree. It still may well be the most senior plane in Europe, though. The Turks loved the plane so much that they built a fountain with a sarcophagus for a basin and the lovely Mosque of the Loggia (1786) to keep it company.
Finally, don't miss the Tingaki, a beautiful little resort overlooking the island of Pserimos. Tingaki still has a village feel. Boat beach is quiet and has a tavern.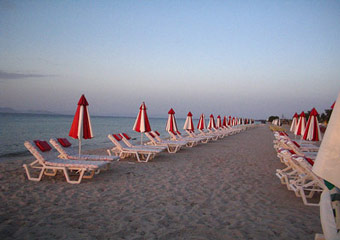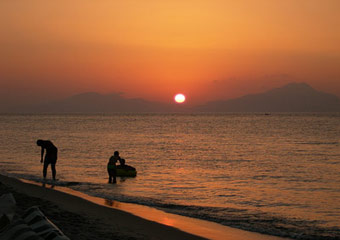 What about the archaeological and historical sites of Kos?
By the way of the Porta tou Forou you will find the Ancient Agora. This was where the Knights of Saint John built their town. After the earthquake of 1933, the market was re-vealed, along with the re-erected columns of its stoa, the harbor quarter of the ancient city, a temple of Aphrodite Pandemos and a 5th century Christian ba-silica.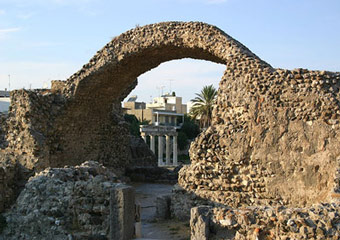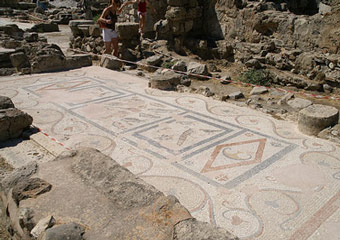 The Castle of the Knights of Saint John used to be the premier outer defence of Rhodes, along with the fortress across the strait in Bodrum. The Castle's disheveled weeds and wildflowers attracted director Werner Herzog, who set his first black and white film, "Signs of Life" (1966) within its walls.
Definitely don't miss the Asklepeion, 4km west of the city. You can take the city bus to get there. It was discovered in 1902 by the German archaeologist Herzog. Partially restored by the Italians during their tenure, it was one of the ancient world's most important shrines to the healing God Asklepios. The cult symbol was a snake.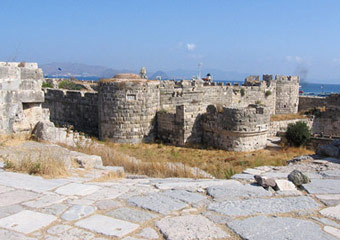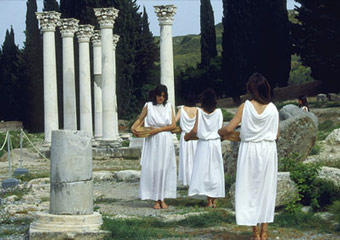 Finally, there's the Castle of Antimacheia. Built by the Knights as a prison for bad knights in the mid-14th century, you will find two churches within its walls.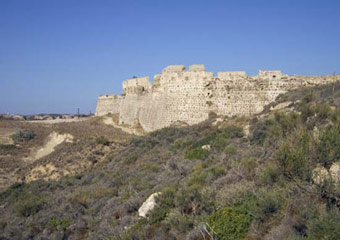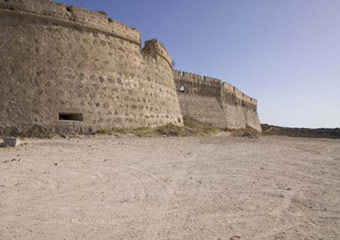 Are there any beaches in Kos?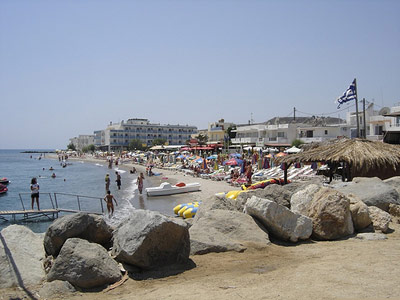 Blue flags: need I say more? The beaches of Kos have won blue flags. OK, I'll say more.Kardamena stretches for over 3km. It has fine white sand and crystal-clear waters, with tavernas and hotels. Kefalos Beach has even clearer waters, crystalline blue. Lambi beach is an organized sandy beach, with various restaurants and cafes. Then there's Marmari, Mastichari, Thermes, Tingaki and Psalidi beach, all of them from the top of my head.
Generally the beaches of Kos are crowded, but if you try your luck at the beaches with the black sand you will probably find it attracts fewer people.
Where should I eat?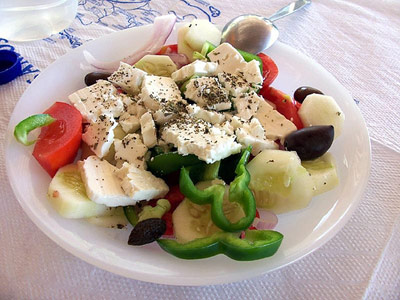 The restaurants lining the central waterfront are generally expensive and of poor value. Avoid them and head for the backstreets.
Barbas on Evripilou Street is a busy little psistaria with street side tables, with a chicken souvlaki to die for. The mayirefta are pretty good, as well. Pote tin Kyriaki (=Never on Sunday) on Pisandrou Street is an untouristy ouzeri-style restaurant with excellent food. Karnagio was Georgia's favorite, on Ethelon-don Polemiston Street. The owner actually wears a wetsuit and catches fish for the restaurant! So, obviously, fish is an exceptional choice.
Petrus on Ippokratous Street, finally, is a classy bistro-wine bar with a European-Greek menu.
Try the stuffed chicken.
Does Kos have nightlife?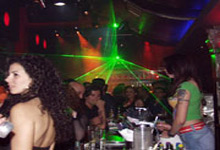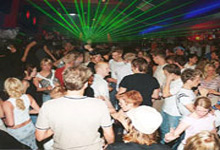 Kos is one big party at night. The agora is. well, one big party! What more can I say? Kalua and Heaven are two of the most popular bars, with a watery backyard and garden. Aesolos has the best baileys frappe ever: cool coffee mixed with a fabulous drink. It's simply ama-zing, don't miss it! Hamam on Akti Koundourioti is one of the few bars that play exclusively Greek music. Fashion Club is always. well, in fashion! It's one of the most popular clubs and it's been around since almost ever.
How do I get to Kos?
Thankfully, Kos has an airport, so reaching it without having to make routes is an existing option. There are charters from London and other European cities. There are also 4 flights a day from Athens. By sea, there are daily ferry connections with Piraeus, Rhodes, Kalymnos and Patmos.