Ikaria
Want to hear something funny? The first time I ever heard of Ikaros was in primary school. I was a third-grader and our teacher was telling us about the story of mythical Ikaros, who supposedly fell into the sea nearby when he flew too near the sun and his wax wings melted. I vividly remember Mrs. Mary concluding, saying "and that's how Ikaria got her name" (Ikaria is a female word in Greek). That's when a classmate of mine, Chris, raised his hand and asked Mrs Mary: "Mrs Mary, who's Ikaria? Ikaros' girlfriend?"
Coincidentally, that year, when I was a third-grader, was also when I first visited Ikaria. My parents were eager to find a place that would be quiet, since they were tired of all the noise and the tourists that roamed most of the Greek islands. So, after a quick search, they ended up with two options, Ithaca and Ikaria. Since Ithaca doesn't have many beaches whereas Ikaria does, Ikaria was their choice.
Ikaria is not the kind of island you'll visit when you're young and looking for some fun. It's narrow, wind-shaped, mountainous and also one of the least developed islands of the Aegean. It's an island where everything moves slowly. That's why my wife and I choose this place four years ago, when she was pregnant to our son. Looking back now, I can say with certainty that that was the most calming holiday ever.
Ikaria Hotels
If you search for accommodation in Ikaria I recommend you to visit Ikaria Hotel Online Bookings. There, you can make your reservations directly to the hotels and find rooms in low prices and useful guest reviews.

What does Ikaria look like?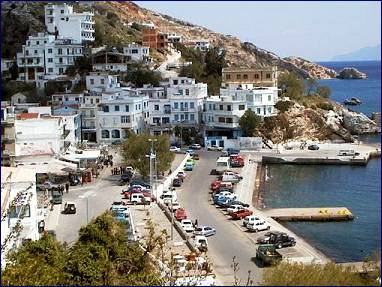 "Eccentric, slightly Rutitanian environment": that's how a book I read a few years ago described Ikaria. I'm not even sure I know what Rutitanian means, to be honest, but it sounded really. different. What impressed me even more though were Lawrence Durrell's words about Agios Kirykos: "obviously designed by a drunken postman".
Agios Kirykos is the island's capital. It's a little more than a sleepy fishing village; actually, it's a pleasant town flanked by two spas, one of them dating from the Roman times and still popular. As I mentioned above, Ikaria is mountainous, yet it's the mountainous springs that keep it watered and green, with oak, pine and plane trees. I also said it's a rather calm place where time moves slowly. Well, development is just as slow, since it's mostly traditional.
Are there any places I should not miss in Ikaria?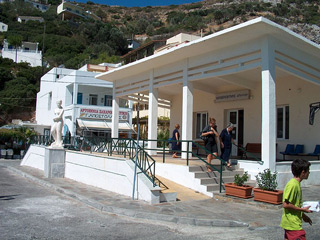 The first thing that comes to mind is Therma, an archetypal beachside village where hot springs bubble up from the earth at 33-55oC and are used to treat chronic diseases like rheumatism and arthritis. Those springs are the most radioactive in Europe; Artemidas for example is so strong (790 degrees of radiation) that it's actually closed to the public.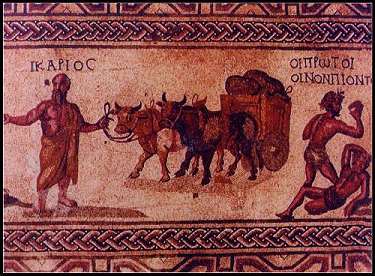 Then there's the Museum in Oenoe, the ancient capital of Ikaria. This museum houses (what else?) findings from Oenoe: pottery, clay figurines, coins, tools. Also, it displays a 5th century inscription reading "All Ikarians are liars", which was modified over the years to read "Jews" or "Turks" or whoever was out of favor.
Finally, there's another museum in Kambos, which houses Neolithic tools, geometric vases, fragments of classical sculpture and figurines, as well as an excellent "horse head" knife sheath carved from ivory.
Are there any historical or archaeological sites in Ikaria?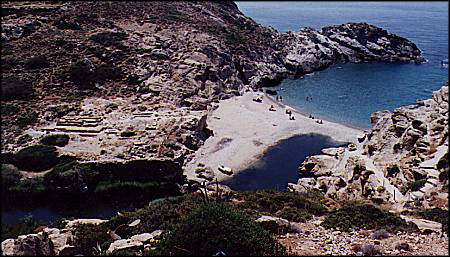 Ikaria is not the place to visit if you're looking for spectacular sites that will excite you. If your expectations are not high though, you'll enjoy visiting a couple of places.
The first that comes to mind Naos or Temple of Artemis Tavropolio in Nas. The temple actually gave the name to the place, Nas. A marvelous statue of the Goddess was discovered there in the 19th century, with eyes that followed the viewer from every angle. Unfortunately, the local priest immediately had it thrown in the nearest lime kiln.
Another violent destruction of archaeological beauties took place in Ikaria in the past. In Fanari there used to be a castle, until Admiral Miaoulis sailed by and decided to use it for target practice. This castle protected the ancient city of Drakanon, sacred to Dionysos. Only a few 5th-century BC walls currently survive on the acropolis.
Agia Irini is a church in Ikaria but it could be considered a historical site, since it's the island's oldest church, dating from the 12th century. It was built on the site of a 4th century basilica and the columns standing on the ground are from that original church. The frescoes are unfortunately currently covered with whitewash because there's no money to pay for its removal.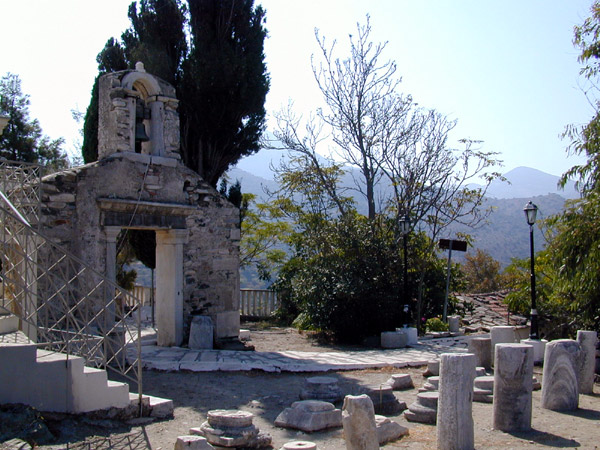 Are there any beaches in Ikaria?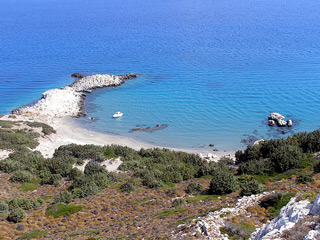 As I mentioned above, Ikaria's beaches were practically the reason my parents decided we'd visit it instead of Ithaca. So, yeah, Ikaria has beaches and most of them are rather attracted. Many of them are coil up in picturesque coves and very few of them are organized (which is a good thing, if you ask me).
The most beautiful beach has to be Evdilos, just before the port of the same name. It's a quiet beach with crystalline waters and the natural beauties surrounding it are astounding.
Then there's Kambos, a long sandy beach near the village of the same name. Its waters are clear and shallow and it's boarded by bamboo and other plants. A river plain forms this astonishing beach.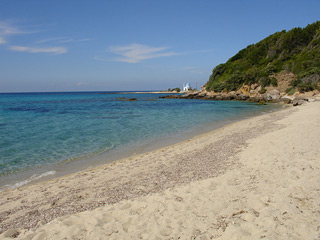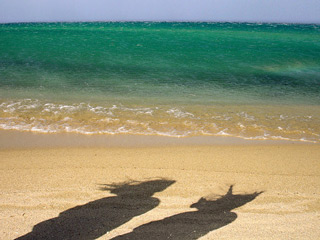 Nas beach is also quite beautiful. Lying in a picturesque cove, it is situated at the union of a river and the Aegean Sea, a special case of beauty. Just behind the beach you'll find dense forests with streams and waterfalls, waiting for you to discover them.
Finally, Prioni beach is a secluded beach near the road leading to Therma. It's sandy and pebbled, surrounded by orange cliffs from where you can dive (heights of 12 meters). It's accessible by steep paths.
So, where should I eat in Ikaria?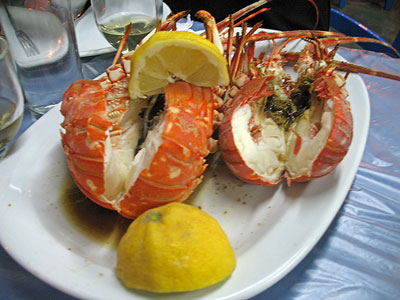 Agios Kirykos, for starters, has a number of good restaurants. One example is Filoti Pizzeria Restaurant, one of the town's most popular restaurants. It doesn't serve only pizza (even though it's its specialty), it serves pasta, souvlaki and chicken dishes as well.
Restaurant Dedalos, on the other hand, serves delicious fresh fish, as well as a good fish soup. The wines are pretty good as well.
To Keimali in Evdilos is an excellent restaurant with grilled meat and souvlaki in pita. It's where most of the fishermen go.
Finally, Pashalia Taverna in Armenistis is a great place for katsikaki (kid goat) or filling pasta and veal in a clay pot.
What about Ikaria's nightlife?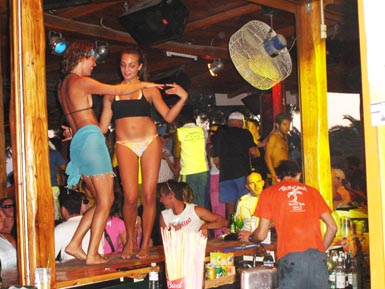 Ikaria is, as I've said, a quiet island, not big on the way of nightlife. It does have a few bars you can visit, but they're nowhere near the ones in, say, Ios or Mykonos. Most of these late music bars are around the port of Agios Kirykos, the waterfront of Evdilos and the beach resort of Armenistis.
Well, how do I get to Ikaria?
In the summer, there are two flights weekly from Athens. There is no bus service and the taxi will cost you around 10 euros to get you to Agios Kirykos.
By boat now, nearly all ferries that visit Ikaria's ports (Evdilos and Agios Kirykos) are on the Piraeus-Samos route.
Finally, hydrofoils from Piraeus (5 and a half hours) go to Ikaria three times weekly in winter and daily in summer.