Serifos
"The Barren One", that's how some of the books call Serifos. To be honest, I'm not even sure what the word "barren" means. It probably has to do with the way it looks. Just take a look at its pictures and look at the capital: I'm pretty certain you've never seen anything like this - and if you have, well, I'm tempted to leave my e-mail somewhere in this guide for you to send me the name of that place.
The only thing I knew about Serifos before I decided to visit it was a small mythology trivia: Perseus and his mother Danae were washed up on the shores of Serifos. I didn't know anything about the place or its history, I didn't even know the whole story of this trivial mythology information. Of course, I also did not know anyone who was from there. I hadn't even looked at pictures. Serifos is the island I still call "the Surprise".
See, there was this colleague of mine who was kind of like me. He wasn't as obsessed with traveling as I was so I didn't feel competitive, but he was one of the people I trusted when it came to travel information and advice about places I hadn't visited. So, when I randomly decided I'd visit Serifos, I asked him if he'd been there. What he told me was: "don't search for any information, just go there and see for yourself."
Now I don't think I would give you that advice since you might not like it the way I did. I mean, some people feel kind of intimidated when they first see the island. But what I can tell you is this: if you're a person who enjoys uniqueness, this place is for you. For me, Serifos was a love-at-first-sight kind of place and that says a lot.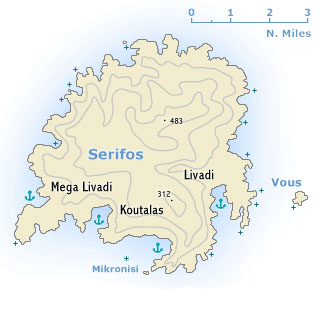 What does Serifos look like?
More or less, the things you'll find in Serifos are the things you find in most Greek islands: long, sandy beaches, small, fertile valleys, snow-white picturesque houses, narrow paved streets. What makes Serifos so special is its capital. Now, I'm not sure I can describe what it looks like, but I'll give it a shot: Hora is built on the top of a steep rock on the southeast side of the island. Well. that was easy after all! What does that mean? That means that the houses are above, next to and under stark rocks, creating a magnificent picture of a 'village' situated up and down a 'mountain'. Now, some additional details: the houses are minimal without excesses, perfect examples of the Cycladic traditional architecture. The town is backed by hotels and tavernas. Some of the cube-shaped houses have been renovated as holiday homes by Greek artists and architects. Finally, there are chapels and windmills perched precariously all over the island.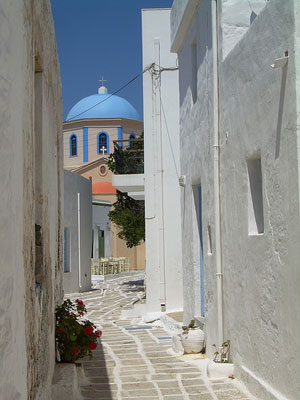 Are there any places I should not miss in Serifos?
First of all, there's the Town Hall. Built in the moneyed days of 1908, the Town Hall is situated in a pretty neoclassical square. The Archaeological Museum is in the same building that houses the Hall. Its exhibits include findings of the Classic, Hellenistic and Roman times (inscriptions, vessels, urns, etc.), as well as pottery and sculpture found at the island's fortress.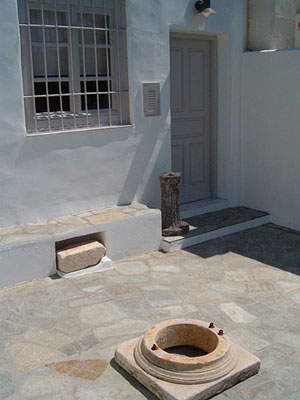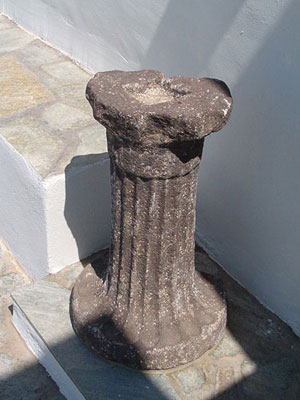 Serifos has another museum, the Folklore Museum. The Folklore Museum is on the lower edge of Hora, a long way down the steps to Livadi. It displays farming tools, household utensils and other exhibits.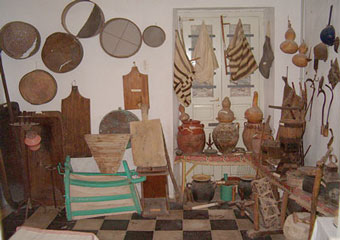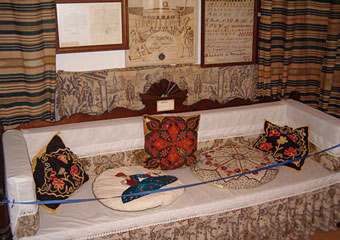 Finally, make sure you don't miss the Cave of the Cyclops, near the Kastro tis Grias. It has two stalactite chambers and a small lake, as well as a floor of petrified seashells.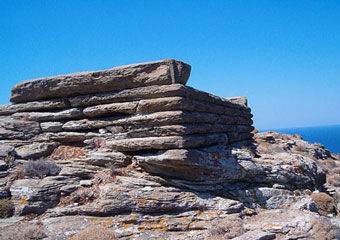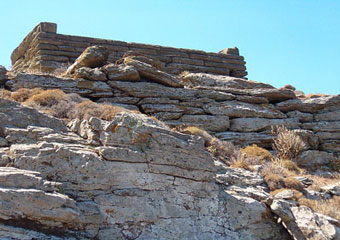 What about the archaeological and historical sites in Serifos?
Unfortunately, Serifos doesn't have many places to visit, whether archaeological or just impressive. The only archaeological places I can think of are the ruins of the island's two castles. The first one is the one on the top of the hill and the other one is the Kastro tis Grias (castle of the Old Lady). They're both striking, even though they're ruined.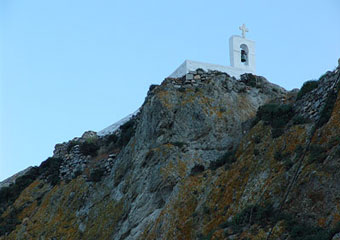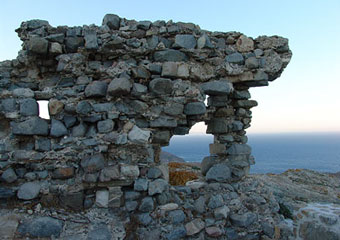 Other than these, the only place that comes to mind is the Taxiarches Monastery. Built in about 1600, the Monastery endured numerous assaults by pirates who were draw n by its reputation for rich treasures. You can still find a few gems conserved in the Katholikon, including Byzantine manuscripts, a carved marble and gilded wood iconostasis, along with some frescoes.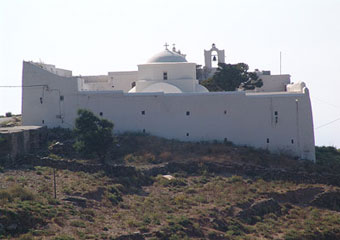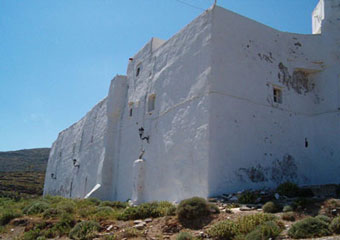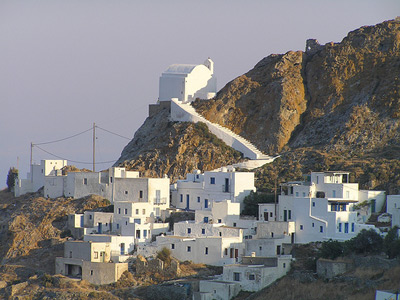 Traditional Villages
Well, since Serifos has some of the most beautiful traditional villages it wouldn't be a good idea to leave the island without visiting Galani, Kentarchos, Panagia and the Chora of Serifos. To learn more about their locations, what to see and how to get there visit my page Traditional Villages.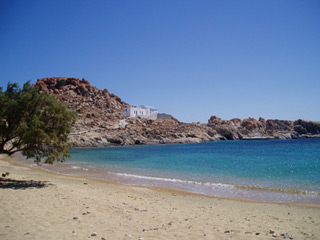 Does Serifos have any good beaches?
One would think that, being the way it is, Serifos doesn't have any good beaches. Well, I'm glad to inform you that falls far from the truth. Serifos actually abounds in beaches, most of them accessible by foot and unspoiled.
Learn more about them in my page Serifos Beaches.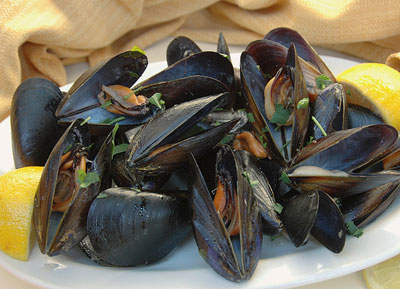 Where should I eat in Serifos?
Serifos doesn't have a gastronomic tradition like some other Greek islands do. However, it still has some places where you can have a decent meal. A good example is Petros, a taverna in Hora. Petros is most probably the best restaurant not only in town but on the whole island, with a grand selection of cooked dishes and grilled meals like lemonato (veal served with lemon sauce).
Margarita in Livadi serves excellent cooked dishes as well, but the service is kind of slow, so make sure you get there early. If you want a meze now, the best places to visit are Para, Manoulis and I Plateia, which has a rather beautiful setting.
What about Serifos' nightlife?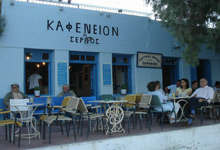 Along the beach in Livadi: that's where you'll find most of the bars in Serifos. Thankfully, there's a somewhat wide range in the music they play. Bar Karnagio, for example, plays good rock music. Alter Ego and Mouses are for Greek folk music lovers. Naftikos Omilos has low profile music. Just choose what you feel like listening to and go to the respective bar.
How do I get to Serifos, then?
You can reach Serifos only sea, either by ferry or by speed-boat. There are daily schedules to Serifos from Piraeus by ferry and the trip lasts about 4 hours. As for speed-boats, it takes about 2 hours and 10 minutes and there are daily schedules from Piraeus too. Serifos is also linked to most of the Cycladic islands by speed-boat either by the lines of Pi-raeus or by local schedules.
For more information contact the port police of Piraeus (+30) 210 4226000 or Serifos (+30) 22810 51470.