Skyros
OK, this is a first for me. You probably haven't read all the (how should I call them?) articles I've written about the Greek islands. Perhaps this is the first or the second section you're visiting, so you won't know what I'm talking about, but. well, I usually have some personal story to tell you, spice this guide up a bit and make it a bit more interesting and readable. Unfortunately, I can't find a thing to say about Skyros. I mean, of course, I can say that I went to Skyros with my friends Evelena, Chris and Leela and that it was awesome and that we had a great time, just like in every other Sporades island we visited that summer, but that doesn't sound interesting now, does it?
Well, most of the things that come to mind are inside jokes and places I'm going to describe in the sections that follow anyway, so I'm just going to stop embarrassing myself and move on to the first section.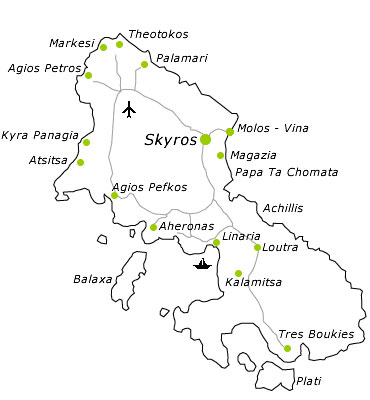 So, what does Skyros look like?
I remember reading in a book that Skyros was probably originally two islands, the halves joining somewhere near where there is now a road linking Linaria (Skyros' main port) with Aspous, a little village on the way to Skyros Town. Well, I don't know how much truth there is in this, but I do know Skyros looks like it's still two islands. Its southern half is barren, rugged and ringed with cliffs , while the northern part is fertile and pine-forested, with cultivated hills.
A native race of tiny ponies called the Pikermies roams the southern part undisturbed - a five-year-old can look those ponies right in the eye, that's how tiny they are.
Life in the town is concentrated at the main street of the capital, which runs from the telephone exchange (OTE) past the square to the northern edge of the town, where you will find a statue of a naked man representing Immortal Poetry (in memory of Rupert Brooke who is buried on the island - actually, I think the square itself is called Brooke square).
The town has cube-shaped houses with pebbled entrances, Byzantine churches and several spacious squares. Actually, Skyros' architecture and land scape bear more resemblance to the Dodecanese than the Sporades, but that is neither a good nor a bad thing; it's just a fact. Just like the fact that Skyros is a rather traditional island.

Which places should I not miss in Skyros?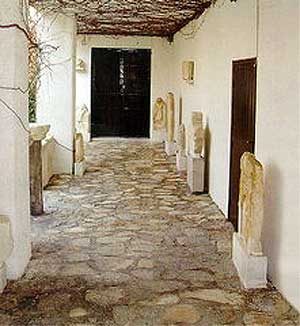 Skyros has two museums that definitely deserve your undivided attention. The first one is the Archaeological Museum. Built in 1963, Skyros' Archaeological Museum displays some bracelets and pottery that were discovered during excavations of minor Neolithic and Mycenaean sites around the island. It also presents a traditional Skyrian house accurately recreated with local furnishings.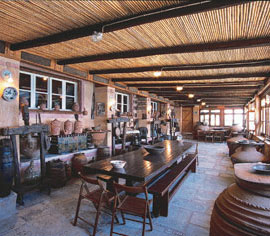 The other museum is the Faltaits Museum. Housed in an old mansion owned by the Faltaits family, the Faltaits Museum was opened in 1964 by one of their descendants, Manos Faltaits and it exhibits a diverse collection of folk art including rare books and manuscripts, photographs and paintings, which reveal much about Skyrian history and culture.
Are there any historical or archaeological sites in Skyros?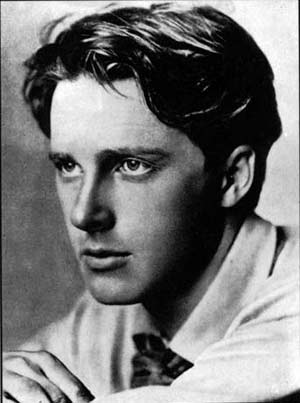 Could the site of Rupert Brooke's grave be considered a historical site? Well, it's better than placing it in the section "places to see", cause. here it's less creepy. Anyway, it's about a 30-minute drive from Kolimbadha.
Then there's the Kastro, the old Byzantine and later Venetian castle on the heights from which, according to the legend, Theseus was thrown to his death. The views from the Kastro of the bay below are quite spectacular. The castle can be reached through a tunnel underneath Moni Agiou Georgiou.
The white-washed Moni (Saint George Monastery) is another place you could visit. Founded in 962 by emperor Nikephoros Phokas (who was known as 'the pale death of the Saracens' after his liberation of Crete), the Moni is mostly known because it contains a fine painting of Saint George.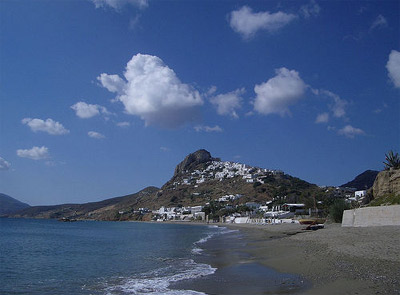 What about Skyros' beaches?
To be honest, many people say that Skyros is not the best place for swimming, so I was prejudiced when I decided to visit the island. I am glad to say that in the end I proved them wrong. Skyros has so many beaches that it can satisfy even the most difficult characters. Achili, Acherounes, Pefkos and Linaria are only a few that definitely worth a visit. Then again if you like skinny dipping there is also a nudist beach and coves that you can reach by boat for more privacy.
If you want to know which beaches to visit and which to avoid visit my page Skyros Beaches.
Where should I eat in Skyros?
Thankfully, Skyros is not a touristy kind of place, which means most of the restaurants are authentic and not tourist-traps, overly expensive or of poor quality.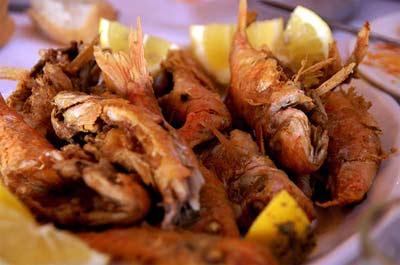 O Pappous Ki Ego is a bright example. "My Grandfather and Me": that's what the name means. This lovely restaurant serves simply excellent mezedes and main dishes like seafood pilaf and squid with aniseed. Definitely try the dolmades. I don't know what their secret is, but they're delicious.
Orestes Taverna is quite good as well. It has a wide range of dishes; the ones I recommend are kleftiko (goat in parchment paper) and grilled red mullet and sea bream. Leela, on the other hand, recommends skordalia (she's the only friend of mine who eats it and I remember that she loved it).
Sisyfos Taverna is in Skyros Town, on the main street. Just like Orestes, it has a wide range of dishes like lasagne, lentil soup and fresh vegetables. It also has a very decent terrace and the service is thankfully quite quick.
Don't miss Marietis, on the main street as well. It offers a wide choice of sea-food, salads and grilled dishes.
While you are heading towards the airport make a last stop to Perasma, where you will eat the best meat of the island accompanied by vegetables cultivated by the owner of the taverna.
And if you are around Atsitsa go to Kir-Antonis for fresh fish and to Ktima Atsitsa which is right next to the sea. The dishes served are only comprised by biological products.
What about Skyros' nightlife?
Most of the bars in Skyros are gathered on Agoras. Luckily, most of them are quite good and they're all quite tastefully deco-rated.
Artistiko Bar plays only Greek music. Yes, the name threw me off too when I visited it, but it's actually quite good and mind that I don't listen to Greek music. It stays open till dawn.
Akamatra plays a mellow mix of reggae, rock and blues. Kalypso is even more mellow, with mostly jazz and blues. Neoptolemos, again. mellow. It plays lots of Greek sounds.
Stone, on the other hand, is a bit wilder, with disco, pop and funk till the wee hours. Finally, Skyropoula Disco attracts an older crowd than Stone but it plays European and Greek sounds that are upbeat as well.
How do I get to Skyros?
The port closest to Skyros is the one in Kymi (Evia) only 2 hours away. You will reach Kymi by car, 175km from Athens. For extra information contact Kymi's port police tel. +30-22220-22606. During the summer Skyros is also connected with the rest of Sporades and the Cycladic islands with flying dolphins. Contact Skyros port police for information tel. +30-22220-93475. if you decide to go by plane from Athens enter the site of the Olympic Airways to see the flight schedule and times.