Zakynthos
Zakynthos is one of the few islands that I have actually visited twice in my life. Being the traveler I am, I always feel the need to discover something different, a brand new exciting place every year. That's one of the reasons I've actually managed to visit all of the Greek islands at this age (the other ones being no financial difficulties and willing company). Nostalgia is of course a common thing, but it's not as strong a feeling as the excitation of a new discovery most of the time. So, you can get how special an island must be if I actually decide to visit it twice (if you exclude Crete, which is the place I'm from).
Re-visiting Zakynthos was actually a mutual idea. The first time we'd visited it was when we were all kids, around 11 years old, with our parents. It was me, Georgia, Isidora and Chris (at this point, let me tell you that, yes, I've known almost all of my friends since primary school, except for a couple of them that I met in high-school or college).
So, it was last year that we decided to revisit it. We were sitting at the balcony of Isidora's home and talking about how easy things were when we were younger, when our trip to Zakynthos came up and spontaneously, we decided we'd try to 'recapture' those feelings by revisiting it.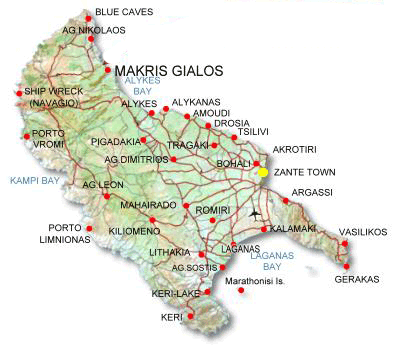 Zakynthos Hotels
If you search for accommodation in Zakynthos I recommend you to visit Zakynthos Hotel Online Bookings. There, you can make your reservations directly to the hotels and find rooms in low prices and useful guest reviews.

Are there any places I should not miss in Zakynthos?
I guess you mean other than my recommending it to you. So. Well, would it impress you if I told you that the Venetians loved Zakynthos the most, out of all their Ionian possessions? They loved it for its charm and natural beauty; the Flower of the East, they used to call it. Actually, Zakynthos town used to be even more splendid than Corfu town before the earthquake, as most books claim.
Well, I can't really tell you anything else to convince you. You're just going to have to read on and decide for yourself!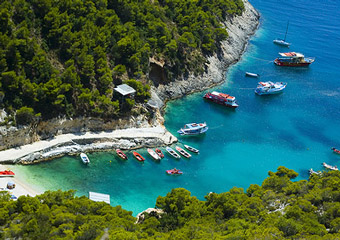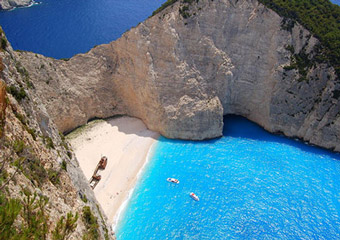 So, what does Zakynthos look like?
As I said before, Zakynthos Town or Hora used to be even more magnificent than Corfu Town. All that turned to rubble by the earthquake. So, when the time came to rebuild their earthquake-shattered town, Zakynthos' inhabitants tried to combine the old city's delight and charm with the dull lines of Modern Greek architecture. Well, I'm no expert and I honestly love the way Hora looks now, but people say they didn't fully succeed. However, they all agree that the town is still spectacular, with its superb setting and the ancient acropolis hovering above, crowned by a castle.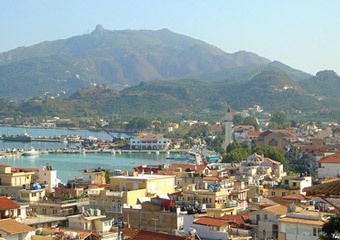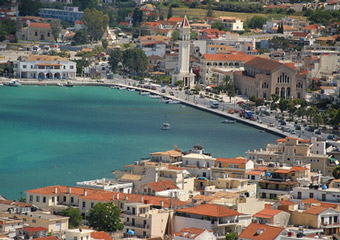 Fertile green hills, mountainsides, valleys planted with vineyards, olive and almond groves and orchards, beautiful garlands of flowers and beautiful bea-ches, these are the things that characterize Zakynthos. Also, not that the houses are one-storey and remember that some local shops still sell the local specialty, mandolato (white nougat with almonds) - you will want to check it out.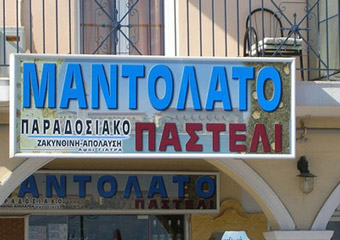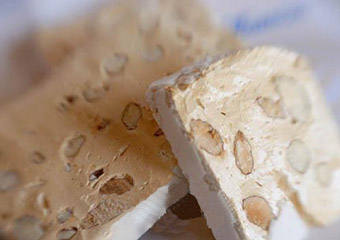 Are there any places I should not miss in Zakynthos?
Well the first thing that comes to mind is the Neo-Byzantine Museum. It could be rather surprising, since I'm not quite fond of the Byzantine years of Greece's history, but the beauty of this museum's contents is quite impressive, really. All of the art exhibited in the museum was salvaged from shattered churches across the whole of Zakynthos and, let me tell you, they're spectacular! The 17th century was actually a golden age for painting on the island, especially after the arrival of refugees from Crete in 1669, among them Michael Damaskinos, the teacher of El Greco.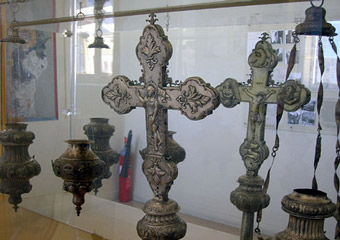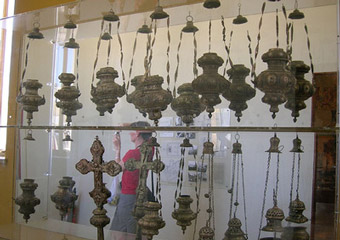 Zakynthos also has lots of important churches that, even if you're not the religious type (like myself), you should visit. Kira tou Angelou, for example, contains icons by Panagiotis Doxaras and a pretty carved iconostasis. Faneromeni church that was built in the 15th century, used to be one of the most beautiful churches in Greece before the earthquake and it still maintains some of its beauty. As for the Basilica of Ag. Dionysios, it was built in 1925 to house the bones of Zakynthos' patron saint and it was actually one of the three buildings in town left standing after the earthquake, either due to its solid construction or the saint's divine intervention (choose which version suits you the most).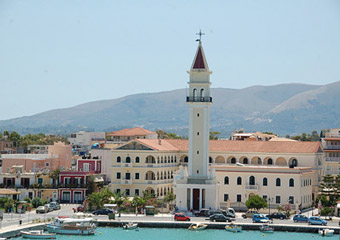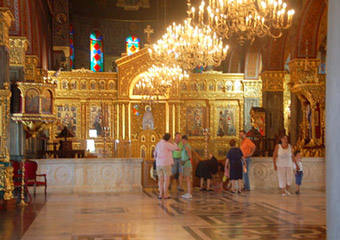 Finally, there's Plateia Markou. Plateia Markou has been the social center of town since the 15th century. It also used to be the site of the Romianiko Casino that everyone loved but no one rebuilt after the earthquake.
Are there any archaeological or historical sites worth visiting in Zakynthos?
Unfortunately, the only thing that comes to mind is the Kastro. The Kastro is a peaceful, shady ruined Venetian fortress high above Hora. The view it offers is quite beautiful and there are some well-sited restaurants around where you can have a decent meal. Other than that though, no. There's no other place of historical or archaeological value in Zakynthos.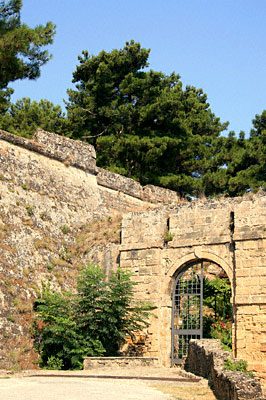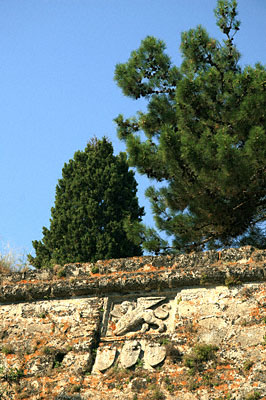 What about Zakynthos' beaches?
Thankfully, what Zakynthos lacks in archa-eological sites, it makes up in other things, among them the beautiful beaches it has.
Which one should I start with? I honestly don't know. There's Agios Nikolaos, a beautiful sandy beach that our parents seemed to adore and dragged us kids there every single day of our vacation the first time we visited it, so we just gave it one day to pay our 'respects'. Agios Nikolaos has great turtle free water sports facilities.
Then there's Alikes, another sandy beach, on the east coast of Zakynthos. Alikes is one of the most popular beaches of Zakynthos. Alikanas is a small sandy beach and also the place where ancient Mycenaean pottery was found.
Argassi beach is as popular as the resort with which it shares the same name. Along with Laganas, Argassi is actually the most highly developed part of the island.
Finally, there's Dafni beach, a sandy beach that faces the islet of Pelouzo in Laganas Bay. Beware though, because Dafni beach is one of the beaches where endangered sea turtles lay their eggs.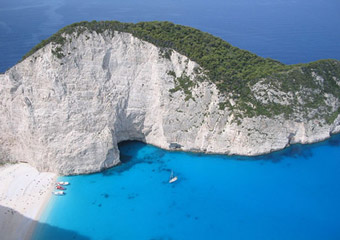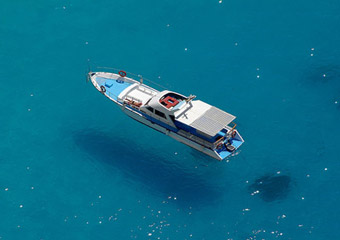 Where should I eat in Zakynthos?
Thankfully, there are plenty of places where you can have a reasonably priced, delicious meal. For example, there's Arekia, a popular, non-touristy restaurant in Kryoneri, where there is no menu; the owner tells you what's been made and you choose. What makes this place so special though is the wonderful live music it offers.
Aresti in Kryoneri is another bright example. The food is simply excellent (just try the leg of pork with chili, you'll be licking your fingers) and the setting is just so beautiful, it will be a shame if you don't visit it. Note that the chef is Brazilian and she cooks rather unique dishes.
O Aderfos tou Kosta (=Constantine's Brother) in Vassilikos is a traditional taverna with tasty kolokithokeftedes (courgette rissoles) and tirokroketes (cheese croquettes). Panorama is a quite scenic spot up by the castle, with live kantades and traditional Zakynthiot dishes like rabbit casserole and beef in tomato sauce. Finally, Pantheon on Lombardou Street has great Greek food and a beautiful view.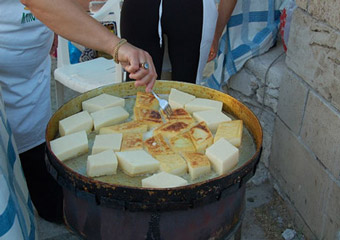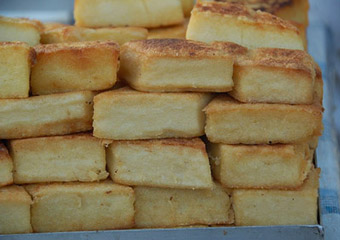 Does Zakynthos have nightlife?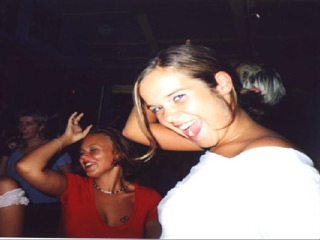 The nightlife of Zakynthos is not only exciting, but it has quite much to offer. For example, there's Fragile Bar, one of the oldest and most picturesque bars in town, with the best Margherita. The Mill Bar, open since 1988, is another wonderful choice. Its setting is amazing, with a Greek style watermill covered by the shelves.
The Jungle Bar is yet another excellent suggestion. The music is a combination of new hits and all time classics. As for its service, one word covers it: great. The Jungle Bar serves the best shots and cocktails of all bars in town.
Finally, don't miss Sugarbush and Club Zante. The former is the ultimate cocktail bar, with a great selection of cocktails including ice-cream and champagne varieties and a rather comfortable setting. As for the latter, it's the place where you will either sit back and relax or stand up and have it large, partying all night long. Both options are very satisfying.
So, how do I get to Zakynthos?
Zakynthos is one of the few Greek islands that can be reached directly, without having to go to Athens first. See, it has its own airport and there are several charters from major European cities, including flights to various locations in the UK. Of course, Zakynthos is also accessible by Athens, with daily flights from it.
You can also reach Zakynthos by sea, but it's only connected to Killini on the Peloponnese, Kefalonia and Skinari-Ag.Nikolaos, so unless you're planning on visiting any of these places too, I suggest traveling by plane.