Amorgos
Have you ever pulled an all-nighter? I used to pull all-nighters all the time when I was younger, just for the fun of it. It was a habit of my friends and mine; we would gather up and do things all night until the sun came up, then go on with our days and not sleep until the next night came. Now I can't do that anymore, not even when I need to (to grade papers, for example). Anyway, the point of me telling you this... Well, the greatest all-nighter I ever pulled was when I was going to Amorgos. It was 21 years ago and I was 16 years old.
Amorgos is a 12-hour boat ride away from Piraeus. Now, imagine us, a bunch of 16-year-olds at the time, spending those 12 hours awake on that boat, at night, doing whatever we felt like doing: playing cards, watching movies, visiting the bar, narrating creepy tales to each other with a view to the sea and a rather chilling wind forcing us to wear our jackets mid-July.
Its remoteness is actually the reason why Amorgos had been neglected by mass tourism for years. Thankfully, all this changed when Luc Besson filmed some key scenes of "The Big Blue" there, thus making people realize how seductive this island is. Of course, you don't need to watch the film to see that. You just have to look at the pictures; I'm pretty certain that will be enough to convince you.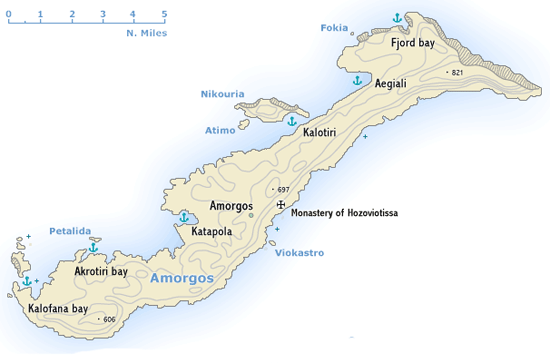 Amorgos Hotels
If you search for accommodation in Amorgos I recommend you to visit Amorgos Hotel Online Bookings. There, you can make your reservations directly to the hotels and find rooms in low prices and useful guest reviews.

What does Amorgos look like?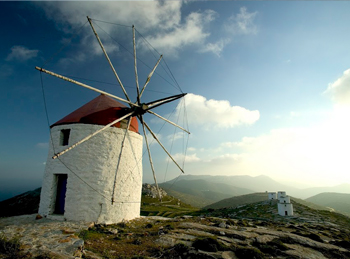 Amorgos is pretty much a typical Cycladic is-land: dazzling white little villages, narrow white streets, a certain charm. Katapola, Amorgos capital, is full of old churches dating from the time of early Christianity (like Panagia Katapoliani, for example) and a few windmills with-out sails are scattered on the ridge of a hill. The island is generally mountainous and quite dramatically rugged. There are also footpaths in the mountains, lined by drystone walls perfect for walking.
Are there any places I should visit in Amorgos?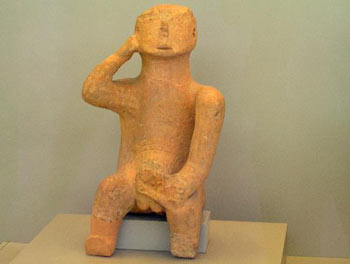 The only place that comes to mind the Archaeological Museum, really. Housed in a beautiful 16th century nobleman's residence (I mean the residence is beautiful! I didn't know the nobleman!), it contains various objects from the island dating from prehistoric times to the Roman Period, along with the remains of some ancient steles and a small collection of pottery. There are also a few statues and capitals in the patio.
Are there any archaeological or historical places in Amorgos?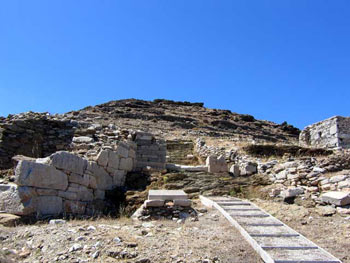 The biggest site in Amorgos is ancient Minoa, just 2,5 kilometers from Katapola. Minoa used to be a prosperous city of a great size that was continuously inhabited from the 10th the 4th century BC. Now it's a site that you can get to after a 45 minute walk from the capital and that consists of several impressive remains. For example, in the lower part of the site you can find remains of successive defensive walls as well as the remains of a gymnasium dating from the 4th century BC which was altered during the Hellenistic Period. Also, at the top of the hill, you will find the foundations of a sanctuary from the Geometric Period, dedicated to Dionysos.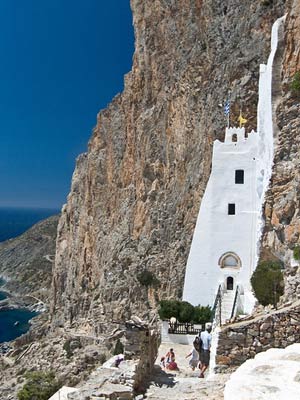 Hozoviotissa Monastery is a quite popular place as well. "A cupboard adhering to the bottom of an awful rock"; that's how the French writer Piton de Tournefort described the monastery during his first visit to Greece in the early 18th century. On the other hand, "the place of the devil" is how the faithful of the a-rea used to call it. Now the building is 8 storey's high, partly dug into the cliff and party overhanging the abyss. This monastery is about a thousand years old. At first it only consisted of a few cells dug into cracks in the rock (9th century), built to house an icon of the Virgin Mary, but in the 11th century Emperor Alexius Comnenus decided to expand it. A rather impressive fact about it is it never ceased to be inhabited.
Other than those two major sites, there's the Venetian Tower of Gavras, a building of the 16th century that is currently used as a museum which houses fin-dings from the excavations on the island, and the Teaching School, one of the first high schools after the revolution of 1821. As its founding sign indicates, it was established on the 21st of June 1829 at the expense of the Holy Monastery of Hozoviotissa.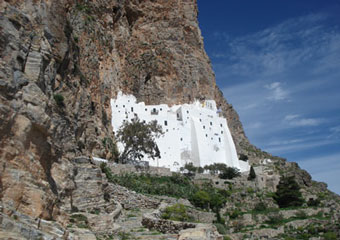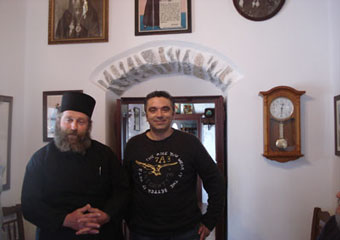 Are there any good beaches in Amorgos?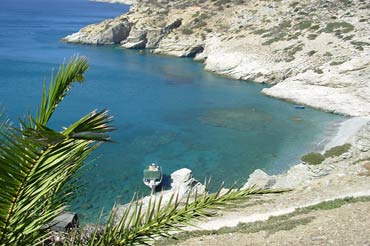 Actually, one of the reasons many visitors select Amorgos as their vacation destination is its numerous lovely beaches!
One bright example is Levrossos Beach, a long sandy nudist beach in Aegiali. If nudism is not your thing though, you can visit Agia Anna near the Hozovio-tissa Monastery, a ravishing pebble beach with deep blue and crystal-clear water. This is actually the beach where scenes of the movie I previously men-tioned, "The Big Blue", were filmed.
Mouros is yet another beautiful pebble beach with two caves that you can explore. Maltezi is a decent sandy beach near the Katapola port, with mountains and vegetation surrounding it and participating to its relaxing quietness. Finally, Kalotaritisa is a long sheltered sandy beach at the south of Amorgos, a place I personally rather enjoyed visiting.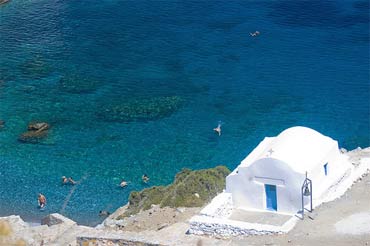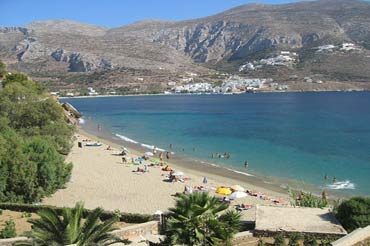 Where should I eat in Amorgos?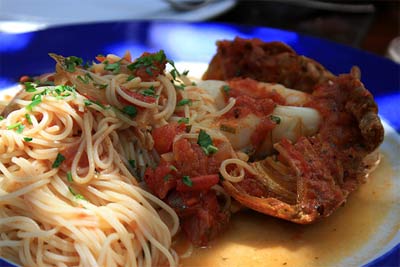 Our first day in Amorgos, Evelena, Leela, Hope, Chris and I sat at a restaurant called To Limani. So, this is the place I'm going to recommend first. Suffice to say, it was excellent. It's traditional, it has a lovely roof garden and the food is whisked up in a little lift, the downstairs walls exhibit works by local artists... As for the food, it's mostly seafood, tasty seafood.
Disco the Que is another great choice. Merging seamlessly with the beach, this relaxing place offers a wide range of healthy dishes like risotto, rice and chicken or vegetarian food. As its name indicates, it's not just a restaurant, it's a disco with various kinds of music (funk, trance, jazz, rock) that keeps going late into the night.
Liotrivi, on the edge of town (Katapola), has a roof garden and delicious dishes like kalogiros (aubergine with veal, feta and tomatoes), exohiko (lamb and vegetables in a pastry) and baked vegetarian briams.
Finally, there's Restaurant, a popular beachside restaurant at the village of Lakki that uses home-grown ingredients in it's traditional dishes.
What about Amorgos nightlife?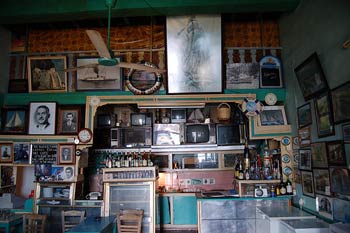 Most of the bars in Amorgos are gathered in Katapola, the main port, or in Aegiali. Now only two places come to mind (which probably means these two places are the only ones I enjoyed, since I have an elephant's memory). The first one is Moon Bar, a rather relaxing place on the northern waterfront which is perfect for a reflective drink.
As for the other one, it's Le Grand Bleu, just along from Psaropoula, a very popular bar that was actually named after the film "The Big Blue". It plays rock, reggae and Greek music.
How do I get to Amorgos?
As I said before, Amorgos is a 12-hour boat ride away from Piraeus. In summer, there are usually daily services to Piraeus and less frequent to Rafina via Naxos, Mykonos, Siros and Tinos. By hydrofoil now, there are several connections between Katapola and Rafina (4 hours and 30 minutes) or Piraeus (8 hours).