Spetses
It's only been one year or so since I visited Spetses. Actually, I'd been avoiding visiting it for years, always finding some other island I could go to instead of it. Why? Well, it had nothing to do with the island itself; in fact, I didn't know the first thing about Spetses. It was all a matter of bias; I'd hear the name Spetses and I'd think, "What an ugly name for an island!". and I'd choose some other island to visit instead of it. I knew it was ridiculous and that Spetses was probably a beautiful island just like the rest I'd visited, but I just couldn't shake this thought off.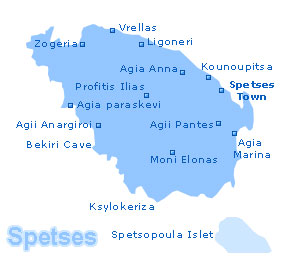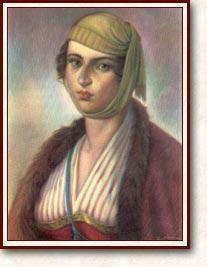 I'm still not sure how Spetses got its name. I think it has something to do with its ancient name, Pityoussa (which means "piney") - a corruption of it. What I remember though is my first words when my wife, my friends and I stepped foot on the island: "Is there any way we can change this island's name? You know, just in case there are other idiots out there like me."
Spetses changed hands quite a few times throughout history. It was under Venetian rule in 1220, Turkish in 1460 and Albanian during the 16th century. After all these years though, there's one thing this island can take pride in for sure and that's Laskarina Bouboulina. Laskarina was the admiral who menaced Turks from her flagship Agamemnon and seduced men at gunpoint, until she was shot in 1825 by the father of a girl her son had eloped with.
Spetses Hotels
If you search for accommodation in Spetses I recommend you to visit Spetses Hotel Online Bookings. There, you can make your reservations directly to the hotels and find rooms in low prices and useful guest reviews.

So, what does Spetses look like?
Spetses is the most wooded of the Argo Saronic islands. There's only one settlement, Spetses Town, which stretches along the coast facing the Argolid Peninsula. The rest of the island is practically uninhabited. Spetses Town now has its fair share of bars and fast food places, but there's also Paleo Limani (Old Harbor), which is a bit more traditional: 18th-century Italian-style mansions (archontika) that are now property of wealthy Athenian families who return to the island every summer are what prevails there.
Are there any places I should not miss in Spetses?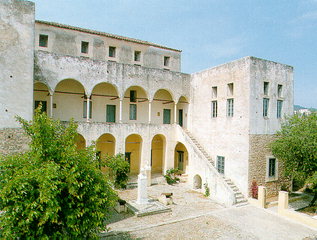 There's this place that used to be the Chatzi-Giannis Mexis' archontika (dating from 1795); Mexis was one of the Spetsiot leaders of the War of Independence and the first governor of the island. Now the building has been turned into a museum, the Chatzi-Giannis Mexis Museum, which you should definitely not miss. First of all, the ground floor is full of antique remains that were discovered in the waters of the island's gulf. There are also objects dating from prehistoric times, 18C utensils and furniture as well as souvenirs from the War of Independence. But the one thing that will make your visit worth it is Bouboulina's coffin that's on display along with figureheads from her ship.
Speaking of Bouboulina, her former home is now the privately run (by one of her descendants) Bouboulina Museum. Standing in a charming square shaded by pines, the museum displays a collection of furniture, paintings and personal items that belonged to Bouboulina, such as her weapons, her headscarf and a model of her flagship. The atmosphere of the museum is rather formal.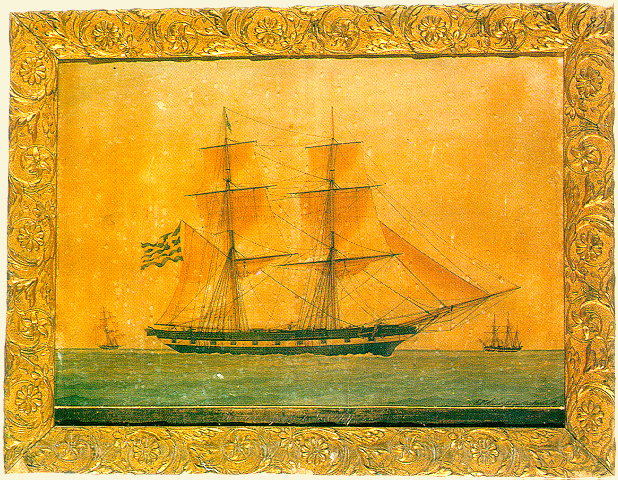 Are there any historical or archaeological places in Spetses?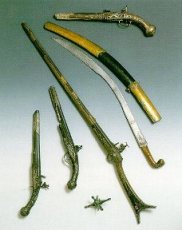 To be honest, the only places I can think of that are of historical significance are the two museums I mentioned above, the Chatzi-Giannis Mexis Museum and the Bouboulina Museum. Other than that, the monastery of Agios Nikolaos (Saint Nicolas) comes to mind. The monastery is situated just outside Spetses Town and it's open to visitors, under one condition: the men should wear long trousers and the women should wear long skirts and have their shoulders covered. Agios Nikolaos is actually the patron saint of the island, as well as the patron saint of sailors; it was in this monastery that the Spetsiot leaders took the oath of freedom when the war of Independence was about to break out in 1821.
What about Spetses' beaches?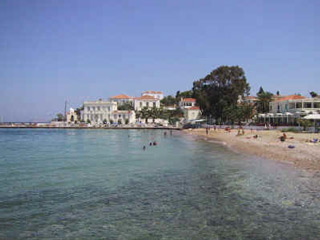 Thankfully, Spetses has many beautiful beaches that you can choose from. Actually, the entire coast of Spetses is embellished with pebbly beaches and rocky swimming coves.
The first beach that comes to mind is the beach of Agia Marina, the island's most popular beach. Overlooked by a small pink and white chapel surrounded by (what else?) palm trees, pines and cypresses, this sandy beach offers a wide range of water sports along with umbrellas and sun beds.
Agioi Anargyroi, on the other hand, is probably the largest and most developed beach of Spetses. It's sandy and pebbly with deep waters ideal for water sports and from there you can also reach the breathtaking cave of Bekiri, a famous historical place that was used as a hiding place during the War of In-dependence.
Vrellos is another lovely beach in Spetses. All that would need to be said is that it's also known as "Paradise", but I'm going to get into a few details. So, Vrellos is a lovely sand and pebble beach, surrounded by a thick pine forest, which can be reached by road or by taxi-boat.
Finally, don't forget to pay Agia Paraskevi a visit. Agia Paraskevi is a magnificent sand and pebble beach located in a sheltered cove and shaded by a thick pine forest. It offers water sports facilities as well.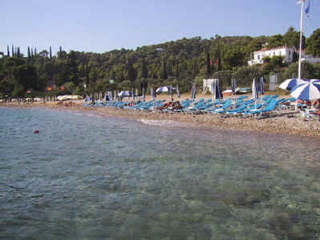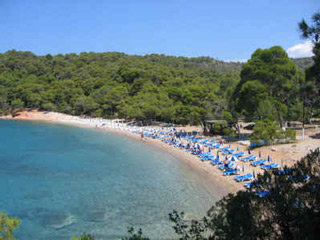 OK, so where should I eat in Spetses?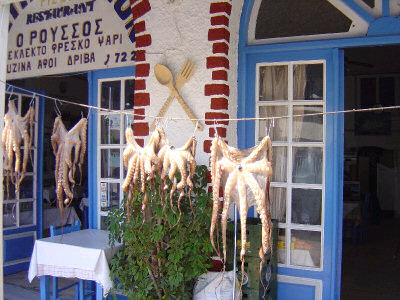 Luckily, most of the restaurants in Spetses are of excellent quality and reasonably priced. A bright example is To Spezotiko in Dapia, a lovely restaurant with decent cooking. Its specialties include grilled octopus and garlic-flavored cream chicken with mushrooms.
Then there's Roussos, in Dapia again, a very good place with delicious home-made taramosalata and Spetsiot fish. Byzantinos at the Paleo Limani is also a great choice, with excellent mezedes and wines, as well as (a bit more expensive) fish dishes. The view of the bay is magnificent.
Lazaros in Kasteli is a restaurant you should not miss. Housed in an old Spetsiot mansion, this taverna is mostly known for its specialty, goat in lemon sauce, which, let me tell you, deserves all of the attention it gets. Lazaros is only open in the evening.
Finally, there's Paradise in Agia Marina, an excellent place with an excellent view of the sea. It serves delicious, freshly grilled fish.
What about Spetses' nightlife?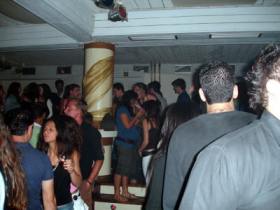 Nightlife on Spetses is wild and varied. There are bars, night-clubs, discos and bouzouki clubs scattered all over the island.
The place I definitely recommend is Bar Spetsa. The owner, Mr. Costas, jokingly claims that his bar has the worst views of the Saronic Gulf but the best music from the 60's and 70's, as well as the best whiskies from the 80's. Well I don't think I can prove any of this right or wrong, but what I can say is this place is a treasure.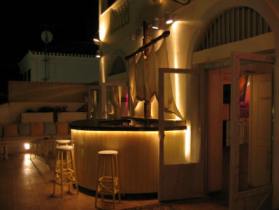 Then there's Balconi Wine Bar, a stylish bar that plays mainly classic al/orchestral music in the morning and jazz in the evening. It's got a terrace that is the perfect spot to drink a cocktail or a glass of wine and relax.
The most popular clubs are Figaro that plays funk till midnight, then Greek music till dawn, Disco Fever that plays techno and electronic music, Fox that plays Greek music and Delfinia Disco.
How do I get to Spetses?
You can get to Spetses by boat. There are at least six services per day to Piraeus (2 and a half hours). There are also daily connections to Ermioni (1 hour) and Porto Heli (20 minutes).