Gavdos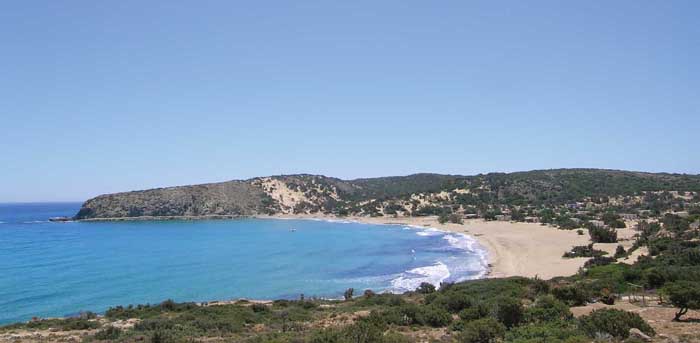 Gavdos is situated 20 miles south of Crete. It is opposite Sfakia to the southernmost border of Greece and Europe. It is 22 nautical miles away from Loutro, right in the middle of the Libyan Sea. As Homer claims nymph Calypso lived there.
Gavdos is comprised by three villages, Kastri, the capital, Vatsiana and Ambelos. It is inhabited by 40 people, it looks like a triangle and its climate is warm and dry. It covers an area of 7.400 hectares and a big part of the island is covered with pine trees, cedar trees, vineyards and bushes.
The island has some of the most beautiful beaches, Sarakiniko, Korfos, Tripiti, Agios Ioannis, Potamos, Lavraka that have recently won the award "Golden Starfish". Their waters are crystal clear and the sand is golden. The sea in Gavdos is filled with shoals of fish, crawfish, shrimps, swordfish and more.
There are trips from Crete to Gavdos twice a day, which last from 2 to 3,5 hours depending on the port (Palaiochora or Sfakia).
I would strongly recommend you to visit the beautiful and unknown Gavdos. It is a historical island, that has offered natural harbors to pirates, traveling merchants and castaways since the Minoan times. Apart from that it is ideal for quiet vacations and swimming. Have a great time!