Pontikonisi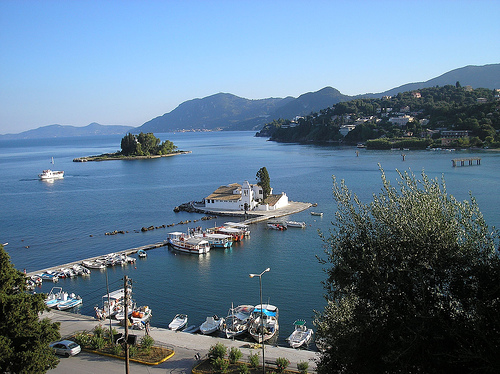 This small beautiful island covered with pine trees which is situated between Agriovotanos and Ellinika is called Pontikonisi. Only a few places in Greece have been photographed as much as this small piece of land which is the trademark of Corfu.
This virgin biotope houses seals, dozens of birds and it is also a location rich in fish. Its existence is recorded in all the old maps and it is said that in the area around it the famous naval battle of Artemision took place.
Pontikonisi is the home of the Pantokrator monastery. It is the white stone staircase of the Monastery that when viewed from afar gives the impression of a mouse tail that gave the island its name, mouse island, that's what Pontikonisi means in Greek. A legend says that this monastery is the stone-still ship of the Faiakes or as they say, their punishment of Greek god Poseidon for their help to Odysseus.