Corfu Beaches
Well, let's start with the organized beaches. If you decide to visit Mon Repo, only 1km from town, have in mind that you will have to pay an entrance fee
Then Glyfada, is the most popular and beautiful beach of the island. it is frequented by high society and it is quite popular with the young crowds as well. It is sandy with shallow clean waters and it is situated 17km to the west of the town. It also has a beach bar.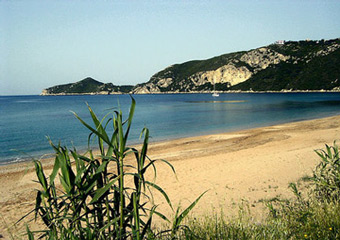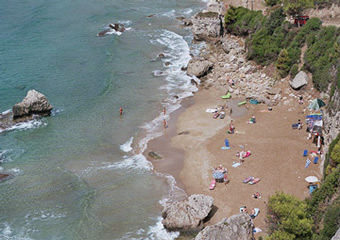 Moving on, there is sandy Gialiskari, dominated by the green and blue colors and the pine trees that reach the sea.
Then Kavos, is the paradise of the English visitors which has quite a reputation abroad. Endless parties take place at this location and as a result drunk tourists are all over the place. The waters are quite shallow. Take your beer and go!
After Kavos you will need your peace and quiet so the next day it is better to go to Gardenos for your swim. The beach is sandy and there are canes all around.
Now, if you have a boat you can go to Agios Stefanos Sinion since there is a place where you can leave it while you take your swim in the small pebble beach with the pine trees.
Now, the best place for diving is Agios Georgios Argiradon right below the village with the same name. it attracts many families and has a diving center.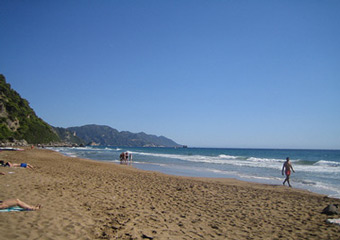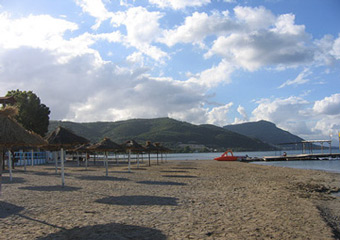 And if you want to visit a place known from Greek mythology go to Ermones, the beach where Odysseus was washed out. It is a small bay with pebbles and it is surrounded by hills and hotel complexes.
Now Corfu, has a plethora of organized beaches that you will have trouble choosing among them. Apart from the ones that I analyzed I am giving you a list of some more so that you can pick. Agios Georgios Pagon, Dassia, Moraitika-Mesoggi, Arillas, Agios Stefanos, Avlioton, Kalamaki, Avlaki, Kerasia, Kaminaki and Agia Varvara. I don't need to remind you that you should visit as many as possible.
Moving on, if you got bored of trying to find the good beaches of the island through dirt roads and difficult paths let me make it easier on you by listing a few of Corfu's beaches with quite an easy access. Agios Gordios Sinaradon is a meeting point of people from all over the world. It is a wide sandy beach which is really crowded.
Then from the main road you will notice Ipsos, a narrow sandy beach which is popular with the English.
Then Gouvia, one of the best organized marinas in Greece. The beach is sandy and especially appealing to those who like water sports. This beach is a very good solution for those who live in town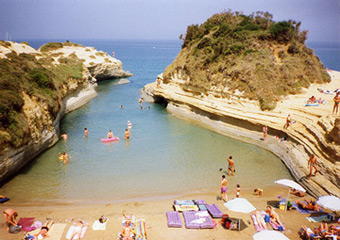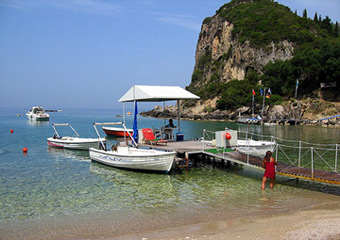 Now, regarding Palaiokastritsa, it is comprised by six different coves with dark green waters, green slopes and big crowds. To the left of the main cove you will find the small pebble beach Alipa which is great or the small pebble bay Agia Triada which is great too. If you want to avoid the crowds it is a good idea to rent a small boat and go for a private swim in the magical caves with the crystal clear waters.
If you decide to go to Kalami you will have the chance to take a look at Lawrence Darrell's villa which is at the edge of the cove. The sea is very clean and there are also some tavernas in case you get hungry.
Then Bouka is the beach most loved by the locals and their families. This is the spot where the river of Lefkimmi enters the sea. The waters are shallow and the sand is fine.
If you have already visited these beaches it wouldn't be a bad idea to go for an extra swim in Benitses, Agios Ioannis Peristeron, Astrakeri, Roda-Acharavi, Agni, Barbati and Molos.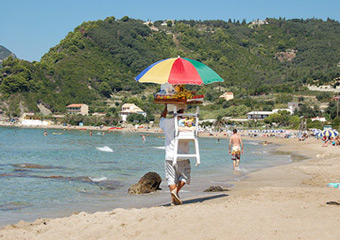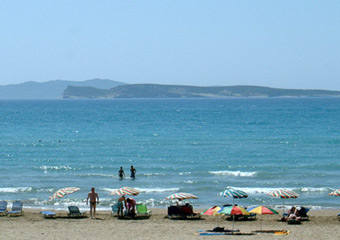 Now if you are into discoveries start from Paramonas, a sand and pebble isolated beach that isn't mentioned in any tourist guide. There you will usually find German tourists who are also fond of adventures. It is located 3km northwest to Agios Matthaios village.
Next, Arkoudilas which is situated to the south edge of the island is famous for its forest and its sandy beach. You will reach it walking through the woods or the trail which starts from the isolated beach called Kanoula.
Then in Kouloura beach you will notice three different kinds of people. Fishermen, boat owners and families lying on the sand. This is one of the finest bays in Corfu.
Megalos Choros is a beach for local people because tourists usually haven't heard about it. You will reach it through Kritika village. It is a quiet beach with fine sand.
For more explorations go to Drastis, Agios Gordios Palaiochoriou, Nisaki, Agios Spiridonas and Elli.
And here are the rest of the best! Meaning a few more beaches that you shouldn't miss!
Myrtiotissa Beach, one of Corfu's most beautiful beaches, near the monastery of Panagia Myrtiotissa. It's not accessed easily, so it mostly attracts nature-lovers and nudists, but if you don't mind the very poor dirt road that leads to it you will enjoy a magnificent sandy beach with pines and banana trees.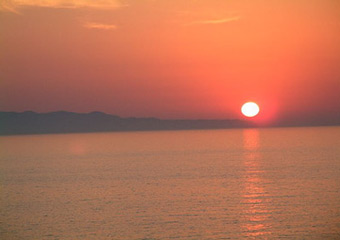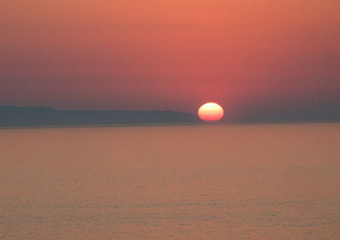 Kondogialos, an organized sandy beach with unspoiled natural environment. Prassoudi, an untouched beach surrounded by a green landscape, Halikouna, Kerassia, Perama, Liapades, Moraitika, Issos, Gouvia, Peroulades, Kassiopi, Roda and Pelekas are the last ones that I am going to mention.
Take a pick from the list and don't waste time! Start swimming!