Chryssi Island or Gaidouronissi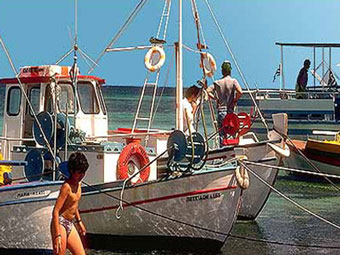 Crete has about 81 uninhabited islands one of which is Chryssi or Gaidouronissi, the donkey island as they call it in Greek. It lies in the Libyan sea some kilometers away from Ierapetra from where you can visit the island by boat. The trip duration is about 50 minutes depending on the weather.
Chryssi is an island full of natural beauties, volcanic rocks covered in gold sand, purple sells and sand dunes, unusual plants and animals that live there peacefully for thousands of years and hundreds of trees. Well now is the time to let you know that you shouldn't get excited and start to gather shells or plants, starting fires and camping since it is prohibited. Useless to say that you are not supposed to litter.
The island is almost flat. It is 5km long with an average width of 1km and an average height of ten meters. The waters around it are shallow, they do not exceed 10 meters, and that makes the area ideal for snorkeling. On the eastern part there is the highest hill called Kefala 31 meters high. From there you will surely be as impressed as I was by the view of Lebanon's cedar forest which is probably the last one in Europe. The density of these trees is approximately 28 trees per hectare and in average age of 200 years old. Impressive isn't it?
On the western part of the island you will notice the church of Agios Nikolaos built in the 13th century, the salt pan which still gathers salt, the old port, the Minoan ruins, some Roman curved graves and a lighthouse.
During the Byzantine years the only source of income for the islanders was fishing, salt exports and porfyra exports, a special scarlet dye produced from shells. Later the habitants of the island were forced to leave it and move to Crete because of the pirates who used Chryssi as their hiding place. They say that many pirate ships have sunk in the area. I don't know about you but I love pirate stories!
Seven hundred meters to the east of Chryssi is another island called Mikronissi. This is the place where many seagulls have their nests. Chryssi is protected as an Area of Intense Natural Beauty because of its rare eco-system and that's why camping and shell collecting are prohibited as I mentioned before.
Chryssi is the ideal place for swimming, walking and snorkeling. After you explore the natural beauties of the island and take your swim in Belegrina bay which is absolutely magnificent have a snack at the taverna of the island. It is impossible not to enjoy this day trip! I know I had a blast!