Greek Islands Ancient Coins
"Itanos Coin-Silver Stater"
Itanos, an important city at the east end of the island, was a Phoenician trading post and agency for the trade in purple dyes. The coins of the city have depictions of sea gods or serpents, suggesting that a sea deity was worshipped at Itanos. The silver staters, which date from the 4th c. BC, have on the obverse a depiction of a sea god (Glaukos or Triton), the top half of which is in the form of a human, while the lower half is a fish, and who brandishes a trident, or a depiction of two confronted sea serpents. The reverse is adorned with a stylized star or sun.
There is also evidence for a sanctuary of the sea deity Athena Salmonia in this region. Zeus Diktaios was also worshipped on nearby Mount Dikte, on the borders between Itanos and Praisos.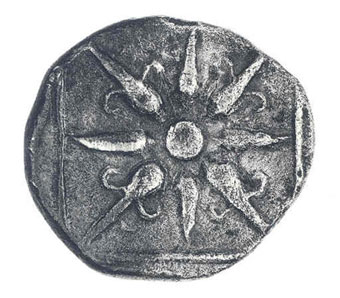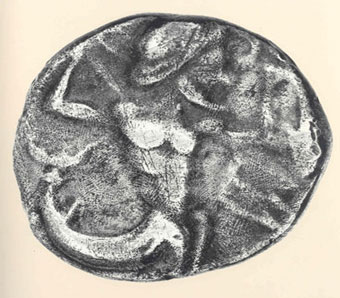 Silver stater c. 450 BC. Star Silver Stater c. 450 BC. Sea god