Lasithi Beaches
Cosmopolitan Elounda, situated 47km from Agios Nikolaos, has many luxurious hotels which have their own private beaches, but there is also an organized public beach for those who live elsewhere. The beach is sandy, it has a lifeguard, sun beds and umbrellas, changing rooms, showers and water sport facilities. The people who come here are usually families from Agios Nikolaos. If you ask a tourist his opinion about Elounda you will probably hear the best but to tell you the truth this is not one of my favorite beaches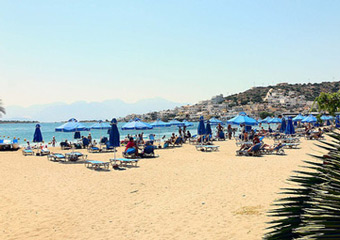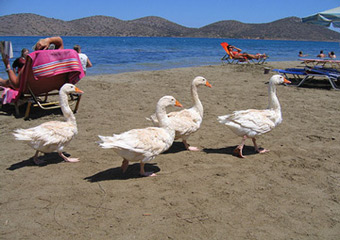 If you want to have a view of Spinalonga island while you are swimming pick Plaka which is 15km from Agios Nikolaos. When you arrive you will see that there are two beaches. I prefer the second one because it is larger, the waters are deep and they seem as if they were transparent. You won't find umbrellas and sun beds but there are two shower cabins. The people that you will meet there are usually families and couples from Agios Nikolaos. If you have the time stay during sunset and the scenery will bewitch you. If you get hungry go to one of the tavernas which are close.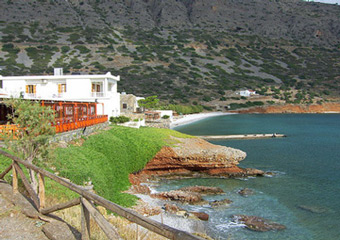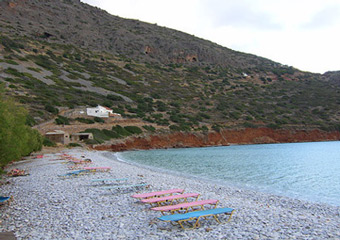 The beach of Milatos which is 27km from Agios Nikolaos has shallow waters and pebbles covered with seaweed. It is not organized and mainly families, Greek and foreign, prefer to swim in it. Nearby you will find cafes with tables under the shadow of trees, pizza places and fish taverns. To tell you the truth seaweeds are not "my cup of tea" so I only spent half an hour on the beach and then I went to Terzakis taverna that is known for the fresh and nicely roasted fish.
The small village right next to the picturesque port of Sissi has some rocks, a few sun beds and umbrellas and mostly German, English and Scandinavian families swimming in it. They call it Limani and near it you will also find cafes and tavernas. I don't know if you will like the beach but I am certain that you will like the village. Since you are there visit Pano Sissi as well, a traditional village that completes the green scenery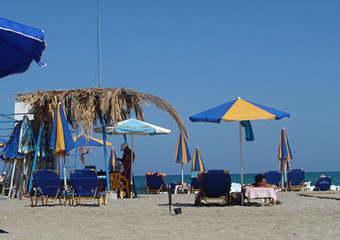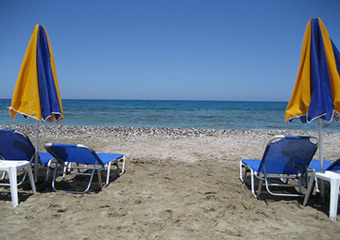 Isn't it shocking that only 230 nautical miles separate the coasts of Ierapetra from Africa? Lying on this specific beach it doesn't slip your mind that you are on the southernmost beach of Europe. Impressive!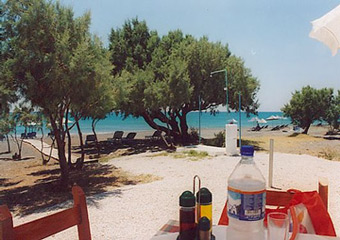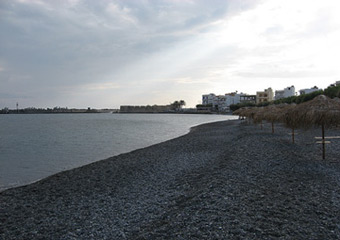 Kato Zakros doesn't have sun beds and umbrellas but the tavernas nearby offer showers to their customers. How cool is that! Here you will see low budget tourists and young people enjoying the calmness of the fishing village. During August tourists from all over the world flood the area when they come to visit the Minoan palace. To the eastern part of the taverns is a small hill behind which you'll find a peaceful beach. With some luck you will also find a boatman that will take you to Karoumes cove in Xerokampos and Cavalli islands. Quite an experience!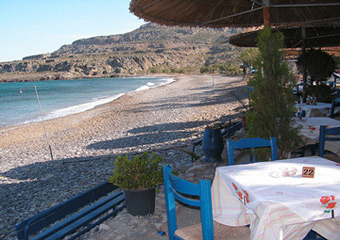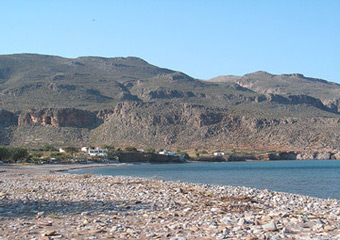 The ultimate dream of each tourist, including myself, is to lie underneath the shadow of a palm tree or an umbrella made from palm tree branches in Vai. What an exotic scenery! You may not find a place to put your towel easily during August but it is certainly worth the effort. The beach is sandy and organized. If you are into water sports this is the place for you! It has a bar-restaurant where you can taste the traditional cuisine and the local specialties and a souvenir shop by the parking lot. It even has a grocery store which sells the famous Cretan bananas which are very small in size but very tasty, grapes and other fruit. This beach has everything! If you haven't understood yet, let me point out that this is my favorite beach and I am sure that it will become yours too.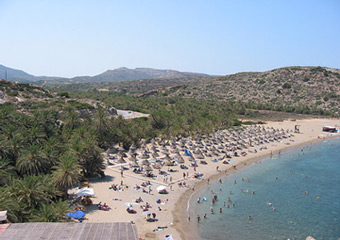 Practically in the city center of Sitia you will find its beach. And I know what you are going to say.that a beach so close to the city isn't clear. Well, Sitia is here to prove you wrong since a blue flag is awarded to it every year! It is huge, organized, with jet skis and water skiing facilities. You will meet all kinds of people swimming there, locals, tourists, children, older people, youngsters and afterwards when they are tired from swimming they choose one of the location's restaurants or pizza places and grab a bite to eat. There's even an internet café for those who have the sudden urge to take a look at their e-mails. Accessing it is very easy since there is a bus from Agios Nikolaos that you can take or even better if you live in Sitia you can walk to it. Go there even for a swim during the afternoon and you won't regret it.
Almyros is one of the best organized beaches in Lasithi 1,5km from Agios Nikolaos. It is a big sandy beach with shallow waters, a lifeguard and water sport facilities. Now it's time to confess that when I was there I even tried to hop on the banana just for the fun of it. It proved to be kind of difficult but the whole thing was so hilarious that I had a blast. For those of you who don't know what it is let me give you some more information. It is a huge banana (as its name clearly states) in the water, many people hop on it and a speed boat drugs it along as you try to stay on it, impossible if I may add. Anyway if you don't like the banana you can always make a speed boat tour, some water skiing or rent a jet ski. This beach is frequented mostly by Greek families and some tourists. There are toilets and showers and even a canteen where you will find everything from snacks and sandwiches to traditional Cretan drinks such as soumada (a refreshment made from almonds) and canellada (a cinnamon drink), ice-creams, sunscreens and cigarettes.
It is obvious that you can't swim in all the beaches of Lasithi unless you visit three beaches a day! Just in case you decide to do so I am giving you some more names that I've heard from friends that they are excellent. Chavania - 4km from Agios Nikolaos, Milatos - 27km from Agios Nikolaos, Myrtos - 14,5km from Ierapetra, Koutsounari - 7km from Ierapetra, Agia Fotia - 12km from Ierapetra, Makrygialos - 24km from Ierapetra, Analipsi - Ammoudi - Staousa - Moni Kapsa - Goudouras - all from 27 to 35km from Ierapetra, Xerokampos - 19km fro Ziros, Karoumes - 8km from Palaikastro, Chiona - 2km of dirt road from Palaikastro, Kouremenos - 3km from Palaikastro, Mochlos - 37km from Agios Nikolaos, Tholos - 30km from Agios Nikolaos, Istron - 10km from Agios Nikolaos, Maridati - 5km from Palaikastro, Erimoupoli (Itanos) - 2km from Vai, Agia Fotia - 5km from Sitia and Ammoudara - 2km from Agios Nikolaos.