Serifos Beaches
Which one should I mention first? Lia Beach? Well, since I already did, let's start with it. Lia Beach is near Tsilipaki Bay. It's a ravishing beach, tucked away between two hills, backed by a grove of tamarisks and reeds. It's waters have a beautiful turquoise color.
Right next to Lia beach is the double beach of Agios Sostis where the church with the same name is also situated. On the 6th of September be present for the celebration of the small church. Now back to the beach! Don't be surprised if you see naked people around since this is a beach preferred by nudists.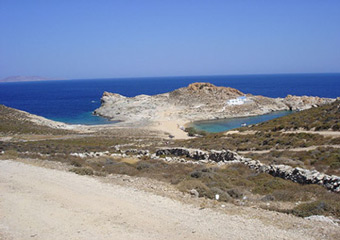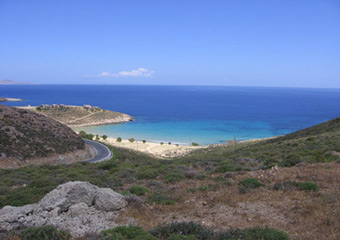 Psili Ammos Beach is another superb beach in Serifos. Fine white sand, planted by tamarisks, it has shallow limpid water. Unfortunately, it's usually very crowded but it's worth at least one swim. There are restaurants and rooms in case you want to stay. If you decide you can't handle the crowd though, move on to Agios Ioannis beach with small pebbles and sand you will enjoy the shadow from the trees along with your tranquility.
On the southeastern and south sides of Serifos you'll find some of its best beaches. Livadi beach, sandy, pebbly and quite popular, Livadakia long with golden sand and quite crowded. If you suddenly get hungry you won't have a problem since there are tavernas near by. To the south of Livadakia you will also find Karavi with the lovely azure waters, Vatoudi and Vgeniou beaches. No harm in visiting them!
Moving on to Kalo Ambeli that you will find after Ramos village, is a peaceful place, ideal for relaxation.
Then 8km after Livadi is wonderful Vagia. This is an area protected by the network called "Natura 2000" which is on the verge of being destroyed after the creation of the tourist settlement.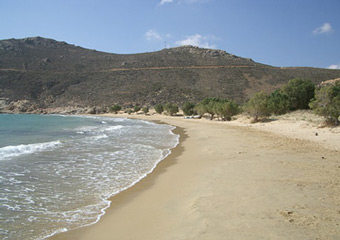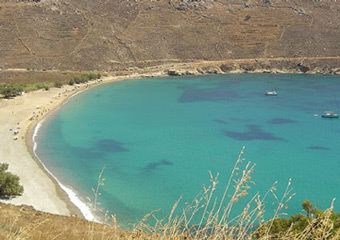 Right after it you will find Ganema, a beach protected from winds only 10km from Livadi.
Following an asphalt road from Ganema you will reach Mega Livadi where you can take a swim in its dark-sand beach. From there you will start driving back to Chora and after 4km you will take the dirt road to your left and after 6km you'll reach the beautiful and peaceful beach of Avissalos.
Now, as far as the northern part of the island is concerned you will have to visit Sikamia which is situated in a very picturesque location. The beach is wide with crystal clear waters and trees for shadow. There, you will find a small taverna, rooms and a well with running water. The only disadvantage is that when there are winds from north you can't even stand. So watch out!