Skyros Beaches
One of those beaches worth visiting is Acherounes, in one of the most beautiful locations of the island towards the west. An ideal place for families, with a calm sea with shallow, crystal clear waters. There you can also find rooms if you want to stay for more and a cozy taverna with tables right next to the sea. The only drawback is the noise from the public power corporation factory which is close.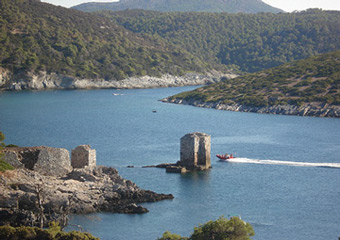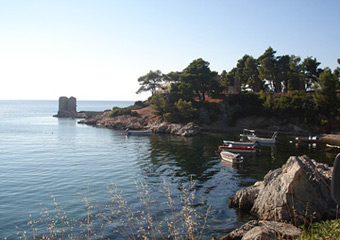 A bit more to the north is Pefkos, one of the best beaches of Skyros island. You will reach it following the asphalt road from Linaria for approximately 8km. It is quite small, with light blue water, thick sand and pine trees that reach all the way to the sea line and there is also a taverna in case you get hungry. The road stops a bit higher so you will have to walk for 100m. The beach is not affected by the winds and as a result it is crowded when the other beaches have waves caused by winds. So be prepared!
From Linaria you will take the road leading to Chora for about 11km. On the way, you will meet the bewitching Achili a cove that was totally ruined from the works for a marina that was never finally completed. After that you will see Aspou beach which is small, clean and organized with white sand. The only drawback is that it seems to be threatened by the disordered residential development all around. Visit it anyway!
After Aspou the main road will lead you to dirt roads or simply trails that will bring you to the isolated beaches Lino and Papa Houmo.
Then, in front of your eyes the beaches which hold all the tourist activity of Skyros will be revealed in a long coast of several kilometers full of hotels, restaurants and shops right next to the sea. These beaches are Magazia, Molos, Pouria and Girismata. The beach in Magazia is definitely the most popular. It is covered with pebbles and sand, it is organized and three dams made of stone keep it safe from winds.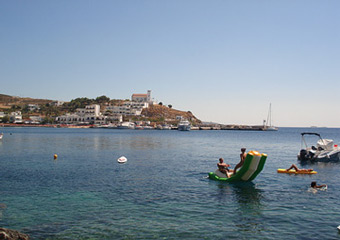 Molos which is to the north, is the natural continuation of Magazia. Its beach is completed at the beginning of the small port.
:In Pouria and Girismata the setting is more tranquil. You will reach them easily
Then there's Kareflou and Palamari, quite isolated without any shadow from trees or any other accommodation.
In the northern part of the island you will notice that there is a big forest of pine trees while in between the pines, small hidden swimming coves that look like paradises, emerge.
Near the airport you will find Agios Petros cove with a fine beach and then Agalipa, a beautiful isolated beach with an old wreck decorating it.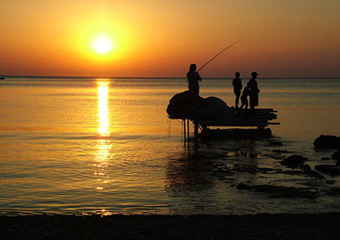 Later on you will bump into Kyra Panagia a bit to the north, which is equally good with its white sand, and even less crowded (although you'll find campers there as well).
Then there's Atsitsa. Pebbled and shaded by pines, this beach mostly attracts freelance c ampers but it's a quite beautiful place to take a swim
After 5 to 6km you will reach Agios Fokas at the end of a dirt road with white, large pebbles and clean water. If you get hungry go to the taverna near by. There are also rooms if you want to stay. With a shortcut from your main route you will reach Glyfada with the cool waters
Towards the south go to the cove of Kalamitsa, where there are also rooms and restaurants. Following the asphalt road you will reach Nyfi, a beautiful location with a panoramic view and a wide beach. Note though that this is not one of the best beaches of the island.
Moving on to Kolybada, a bit more to the south you can swim after you drive on the short dirt road and walk for a little while.
Unfortunately the magical cove Treis Boukies has been occupied by the nautical station and entrance isn't allowed anymore. So don't try to reach it.
And finally you can reach Renes beach from Brooke's grave while if you have your own boat I recommend you to go to Sarakiniko islet. To its northern part you will find hidden a small, tropical beach that you shouldn't miss.
For those who like skinny dipping go to Batakouma, an unofficial nudist beach.
Enjoy!