Samothraki Hot Spring

Therma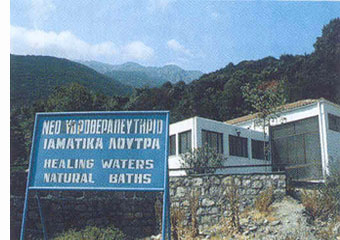 According to tradition, Olympiad conceived Alexander the Great in Therma. This rumor still attracts women who can't have children today. The springs were built in 1981. They have two basins (or more like pools), one for each gender, and 13 individual basins, 8 of which are relatively new. There are also two old tanks, one of which is used to cool the water (197o F).
How will you get there?
Therma is about 14 kilometers away from the Kamariotissa harbor. The way there is a rather enjoyable ride. The public springs facilities are at the end of the settlement, across the bus stop.
Where will you stay?
There are two camps. There are also hotels and rooms to let.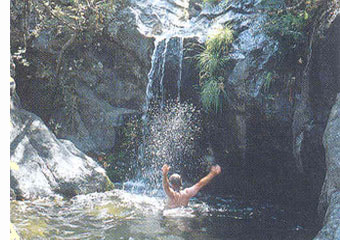 So, here it goes.
Take a bath in the "pools". The water is bright, salty and with a feeble odor of sulphurated hydrogen. The temperature is about 98-100o F. The pools are in a good condition and there are stands where you can rest around. The springs are open from June 1st to October 20th.
Pigi Frikion (Freak Spring)
Climbing up the dirt road to the hill of Psarotherma, you'll find a spring on your right side. The water supplies two basins, one of which is open-air (the other one is roofed with a cement closet. The water is rather warm. The spring is one of the most popular ones in Samothraki, the Freak Spring. Elderly people avoid this spring; perhaps because of the high temperatures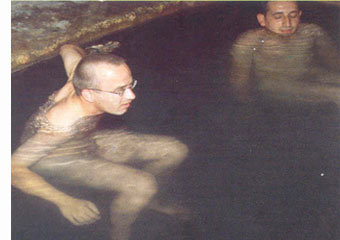 So, here it goes.
It's worth a try. The water is rather hot in the open-air basin (140o F), while in the other one it's just hot (105-120o F). It's salty and the atmosphere is kind of heavy due to the sulphurated hydrogen. The basin at the closet can fit up to 2-4 people.
Pigi Podoloutron, Psarotherma
Just above the Therma spring, you will find another three open-air basins if you climb up the dirt road and look for them to your right. Two of these have water. This place is the elderly hang-out spot. The basins are shallow and the visitors sit around the bench and place their feet in the water.
So, here it goes.
The water is dim, with just enough sulphur. The water is renewed, it takes about 15 minutes for the basins to be filled again. The temperature is pretty good too.