Limnos Hot Springs

Agiasma Agiou Haralambous
There are three basins at the beach of Agios Haralambos. There used to be a lot of mud before they used cement to cover most of it up. Today there's only some in the middle basin.
How will you get there?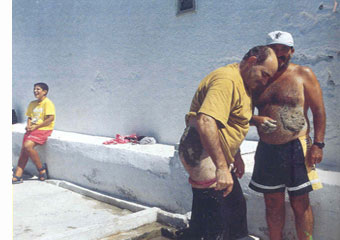 You take the road to Agios Haralambos from Plaka. Once you reach the church, you follow the dirt road to your left that has a sign which says "To Agiasma". 200 meters later you'll meet a small church and if you climb down the stairs to the beach, you'll get to the springs.
Where will you stay?
This area is not touristy; most of the hotels and rooms to let are in Moudros, 17 kilometers from Plaka.
So, here it goes.
There are no basins to dive in to, but you can spread mud on every spot of your body that hurts. You leave it on until it's dry and then remove it with Agiasma, the water that flows from the faucet of the middle basin.