Kos Hot Springs

Agios Fokas
Near the end of Agios Fokas Beach in Kos, there is a building on the wall of which the words "Hot Water" are written. Just behind you'll find a well that's full of, well, hot water every summer and that hot water follows a channel and pours into the sea. At the point where it pours there's an extemporary big "pool", blocked by rocks. There is no entrance fee.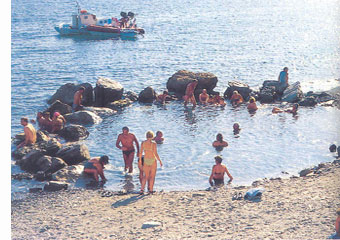 How will you get there?
Agios Fokas beach is 12 kilometers east of Kos Town. You can leave your car at the parking and walk down the dirt road for ten minutes. It will lead to the beach; 100 meters later, you'll find the "Hot Water" building.
So, here it goes.
The Agios Thomas hot springs are the best free springs. The water is odorless, clean and salty. The temperature is just perfect. If you start feeling weird, you can always go swim at the rest of the beach.
Agia Irini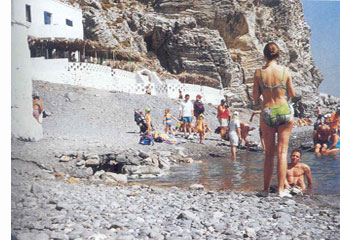 Behind Agios Fokas and up to Agia Irini you'll find the prettiest place in Kos spreading before you. There's no road, the only way to reach it by land is if you take it seashore by seashore. At some points the path is not easy to follow and you'll have to jump from rock to rock. There's at least three points where you'll have to get in the water (up to the waist) in order to pass. After two hours of walking, you'll get to Agia Irini. There's a beach before the church where the rocks are red and it smells like sulphur. The spring is just after Agia Irini.
You can also reach Agia Irini by boat. Since no one visits it anymore though, you'll have to make a special arrangement with the boatman.
So, here it goes.
Of course it's a lot of trouble, getting there. But if you decide to do so, it'll be worth it. Your reward will be some lovely springs with roborant, stimulating water. When the sea is restless the hot water disappears, only to come back again when it's calm.