Kimolos Thermal Springs

Prasa
The springs of Prasa can be found on a cement pier in a beach in Prasa. You'll find two pit-holes there, one of them with a cement roof and the other one not. The water that flows from their bottom is not much, but it's very hot.
Across the two springs you'll find an old, semi-abandoned building; it's the building of the springs. There are four basins in there, one of them made of marble. Kimoliots use those basins from time to time.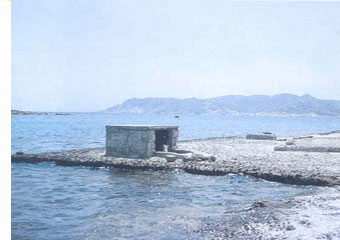 How will you get there?
The springs are just a few kilometers away from Hora; there is signage. The biggest part of the road is dirt road, from where lorries from the mines keep passing by, lifting white dust, so be careful.
Where will you stay?
There's no place to stay at Prasa, but in Kimolos you'll find boarding houses and rooms to let.
So, here it goes.
Getting inside the pit-holes is a task that's next to impossible; the water is way too hot (116o F). The only way to take a bath is if you find a bucket and fill a basin, throwing in sea water as well, in order to reach a desirable temperature.