Santorini Beaches
Santorini is not an island famous for its beaches. This is because you won't find here the golden sand beaches that the majority likes best. There are people loving them and others that dislike them. Personally, I've seen much better beaches, but I still consider those of Santorini of the strangest I have ever seen. So, I'll give you names, characteristics and directions and I'll let you discover and judge them by yourselves!
Before writing on the beaches, let's mention that all of them are located on the eastern side of the island. At the west of Santorini is the famous caldera and the cliff , so there is no space for beaches
Kokkini is one of the most popular beaches of Santorini. They access is not that easy, but it remains one of the mostly visited beaches of the island. The only ways to get there are on foot from the harbor of Akrotiri (around 10 minutes) or by boat ( short excursions start from Kamari, Akrotiri and Perissa).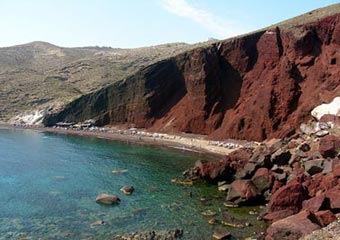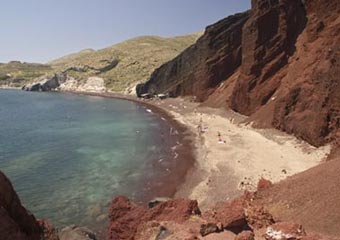 The reason that people want to visit this otherwise isolated beach is its unique color! Kokkini in Greek means red and as you can understand the beach it self is red. Red pebbles cover the beach, which waters deepen gradually.
It is an organized beach and though located far away from villages you can have everything you might need. from sun beds and umbrellas to snacks and drinks.
Aspri or White Beach around 14km from Fira. Along with the red beach it consist major tourist attractions. As you might guess its name derives from the pebbles that cover it. Actually the White beach is covered by black sand and grey and white big pebbles Getting there is only possible by boat from Akrotiri ( unless you are a professional climber!). The beach is surrounded by gigantic white rocks that heighten the feeling of isolation.
But do not imagine that the white beach is isolated. Many times a day small boats carry tourists here. Note that these boats won't reach the shore, so you will have quickly and clumsily to dive in the water ( so do not pack heavy you sack!).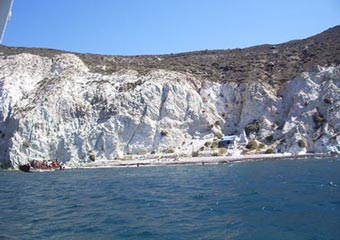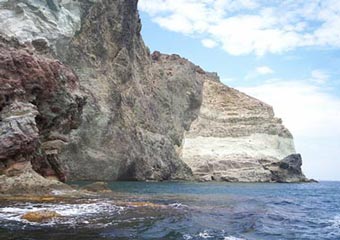 On the beach there are some umbrellas and sun beds for rent as well as a small canteen
Between the Red and the White beach lies Kampia. It does not get as crowded as these two beaches, and its waters are even more crystal clean (and cold!). You can get to Kampia beach through a dirt road or from a path from the Red beach.
Perissa is a small village 15km from Fira ans a kilometer long sandy beach! The village owes its evolution mainly to the Peissa beach, which has turned it into a popular beach resort. The truth is that
The long sandy coast of Perissa starts from the mount Mesa Vouno (which reminds more of a steep rock that has accedentaly fallen on the beach) and ends at Perivlos beach.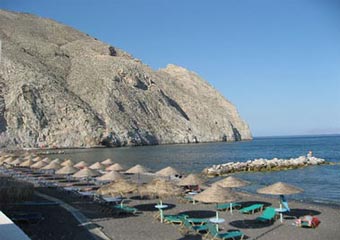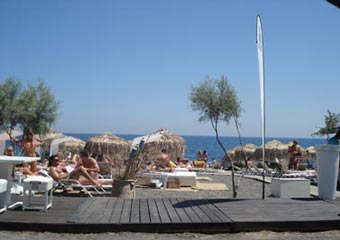 Actually one could say the two beaches are united. I personally cannot tell where Perissa ends and Perivolos beach starts.
At Perissa one can find umbrellas and sun beds for rent, mini markets, sea sports, taverns and restaurants. The camping of Santorini is located at Perissa and therefore on the beach you'll mainly find younger crowd. One of the most famous beach bars is YAZZ, but there are many others waiting for you to discover.
The water is crystal clean but gets quickly very deep, which does not make it attractive to everyone.
At Perivolos the situation with the water is the same; if you are not a good swimmer, avoid diving to the sea as it gets immediately deep. The sea here is cold all year round, so people spend mostly there time at the beach. But it deserve you dive even for a while in these crystal clean blue waters!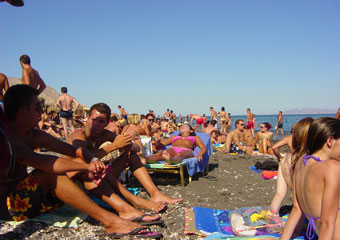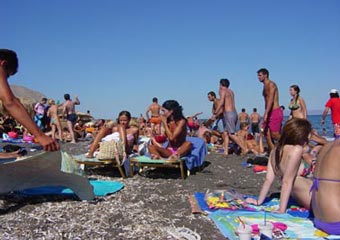 The black beach is all covered with umbrellas and sun beds and a colorful crowd. It is fully organized, offering showers, lifeguards, toilets, telephones etc.
Apart from regular sun beds and umbrellas at Perivolos beach you will find the funkiest loungers - occupied by the trendiest crowd! This is because across the shore road all kinds of restaurants, beach bars and tavernas have opened during the past few years.
If we had to select the nicest sun beds and umbrellas, these would be at JoJo's, SeaSide Lounge and Taj Majal ( see the photos below)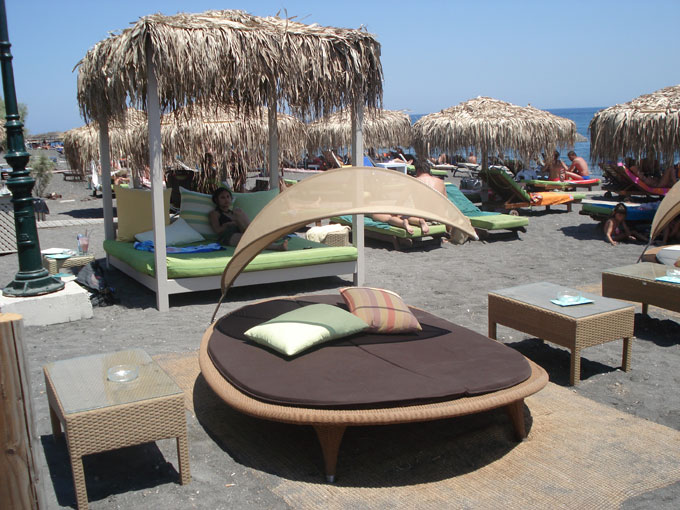 If you want to see Perivolos at its peak be there at around 4 o clock in the afternoon. Strangely enough it is when the party starts. The heart of the party is Chilli Bar, where girls dancing on bars and the clients squirting them plastic guns. But last time I've been at Perivolos beach, I saw the heart of the party beating at JoJo's. The party hosted DJ Portia (this was the first I heard of her but I don't think I'll forget this DJ as she was topless dancing on the decks! - wow!)
But Perivolos beach is not just about partying. If you are looking for some more tranquil moments on the beach, Perivolos offers various options.
My personal favorite is Seaside Lounge which lies on the western side of the beach away from the funky clubs.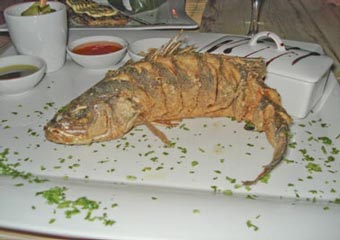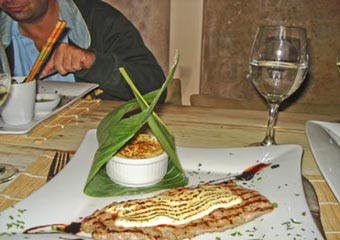 If you are looking for some seclusion you should either go to another beach, or walk to the western end of Perivolos beach. This small part of the beach is not organized and is more quite compared to the rest of Perivolos.
Kamari beach is one of the most famous of Santorini. It is named after the village of.Kamari and its characteristic its black pebbles. This beach has changed and improved vastly since the banning of wheeled traffic at the shore road. The shore road is a pedestrian zone, on which hundredths of tourists wander all day long. All kinds of restaurants, tavernas, cafes, bars and shops are available at this pedestrian zone right next to Kamari beach.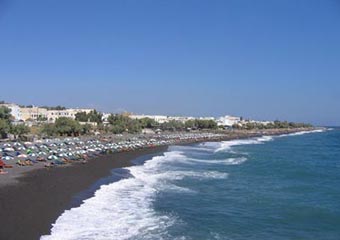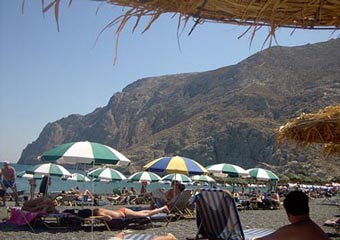 The beach itself organized beach with sun beds and umbrellas for rent, showers, changing rooms and lifeguard. Kamari beach has gained a blue flag, which guarantees its clean waters.
Find out how clean -and cold- they are by diving yourself. But if you are not a very good swimmer watch out as its waters are deep and there are usually waves.
At the middle, more or less, of the beach as well as 5-10 meters from coast there are some strange formations of big black rocks. The most daring climb of them, it's a nice experience but you have to be very careful.
Next to Kamari lies the beach of Monolithos. As on all the beaches of Santorini black pebble is what covers this beach. If it is not windy day, you will enjoy this rather quiet and nice beach, but usually it "suffers" by the strong winds. Monolithos beach is very close to the airport of Santorini and the access to the beach is easy by bus. Part of Monolithos is organized, with umbrellas and sun beds. If you do not want to pay for an umbrella use as natural cover the shade of the trees, which are by the beach!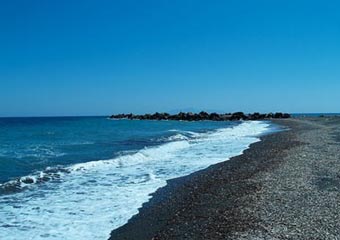 It recommended strongly to families as the waters are swallow ( especially compared to other Santorini beaches) and there are facilities to occupy children. For instance basketball court is available as well as a playing ground.
Amoudi is the harbor of Oia. It consists of couple of taverns, a small hotel, a mini market, a small harbor fishermen use and a small beach. The whole scenery is picturesque and due to the proximity to Oia traditional settlement the beach of Amoudi is always packed. If you want to avoid crowd head toward this beach in the afternoon, when toursists gather in Oia to view the sunset.
You can access Amoudi either by car, or the traditional way: with mules from Oia. For those who prefer hiking, you can go down the approx. 300 steep steps, which is not that difficult!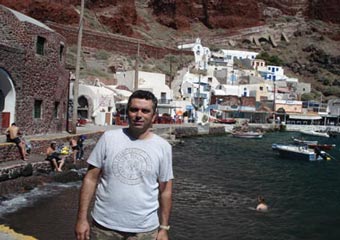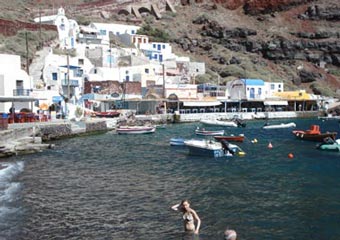 The small beach of Armeni can either be reached by boat from Amoudi or on foot. There is a small footpath connecting Oia with Armeni. If you find it hard descending and ascending 286 steps, riding a donkey is the alternative solution.
A diving centre is available by the small Armeni beach.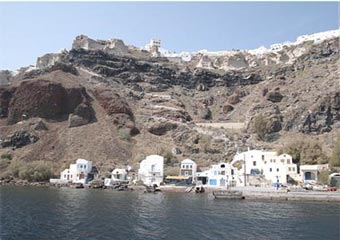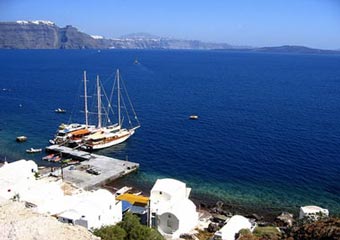 Cape Columbo lies 8.5km from Fira, close to Oia village. It is not visible from the road, therefore you might pass by it without stopping. I recommend you do stop for a swim at this beach. Columbo is a large beach covered with small pebbles. Part of it is organized, but you can also find a corner for yourself on this beach, which is large enough never to feel crowded.
The reason that made me search for the Columbo beach was when I read that according to volcanologists the largest active underwater crater of Santorini is located there!
In the same side of the island lie two more beaches that will attract the more adventurous spirits. Katharos beach and Pori. Getting to these beaches might not be that easy, so I recommend them to those that have rented a car or a motorbike. With the help of a map and the signs you'll get there for sure (unless someone stupid has painted the road signs!)
To reach Katharos beach you have to drive around 500m on a dirt road and the walk for 5 minutes. If you are searching for seclusion, Katharos beach will compensate you for getting there! You will find at this beach nothing, but its natural beauty. No umbrellas and sun beds, no taverns and bars! So mind bringing a bottle of water along.
Access to Pori is easier. But swimming there might be hard. This side of Santorini usually suffers from the winds and especially during August the waves can get really big and wild. Local attribute to it the Yaloudes; these are water nymphs that emerge from the waves to dance during the nights. Have a swim at Pori and then a meal at the nearby fish tavern. The cousin is nothing special, but the dishes are 100% local and the fish 100% fresh!
During my last visit on Santorini I was impressed to see people at Vlychada beach. It used to be an empty beach, despite its natural beauty, but apparently it has started evolving. Vlychada resembles more than other beaches of Santorini to a moonscape; all covered with black sand and surrounded by enormous rocks sculptured by the winds.
Part of Vlychada beach is organized, offering sun beds and umbrellas, while the other side is more remote. Nudists prefer to head there for more privacy. But this beach though is not that far way, seems disconnected from the rest of the island.
Maybe the fact that the mobile phones rarely work down here, has created this impression to me.
Taverns and bars are available; Stavros tou Notou is a famous tavern and Free Style a nice beach bar.
Access to Vlychada is easy and once can also use the bus as there is bus station there, too
Vourvoulos beach is named after the village Vourvoulos. You can get to this beach from the provincial road that connects Oia to Fira and passes from the above mentioned beaches. Vourvoulos is not famous for its natural beauty, but I am sure that people looking for isolation can fall for it. It has a small harbor that the local fishermen use, and a small pebble beach. The waters here are usually wavy but crystal clean. There is a small playing ground at the beach and a park for kids in a walking distance from the beach.
The tavern by Vourvoulos beach serves all kinds of fish the locals have brought in, so it can offer an simple but original culinary experience.