Kefalonia Beaches
To the north of Fiscardo (1,5 km of asphalt) there is a small pebbly coast which is called Eblisi. This beach has waters that are crystal clear and is surrounded by rocky plates.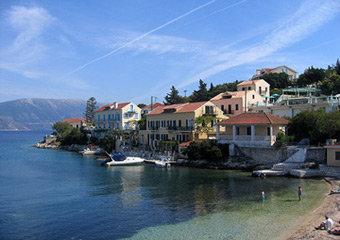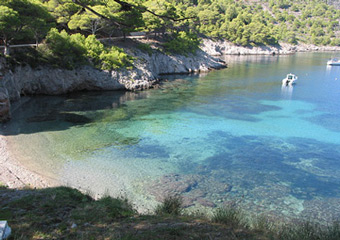 On the outskirts of the village with a southeast direction lilliputian creeks full of pebbles are unfolding. They are named Kaminakia.
An impressive beach that you shouldn't miss is Foki (2,5km of asphalt) which is southeast of Fiscardo in a location so idyllic that enchants you. You will admire the vegetation with the cypresses and the pines reaching as far as the sea line. Following the asphalt with a direction towards Argostoli you turn right as soon as you find the village called Maganos and head towards the Alaties beach. From here you can easily reach the beach of Agia Ierousalim where there is a tavern.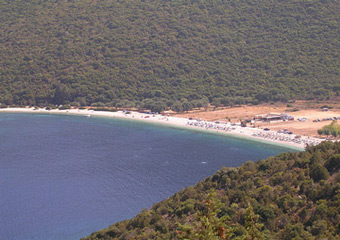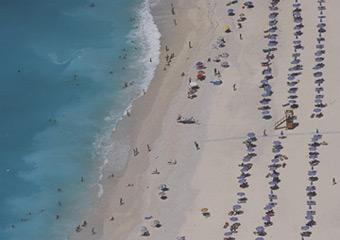 In addition, taking the road from Antipata, a narrow path that is passing through pine woods and cultivated fields, you will reach Akrotiri Dafnoudi, the edge of the northern part of the island where you will find a tiny beach.
From the agricultural village Mesovounia you can reach the isolated Katelimata beach which is full of pebbles. You will have to drive on a dirt-road for a little while and then you will walk for about 30 minutes in order to reach it.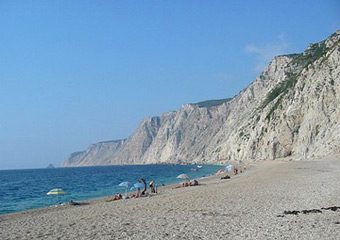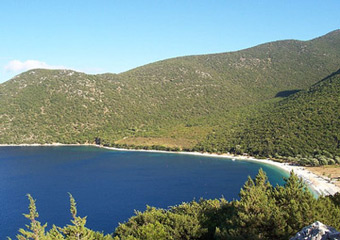 Around Assos and in front of the village there is a small pebbly beach that is almost always full of people. If you want to avoid sitting very close to people you don't know move on to Myrtos, one of the most famous beaches of the island. You can reach it quite easily since the road is asphalt, though a bit steep. There are parking spaces close to the beach but you can also park on the road. The beach and sea floor are full of small white pebbles and the water is the best for swimming. Watch out for falling rocks since the cliffs that surround the beach are quite steep. For that reason it is better not to set your umbrella near the beach ends. Topless swimming is common.
To the north of Assos the three pebbly beaches of Harakas are unfolding, while on the south towards Myrtos there are two big but not easily accessible beaches that you can visit by boat.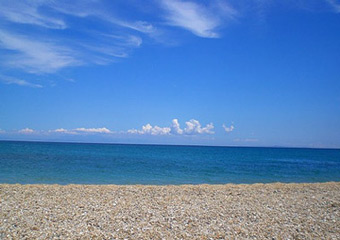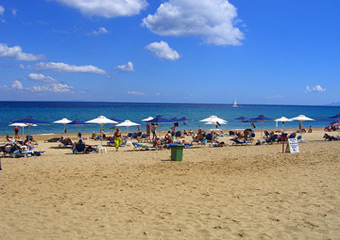 If you suddenly decided to fulfill your childhood dream and become a captain you can rent a boat and plan daily trips around the island in order to explore the deserted coves and have a private swim. If on the other hand you are an experienced captain you can rent a bigger boat in Fiskardo and explore more of the Ionian islands, or you can even hire a captain along with the boat to enjoy the exploration better.
More beaches that you can visit are also Agia Evfimia, a sandy beach, with clean waters located on Kefalonia's east coast. It is walking distance from the town, there are parking spaces near the beach, a restaurant and a bar. Topless swimming is uncommon.
Agia Kyriaki, a long stretch of coastline on Kefalonia's north shore, a sand/pebble beach quite popular with both Greeks and tourists. Easily accessible and at a walking distance from the town. It has a bar and a restaurant.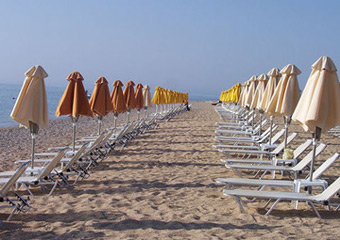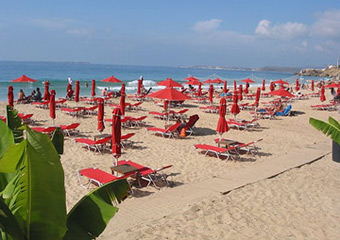 Agios Spyridon, also known as Atheras, is a fine sandy bay at the northwest corner of Kefalonia. It's less busy than some of Kefalonia's other beaches. And finally, Agios Thomas is a relatively small sand/pebble beach with crystal clear waters, shallow near shore.
Antisammos is a great sandy beach with turquoise clean waters. You can find it near Sami, the third port of the island.
Makris Gialos is a beautiful organized sandy beach with crystal waters. It is situated near Argostoli.
Trapezaki, which is near Mousata, is a non-organized sandy beach. If you suddenly get hungry, go to the taverna near by
Minies is a sandy beach with sun beds and umbrellas. It is only 4km away from Argostoli and it is quite easy to access it.
Poros is a beach that you will find on the southeastern part of the island. Its beach has small pebbles and crystal waters.
Assos is a green bay that you will find on the northern part of the island about 36km away from Argostoli.
Another wonderful beach that you will find on the southeastern part of the island 38km away from Argostoli is Skala. This one is an extended, organized, sandy beach with clear turquoise waters.
Lixouri is the extended sandy beach of the contemporary commercial center of the western part of the island. It is organized and there are cafes, restaurants and hotels all over it.
Xi is a big sandy beach with red sand. It is situated on the southern part of the island 39km away from the capital.