Tinos Beaches
Even the big beach in Kionia right next to Chora, meaning 3km away towards the west is a good place to have a quick swim. The beach is sandy and there is also a shadow from the big trees that surround it.
If you live in Agios Ioannis Porto though, or in the area around it, practically outside your hotel you will find a big clean beach with the same name or right next to it Agia Kiriaki and Agios Sostis, a quite popular sandy beach. If you take a swim in Agios Sostis you will have a view of Mykonos while you sit below the shadow of the trees. There is also a pier from where you can dive.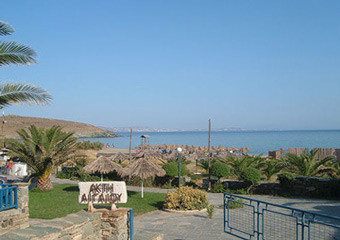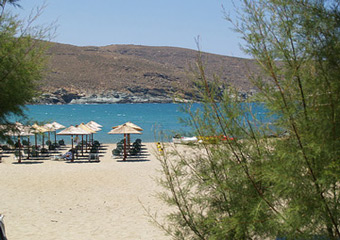 Many don't know that very close to this popular site is Pachia Ammos, an excellent big beach with green sand and sand dunes well hidden among two rocks. To go there, you will ascend the bulge behind Agios Ioannis towards the east and you will look for the little sign which points the road. Ask a local person to be sure you are on the right track.
Moving on a bit to the north of Komi you will reach the cosmopolitan Kolibithra. The beach isn't very big but the scenery is quite beautiful and there are tavernas all around it offering good food and a splendid view.
A secret well hidden that I am about to betray for your sake is the calm beautiful beach of Agia Thalassa. Only a few - if not at all - people, tranquility and crystal clear waters. To get there follow the dirt road left to the port of Panormos only for a few minutes.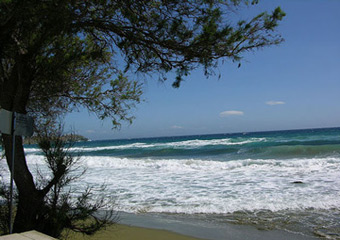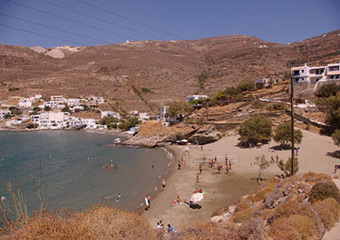 Right below Kardiani, to the west, is the popular to tourists Giannakis Cove with one of the most beautiful beaches of the island.
Then to reach the Isternia Cove you will leave your car under the shadow of the trees while on foot you will take the short trail that leads back to the small, calm and clean beach.
Panormos is a picturesque village by the sea with a beautiful beach surrounded by cafes and tavernas.
Livada is a very beautiful, picturesque, small beach with small pebbles and a great view of the northern part of the island. What makes this beach really unique are the shapes of the rocks to the left. It is worth admiring them.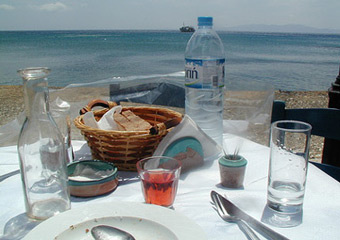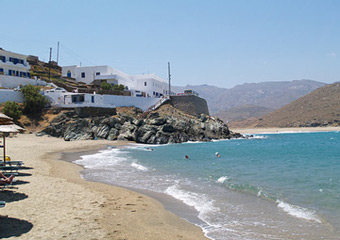 And finally Agios Fokas is the biggest and most organized beach of the island. The problem is that it is exposed to the winds coming from north. It is situated really close to Chora and at a certain point it becomes very wide with rich sand and shadow from the trees.
Apart from the beaches that I am mentioning here, and the ones that I prefer there are also many more that you can discover yourselves. What is certain is that you won't be disappointed by the beaches in Tinos. The choice is yours!