Skopelos Beaches
Near the port, towards the north, the closest beach to Chora is Glyfoneri, and a bit more to the north is Glysteri. There is an asphalt road leading to both of them.
The beach of Stafylos is the most known and popular only 4km from town. Access to it is very easy, the beach is organized and you can find a snack bar, a taverna, a beach bar nearby. For those who like water sports this is the place!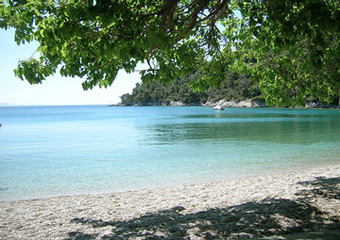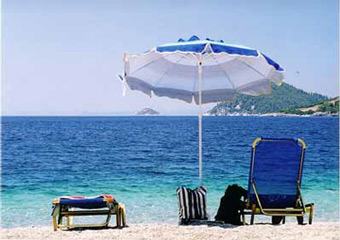 Right next to Stafylos is the extended beach Velanio hidden behind huge rocks behind which the nudists prefer to swim. The two beaches are connected with a 400m trail. In the area you can find many hotels and rooms to rent.
Now, regarding Agnondas, it is a beautiful pebbled beach, near Agnondas village and 7km away from town with hotels and tavernas nearby. It is a quite popular place that mostly suits families.
With a small shortcut from the peripheral road which leads to Glossa, you will reach Limnonari. This one is a beautiful pebble beach with a magnificent pine-tree forest surrounding it. There is also a restaurant, as well as a few rooms if you want to stay.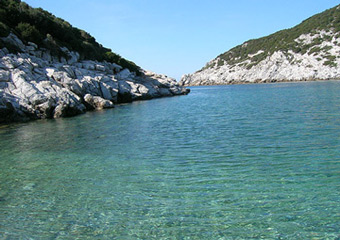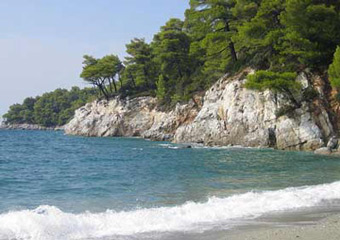 Moving on to Panormos you will find a small pebble beach with deep waters. Because of the fact that the beach is small it is often too crowded. Now, as far as the cove Blo is concerned it is better not to visit it for swimming since the shore is kind of rocky but to admire the wonderful scenery.
Adrines, to the north of Panormos are small pebble beaches unfolding among the rocks and pine trees. The beach can only be approached by a short but steep trail. As far as accommodation is concerned there is a hotel in the area. Linaraki which is a beach close by is also approached by a trail.
Then, in Milia, there is an extended pebble beach, one of the best in Sporades if I may add. There are small complexes of renting rooms, tavernas and water sport options.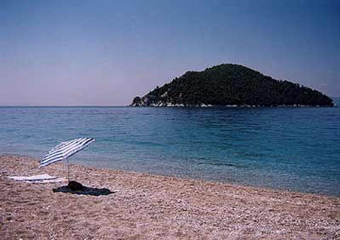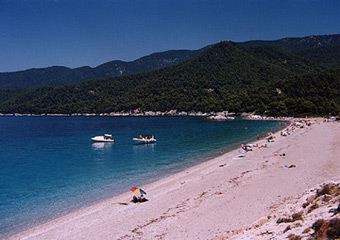 Now let's move on to Kastani, a tiny beach hidden in pine trees which has become quite popular. You can approach it by a short dirt road (500m) from the central road leading to Glossa.
If you are on vacation with your family then the best choice for you would be Elios, the extended beach of the newly built village with the same name 17km. away from Chora. Elios is the one Evelena enjoyed the most, along with Leela, full of sand and shingle coves along the coast, it's a rather promising beach. You won't have a problem finding a room nearby if you want to stay.
A bit more to the south is the quieter Chovolos with its three shores. The only problem is that you can only reach it by boat or walking in shallow waters through the sea. Quite an adventure!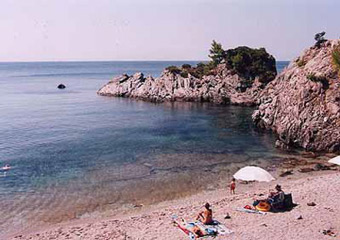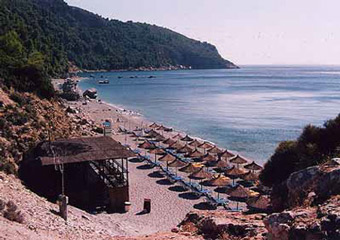 Then there's Armenopetra, which I personally adored, a magnificent beach located between Palio and Neo Klima
And finally, to the south of Loutraki, which is the second harbor of the island, you will notice that there is an extensive beach with sand and thick pebbles that you will definitely enjoy.