Rethymno Beaches
In Rethymno town there is a long , I believe more than 10km beach covered with golden sand. If you'd asked be 10-15 years ago which beach of Crete I like the beach, I'd for sure tell you the Rethymno beach. At this time I frequented there along with my friends during spring at summertime.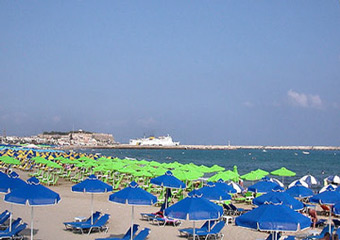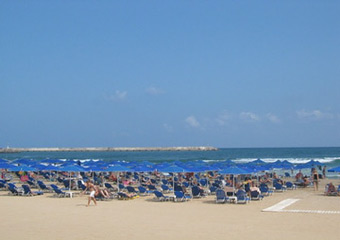 Nowadays I have totally changed my view on this beach - not that it's not nice , but the Rethymno beach can get really crowded. Almost the whole of this endless beach is organized and this attracts even more tourists. Anyway.for all these who'd like to know few more things on the large beach of Rethymno:
The beach starts from the Venetian castle and reached Pigiano Kampo. I suggest you choose the part of the beach called Perivolia and also Platania.
Big hotel complexes also own part of the beach - usually there the beach and waters are cleaner. All kinds of water sports are available
Though the name of the beach Agia Galini literally means Saint Serenity.its is not that tranquil. Cloze to the village Agia Galini, from which the name of the beach derives, it gives the visitors the chance to swim at the Libyan Sea. The beach is organized and offers all a visitor may need to spend the whole day, from morning till late in the afternoon on the beach. It is not that cloze to Rethymno town, but I for sure recommend it to the younger travelers!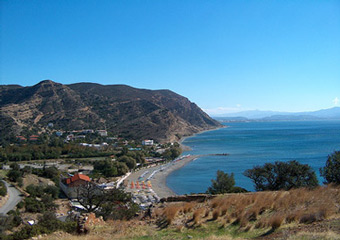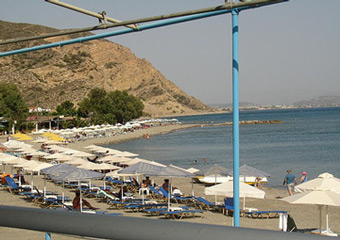 Another beach with completely organized infrastructure is Plakias beach in the south of Rethymno. It is usually windy, but it attracts all kind of tourists, from Northern Europeans to locals. There are taverns and bars nearby the beach.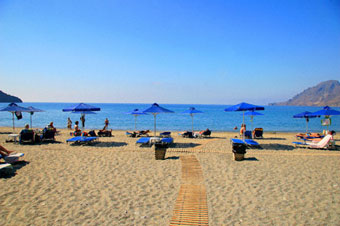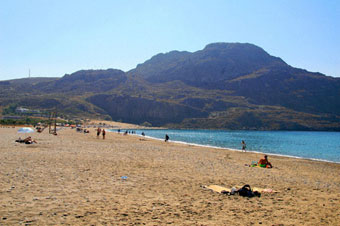 I also got an interesting short story to tell you on this beach. A local , working at Galini tavern (which is near the beach) once told me that the big rocks and rocks formed at the one side of Plakias beach are called "Gonates tou Digeni" (difficult to translate in English.maybe we could refer to it as "Kness of Digenis" , which is a legendary hero of Byzantine era ). It is believed that the caves lead through a tunnel to old lignite mines. So I belive that's enough info.let's get back to the beaches of Rethymno.
If you are not a good swimmer, avoid going to Episkopi beach. After walking less than a meter, it gets very deep. There are of course a bunch of good reasons for paying Episkopi beach a visit.firstly it is rather cloze to Rethymno town, and access is easy. Secondly the water are crystal clean (and usually cold) and the sand almost white. The beach is organized and offers taverns and bars. I'd recommend Kyma for its tasty dishes.
Lots of locals head to Episkopi beach and many youngsters, who usually get the party started!
Many believe that paradise must look like the beach of Agios Pavlos. On your way to the tiny village Agios Pavlos you will find this unique beach, a real jewel of Rethymno Perfecture that remains undiscovered, and as a result unspoiled by tourism. On its golden sand you won't find any umbrellas and sun beds ( it is possible you find also no visitors). I highly recommend to all those in search for isolation to get a bottle of water and some snacks and spend the whole day on the Agios Pavlos beach.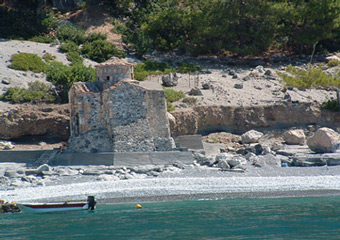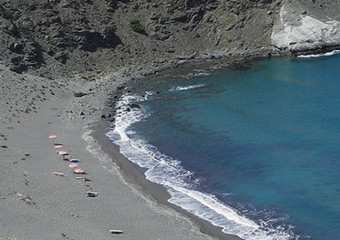 The golden sand and the dunes formed around it , will create you the "childish need" to run from the top of the dune to the crystal clean turquoise waters of the beach ( well, avoid doing so, barefoot as the sand is hot)
Access to the Geropotamos beach is not that easy, therefore it attractes mainly demaninding visitors who search for a tranquil beautiful sandy beach and couples who are looking for moments of isolation. I recommend you visit this beach in the afternoon, so as to enjoy the magnificent sunset.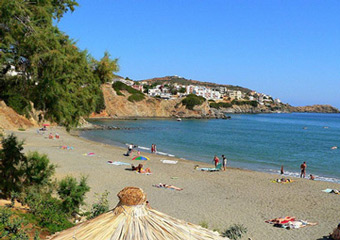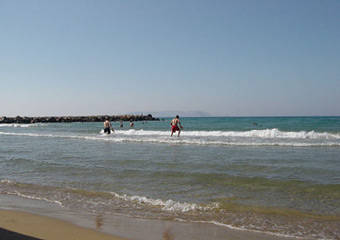 And a few word for other word visiting beach of the Prefecture of Rethymno:Bali ( I am not referring to the tropical Asian island!) , Skaleta and Damoni are popular fully organized beaches. Ammoudi is preferred by nudists as it is a quite, isolated beach. Lastly, Peistere is another quite pebble beach, not organized by really nice!