Santorini Restaurants
In Greece eating is a way of life! So, you definitely have to taste the Greek cuisine, discover the Greek culinary habits if you travel to my country! And if you come to Santorini, you should definitely taste the local products and specialties.
Where?
At an island of 60 square miles there are 2000 food businesses! As you may guess in Santorini you can find all kinds of restaurants, serving food for all tastes.
I have, therefore, created a list of restaurants and taverns that have made an impression (positive or negative) to me, so as to help all the Santorini-visitors-to-be, who are kind enough to read my guide!
1800
Location: Oia
Tel: 22860 - 71485
Like: delicious food, excellent service, incredible environment Dislike: high prices (but quite reasonable for a gourmet restaurant)
The "1800" Restaurant in Oia Santorini is open daily from 20:00 - 01:00 April to October and it is housed in a captain's house built in the middle of the 18th century. Giannis Zangelidis fell in love with it when he took over its restoration so he decided to keep it after turning it into the perfect environment in which to enjoy creative Greek and Mediterranean cuisine. During the renovation of the building most of its original features were preserved so its colors and unique furnishings stayed the same, while all the conservation and preservation techniques were followed. In the entrance of the mansion you can see the captain's wooden travel chest, with his name ¨Ioannis Sarris 1849" carved onto it, a common item for sailors of the time that used to take them on their trips.
The general atmosphere that 1800 gives out is that of the past provided with the comfort of the present, both indoors and outdoors on the roof garden, which offer a magnificent view of the sea surrounding the volcanic island.
The dishes are incredible, made from Santorinian products and delicious recipes including chops with aromatic sauce of green apples, split peas puree with caper leaves, salmon with lime sauce and honey, let alone the superb sweets such as kataifi with ice-cream.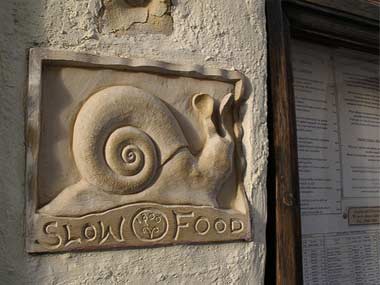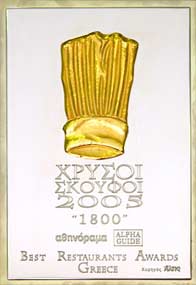 Feredini
Location: Oia
Tel: 22860 - 71825
Like: great view, delicious food, incredible desserts, excellent service Dislike: high prices (but quite reasonable for a gourmet restaurant)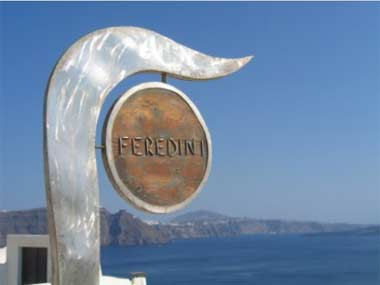 It arrived four years ago in the restaurant scene of Santorini, and is here to stay. Located in the level of Oia's main pedestrian zone, Feredini restaurant offers a magical view; in the evening when the sun sets from its balconies one can admire the whole of the caldera dyed into the colors of the sun rays, and in the night the sparkling lights of the villages create a magical atmosphere.
Apart from its privileged location Feredini serves gourmet dishes that can satisfy demanding clients. There is a variety of well cooked dishes by the two chefs with the stuffed ravioli and tagliatelle with saffron being my favorite. The ingredients used are fresh and locally produced. The desserts were absolutely delicious as well, we ordered a lemon and yoghurt mousse and a tiramisu and we are still drooling. We drank wines produced by the owners of the restaurant with the Sigalas name tag on, and some glasses of kir royal just before dinner.
The service was excellent, the waitress was kind and helpful with the menu information and one of the chefs, Kyriakos, came out to ask us himself if we liked the food he had prepared for us. He also gave us the recipe of the yoghurt mousse when we told him that we liked it. We really enjoyed this evening!

Selene Restaurant
Tel: 22860 - 22249
Location: Fira
Like: the service
Dislike: overpriced & overrated, bad view
This is another famous restaurant of Santorini, which I felt like I had to pay a visit. Usually I do not regret for my choices, but dining at Selene Restaurant was something I regretted.
I went there during my last visit to Santorini in July 2007. I have seen the restaurant in the past, when I stayed at Tzekos Villas, which are located right next to it. Selene is 3 minutes on foot from the main pedestrian zone of Fira. Selene Restaurant opened back in 1986 and prides for being one of the beast gourmet restaurants of Santorini serving dishes based on local products. Selene is built at a large open air patio. It has view to the sea and the caldera, but not a nice one. In the night you see nothing but total black - not even a few sparkling lights, no view, nothing. Moreover the lighting of the restaurant is low, very low, which was not that romantic (I had a difficult time seeing what I was eating!)
Anyway, we went to Selene Restaurant without having reserved a table beforehand. Most of the tables were occupied (by couples), but the maitre asked us to wait for a while as they would prepare a table for us. Generally if I can say one good thing on Selene, this would be on its service. The waiters have been helpful and very professional. But all the rest was awful.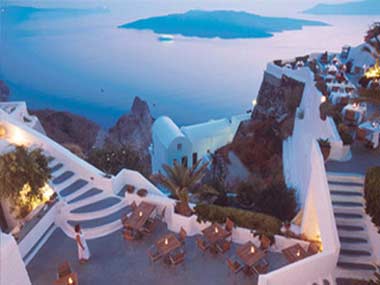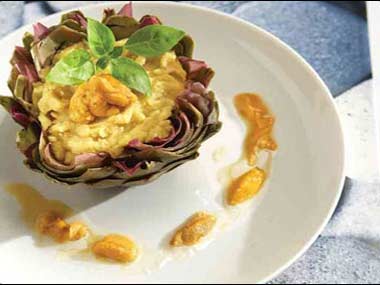 The menu had no more than 20 plates in total and when we asked for an ingredient to be omitted from the salad, we were informed that it was not possible. As a result we ordered only the main course with was:
Vinsanto laced pigeon stuffed with bulgur and dried apricots
Most probably the chef had run out of apricots, as there was not a single one in our plates. The dish was served without informing us of the lack of ingredients because maybe they thought we wouldn't notice due to the darkness. You think I am exaggerating? I am sure you would complain of that if you have paid 28 euros for it! I was prepared for spending a lot at this restaurant, but It didn't deserve a penny! The dessert was ok, but again nothing special (better have pasties at Zotos pastry shop in Fira!)
The furnishing of Selene restaurant was plain and the pop music that we could listen from the next door Oasis café bar made our dinner even worse. What else to say?
Had the cost of the dishes been the half of the one it is now I would not complain. But if you wish to have a special dinner, choose another restaurant!
The best shot I got from Selene restaurant - If you want to dine there, go in the afternoon (at night there is no view)
Il Cantuccio
Location: Firostefani
Tel: 22860 - 22082
Like: original Italian plates, generous proportions,
Dislike: it is small and as a result it's usually crowded and loud
Maybe the most famous Italian restaurant in Santorini. And there is a reason that Il Cantuccio has such a good rumor; Giuseppe left Sicily to come to the Greek islands and ended up an owner of a small restaurant. It has a tiny terrace right below the two wind mills in Firostefani and it is usually swamped with people. This is very easy since there are only a few tables to accommodate many people.
Pasta and pizza here taste originally. Handmade pasta is served every day, so do not forget to ask which are the special dishes of the day. My personal favorites, though, are the risotto with seafood and ravioli with spinach and manouri, a white cheese, but you can also taste the agnolotti with zucchinis, gnocchi with tomato, mozzarella and basil and the delicious penne alla Norma with eggplants.
Koukoumavlos
Location: Fira
Tel: 22860 - 23807
Like: incredible dishes, great view, excellent service
Dislike: high prices (but quite reasonable for a gourmet restaurant)
It is hard to decide whether to sit inside, in the atmospheric room with the domes and the baroque furniture or outside in the terrace with the great view of the caldera. A difficult task would also be to choose among the dishes of the chef, Nikos Pouliasis who changes the menu every year. This year he proposes the tuna tartar in a martini bianco and lime sauce and the grilled griskin with pomegranate and mint sauce and a mousse from aromatic peppers. As far as desserts are concerned the chocolate semifreddo with the mandarins and the Greek coffee sauce with cardamon and curry is absolutely fantastic. In addition, you can have Santorinian fava with citrus zest, smoked porkloin, and roasted almonds, veloute of fennel, with rizoni and red shrimp mousse, "Koukoumavlos" salads with lettuce, cherry tomatoes, fresh mushrooms, kiwi, grilled pine nuts, Cretan barley croutons, Cretan gruyere, vinaigrette of aged Santorinian vinegar with dried figs, fresh papardelle with shrimps sauteed in ouzo and anise with fresh tomato and light cream flavored with lemon zest.
Koukoumavlos is one of my favorite gourmet restaurants and one that you should definitely visit. To be sure make a reservation beforehand.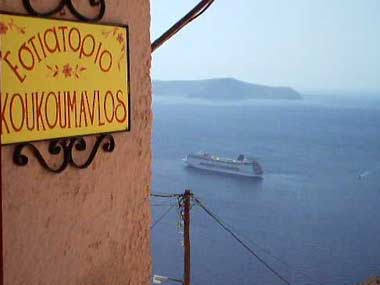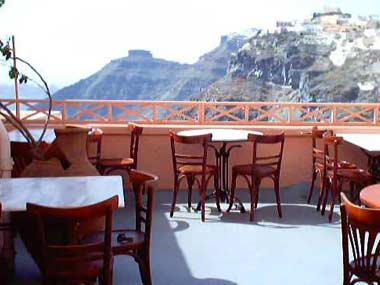 Sea Side Lounge by Notos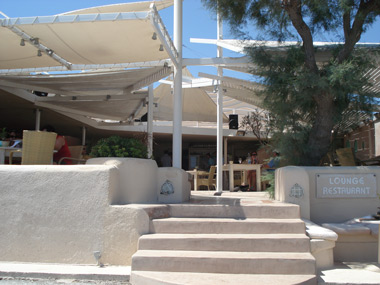 Location: Agios Georgios, Perivolos beach
Tel: 22860 - 82801
Like: great food and service
Dislike: no caldera view since it is Perivolos beach
One of the funkiest restaurants and one of my favorite is Sea Side Lounge in Perivolos beach. You can go there at any time of the day, as it's not just a restaurant. The beach Sea Side Lounge has comfortable lounges, umbrellas and straw mattresses spread on the black sand. Sounds good? Indeed it is great. So if you want to be served your cocktails in one of the most comfortable loungers of Perivolos beach, do not forget to reserve the lounger and umbrella the previous day (demand is really high!)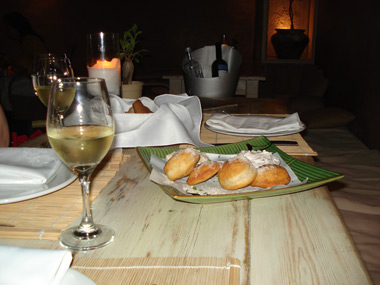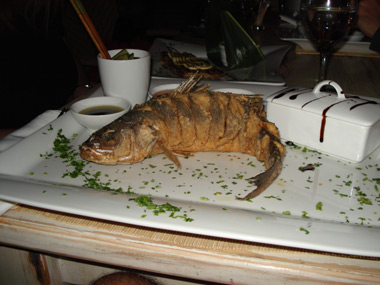 Now getting to the restaurant. The cuisine is characterized by a fine combination of Mediterranean and Arabian tastes. The presentation of every dish is outstanding and so is the taste! I've photographed the dishes we had the last time I was there, to let you understand a bit what I mean by great presentation of food:
Numerous are the finger food choices as the menu is long. What I love is fish, and at Sea Side Lounge you will be served fresh and definitely delicious fish. See in the pics the labrus dish:
I recommend trying a selection of all deserts, otherwise taste the lime sorbet with vodka.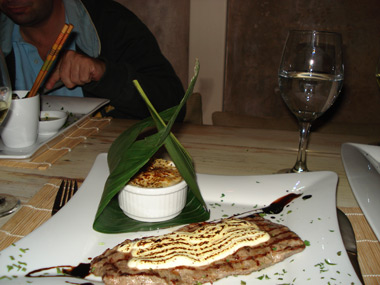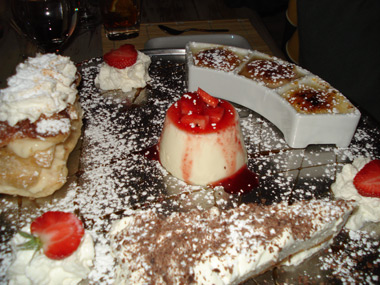 The restaurant of Sea Side Lounge is open from noon, but dinner there is more special. On the beach which is right in front of the restaurant, every evening the restaurant's staff lights big torches. Many of the tourists organize their wedding dinners there so don't be surprised if you see a bride and groom around.
Tip: if you wish to have a special dinner on the beach, reserve the boat table. They have transformed an old small fishing boat on a comfortable couch, by using pillows, and dinner is served there!
Ouzeri Georges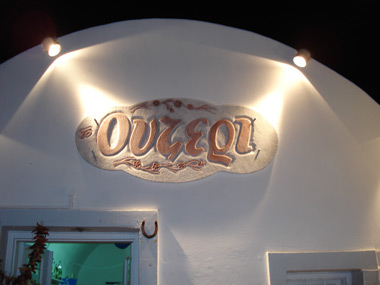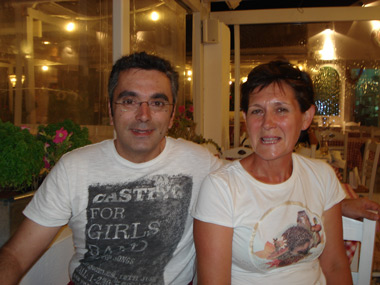 Tel: 22860
Location: Fira
Like: great service and food, rather cheap prices
Dislike: not the greatest view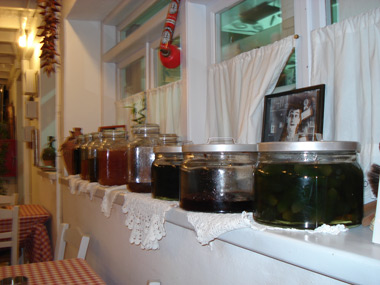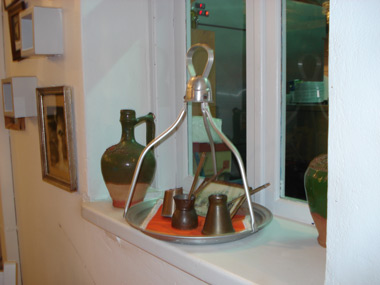 Savour traditional local dishes at the Ouzeri (of George) in Fira. This tavern is located centrally in Fira, at the Fabrika shopping centre, very close to the Cathedral. It might not be one of the restaurants with view, but the delicious (and also reasonably priced) dishes will not leave you lift your eyes from the table.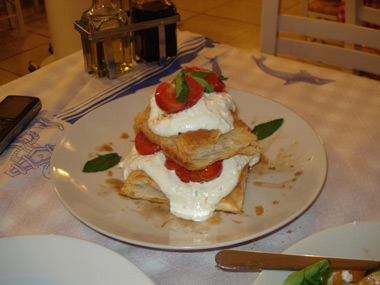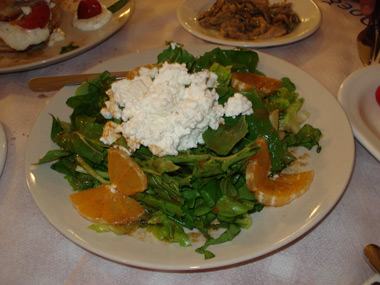 So, a traditional Greek meal at Georges Ouzeri would start with a round of appetizers (mezedes). Taste the tomato-balls, the ouzo meat balls, manouri cheese fried with sesame and served with morello sauce.all so delicious! The parade of appetizers is usually accompanied with ouzo or for those not accustomed to it beers.
Then come the entrees; both grilled meat and seafood are served here! From grilled chicken to fresh fish or famous mousaka!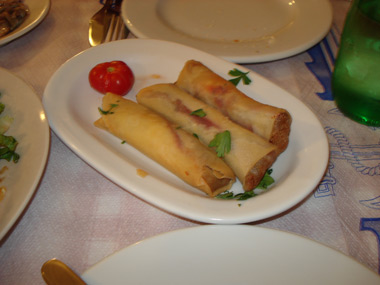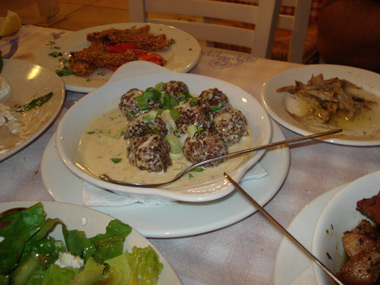 You will feel full after such a Greek meal but do not forget that you can have a desert at Ouzeri, too. I strongly recommend the homemade glyko toy koutaliou (it is a traditional Greek dessert made of boiled fruits or vegetables with sugar syrup!).
Apart from the cuisine, other reasons I always visit this tavern is its service: always helpful, quick and attentive! I personally got to know Iordana, the owner, who is also working serving dishes always with a smile upon here face. The staff at Ouzeri is multilingual, so is the catalogue, too. Though many locals are loyal clients, many foreign tourists also choose this place to taste the local cuisine!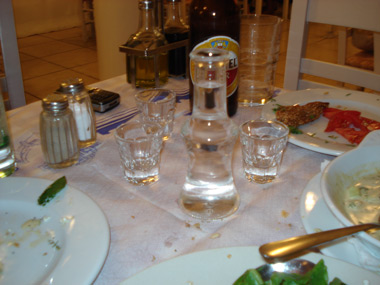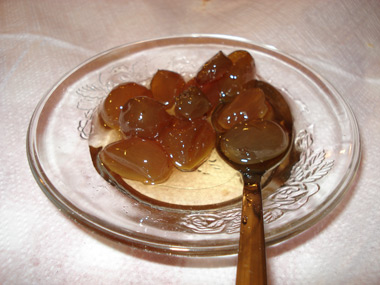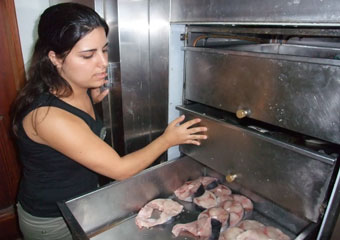 Yiorgaros Fish Tavern
Tel: 22860 - 83035
Location: Akrotiri
Like: great service and food, cheap prices, fabulous view
Dislike: far from Fira
Even if you ask all the locals which is the place to get the freshest fish they will all tell you that Yiorgaros in Akrotiri is the one. The fish is guaranteed to be fresh since the best man of Mrs. Maria, who performs miracles with the frying pan and the grill as well, trawls it every day. Right by the sea, the view of the caldera is incredible. Taste the fish soup and the spicy shrimp spaghetti, split peas puree, tomato balls, white local eggplants and cherry tomato salads.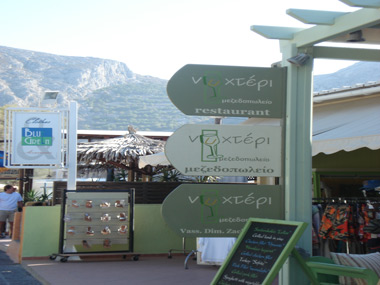 Nichteri
Tel: 22860 - 83035
Location: Kamari
Like: great food, decoration, service
Dislike: no caldera view
Calm and relaxing with tables that overlook the sea of Kamari and right next to the pedestrian street of the village you will find Nichteri with tables, chairs and walls in pale pistachio green color and dishes based on the Mediterranean cuisine. The cheeses are from Crete, Naxos, Syros, Cyprus, Mani, and Ipiros accompanied with vegetables from the Santorinian land. Taste the fish fillet with tomato sauce, tomato balls, Vinsanto fillets and drink wines from small selected producers.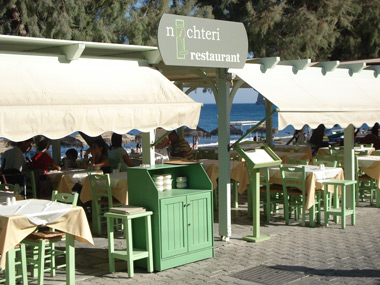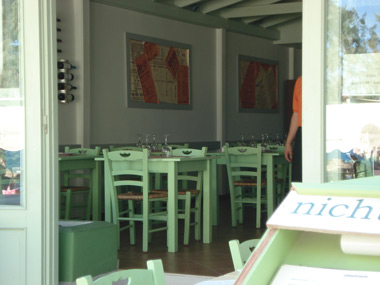 Light Meals or Fast Food
Top selection of venues for light & fast meals:
Taj Majal in Perivolos beach: ideal for delicious salads & snacks on comfortable couches by the beach. Incredible decoration, mainstream music, good service.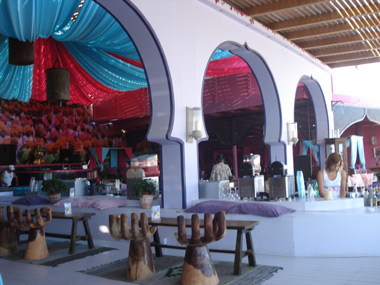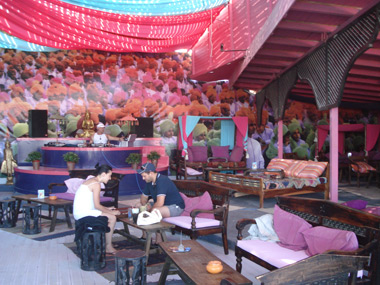 Lucky's Souvlaki in Fira: maybe the most famous Souvlaki of Santorini!
Koulis Grill Bar in Kamari: on the pedestrian zone by the beach for take away. The souvlaki is very tasty.
If you are a candy person Zotos in Fira & Melenio in Oia are known for their delicious pastries. Even a look at the glass window is enough to convince you that their pastries are the freshest.