Greek Islands Ancient Coins
"Santorini Coin-Silver Stater"
Santorini, the southernmost of the Cycladic islands, lying fairly close to Crete, was a natural port of call on the commercial routes linking the Cyclades and Crete. The unique terrain and the oval shape of the island are the product of volcanic activity during the prehistoric period. The volcanic soil of the arid island is conducive to the cultivation of vines and a few cereals. Traces of human activity have been observed dating from the 3rd millennium BC, and the excavations at Akrotiri have confirmed the existence during the Middle Cycladic period (2000/1900 - 1550/1500 BC), of an important civilization which was abruptly interrupted by an eruption of the volcano. After this, the island remained uninhabited for about two centuries, with life returning about the 13th c. BC.
Herodotus states that Santorini was colonized from Sparta under king Theras, son of Autesion, grand-son of Kadmos, and great-great-grandson of Oepidus. In the 9th c. BC it was a purely Dorian colony, with its centre at the settlement of Ancient Santorini on the strongly defended site of Mesa Vouno. After an extended period of drought on the island, the inhabitants founded a colony at Kyrene in Africa, in 630 BC.
Excavations at the settlement of ancient Santorini have uncovered a large Hellenistic town which, along with the port at ancient Santorini, was used as a naval and military base by the Ptolemies, who settled a sizeable garrison here.
To Santorini are assigned the uninscribed archaic staters with a depiction of two dolphins swimming in opposite directions on the obverse, and two incuse squares on the reverse (525 and 510 BC). Study of hoards indicates that the Archaic mint probably functioned for only a short period, since the island's currency needs were met by Aigenitan "turtles".
The depictions on the bronze coins of the mid-4th and 3rd c. BC are influenced by the cults of the gods and their symbols. A memory of the representation on the Archaic stater with two dolphins survives in the bronze coins, though there are now three dolphins and they are rendered on the reverse, while the obverse is engraved with the head of the god Apollo.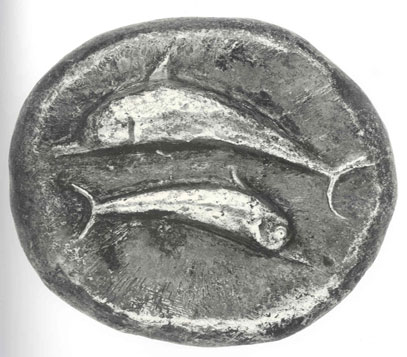 Silver stater c. 525 BC. Two dolphins