Heraklio Beaches
Maybe this is the most famous beach of the island of Crete. When I was a teenager I wanted to spend my first vacation along with my friends at Matala beach, as it has been the home of hippies for many years in the 60s and 70s represented the old hippie movement.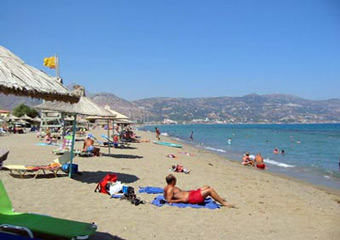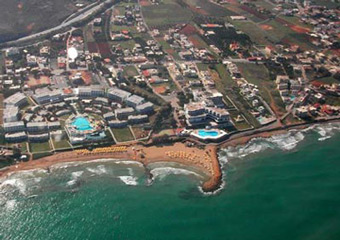 The long sandy beach lies 66km southwestern of Heraklio city and is surrounded by steep cliffs. In these cliffs there are caves, in which the hippies found shelter when they inhabited the beautiful Matala beach. When the hippies left, the tourists arrived.and today Matala is an organized beach, on which you can find everything you might need. Marinero beach bar is recommended for its cocktails - I also recommend you spend the evening at Matala beach to admire the sunset, when the sun dives into the Libyan sea and dyes with its rays the nearby islets red!
If you want to avoid the happy & noisy crowd of Matala beach and you are in a search of tranquility and unspoilt natural beauty, take my advice and visit Kokkini Ammos beach ( meaning red sand beach). It lies around 30min foot from Matala. The pink sand of this beach will surprise you for sure. Note that many nudists prefer this beach4km from Matala you'll find the Kommos beach. Not as isolated as Kokkini Ammos, but also not as crowded as Matala. Surrounded by pine trees and covered by golden sand, Kommos is a beach that can satisfy everyone! Part of the beach is also organized, offering umbrellas and sun beds as well as a variety of sea sports.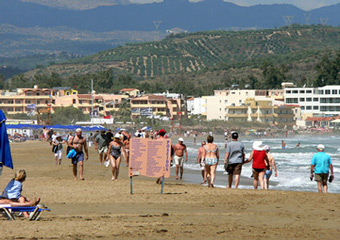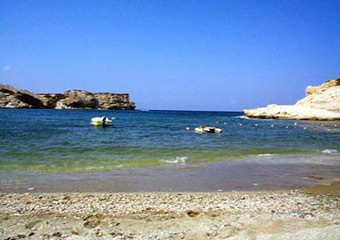 Kalamaki beach owes its development not as much to its natural beauty as to the nearby Matala beach, which is a poll of attraction for tourists. Cafes, tavernas, snack bars and water sports are available at Kalamaki beach, as well as small hotel units at the Kalamaki village.
Long, covered with grey sand and popular - this is Hersonissos beach. On the northern side of Crete and 35km from Heraklio City lies Hersonissos beach, on which one can see mainly foreign tourists. This is due to the large and numerous hotel units surrounding the beach. The happy & noisy crowd can enjoy all the comforts and services offered ; tavernas, fast food corners, water sports, mini markets and ATM machines ( so that you never run out of cash) . Morover almost the whole beach is organized, providing visitors with sun beds and umbrellas - usually at high rates!
A 6km long beach connecting the settlement of Stalida with the one of Malia. Stalida beach is more tranquil compared to Malia, and is visited mainly by families. On the other hand, Malia resembles more to Hersonissos , though Malia beach's waters are crystal clean and the taverns and cafés are reasonably priced. Sea sports are available for the youngster and also sun beds and umbrellas can be rent, at this sandy beach 39km from Heraklio city.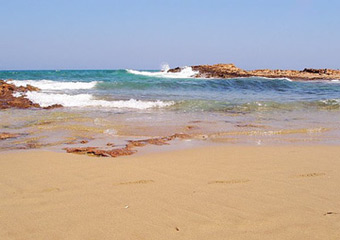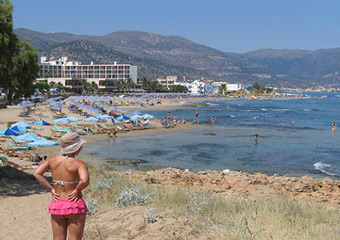 22km from Heraklio city right next the large Fodele Beach hotel, at the homonym gulf lies a beach with golden sand. The beach is organized offering sun beds and umbrellas, snack bars, taverns and douches. Tourists, mainly from Nothern Europe spend their vacation on this beach. Many walk up to Fodele village which is no more than 20min on foot from the beach, to visit the beautiful small Church of Panagia and El Greco Museum and House. It is worth walking to Fodele, as the path leading to the village is surrounded by trees and the natural beauty of the area is unique.
Agiofarago beach is recommended only for adventurous spirits. To reach Agiofarago one has to drive a difficult dirt road and then walk a lot - alternatively take a the ship that leaves visitors to this beach. The crystal clean turquoise waters and the small pebbles make Agiofarago a beach of wild beauty.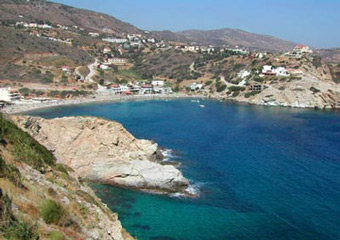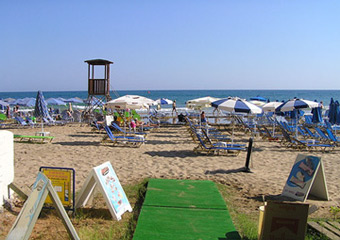 Three unspoiled beaches on the southern part of Heraklio Prefecture attract mainly visitors, who are in search of alternative vacations. Keratokabos beach is an isolated, tranquil beach next to which lies also the pebble Tsoutouros beach. Both beaches are not organized. Avri beach is also ideal for moments of serenity. Its waters are crystal clean and it is covered with pebbles. The area is famous for the banana plantations and for the narrow gorge of Avri, at which end a small charming monastery was built in 1800.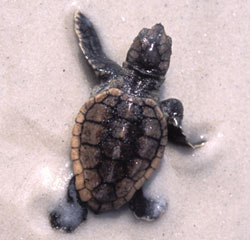 IMORTANT NOTE:
Summer nights is the period the caretta caretta turtles, an endangered spice of Mediterrenean sea turtle, lay their eggs on the beaches. So when walking at:
Kommos
Kokkinos Pirgos
Kalamaki
Matala beaches
we should be extra careful!