Lefkada Beaches
The West Coast's sea in Lefkada is perhaps the best in the Ionian. Let's take a look at some of its beaches.
Kaminia is a wonderful beach full of pines and crystal clear waters. Visit it without hesitation.
Moving on to Pefkoulia, always on the west coast of the island but a little to the north, is this great beach that you should definitely visit. With small pebbles all around the beach and inside the sea and the crystal clear cool waters, this beach has become one of my favorites. An ideal place to go for free camping, a place that most men will enjoy since most of the women swim topless.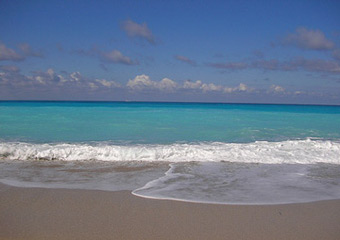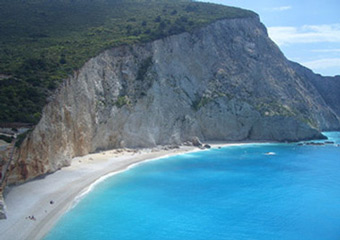 Kathisma on the other hand is a very busy beach. Full of bars, restaurants and apartments, always so crowded that it is difficult to find some space even for your towel. The beach is covered with pebbles while inside the sea the floor is sandy. One of the best beaches if you like crowds. If not. move on to Egremnoi, a beach with small pebbles inside and outside. Reaching it would be rather difficult since the road is quite narrow and steep. Nudists often make their appearance there while topless swimming is very common. My own personal opinion is to visit the beach regardless of the difficulties presented by the road since it is one of the best. You will not regret it I promise! Remember that while driving to get there. If easy access is what you are looking for though, I recommend you to go to Gialos, a wonderful beach full of pines and crystal clear waters.
And next, let' s talk about Porto Katsiki which is considered one of the best beaches in the Mediterranean Sea. Sandy and always crowded during the summer. It may be difficult to find a parking space or even a space for your umbrella. If you like noisy beaches this should definitely be your first choice. Bare in mind that topless swimming is quite common.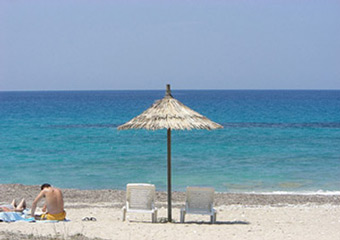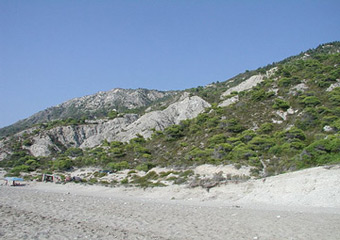 Agios Ioannis is on the northwestern part of the island. It is 3km away from Chora and 1km from Frini village. It is famous for its golden beach almost 5km long. It is not an organized beach but you can engage in water sports such as surfing or even kite surfing. There is a taverna and a snack bar nearby. Accessing it is very easy.
So, if none of these beaches of the west part of the island satisfies you - impossible to happen if I may add - take a shot in the quiet beaches Avali, Theotokos and Gaidaros.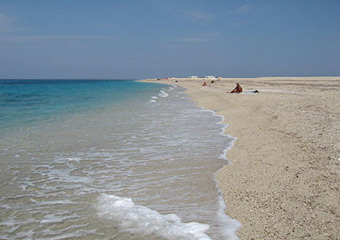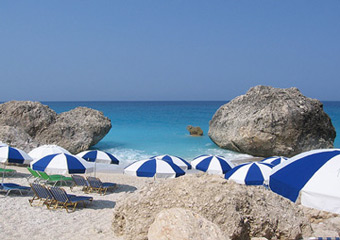 Or take some time to visit the beaches of the east coast which are also wonderful.
Desimi is the best beach near Nidri to take a swim. The beach and sea floor have large pebbles. Camping is forbidden, topless swimming is common and there is also a restaurant by the beach.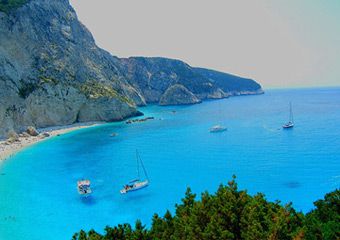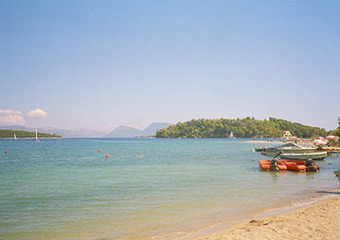 And now that I mentioned Nidri, the cosmopolitan resort of the island, don't forget to make a stop at its organized sandy beach where there are also beach bars, cafes and tavernas with a view to the legendary island Skorpios.
Mikros Gialos is also a beach at a walking distance from Nidri. With easy access, a paved road all the way and ample parking space, if you decide to go by car, you won't have a problem reaching it. Topless swimming is common and the sea bottom is quite interesting if you are a fan of snorkeling. Next, Agiofili is a wonderful small pebble beach near Vasiliki with beautiful crystal clear turquoise water that gets deep very quickly. Jumping in off the cliffs surrounding the beach is a brilliant idea. It is best accessible by boat since the parking space is to far away and it is a long way for walking. A water taxi may take you there in the morning and pick you up in the afternoon. Large waves may prevent the taxi from coming back so be ready to go back on foot in case something like that happens. Snorkeling is a good idea and topless swimming is quite common.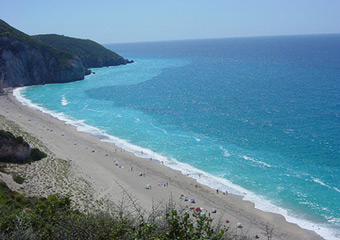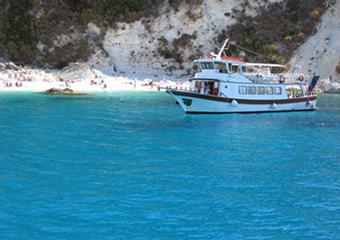 While you are in Agiofili take some time to visit another pebbly beach called Ammousso which is easily accessible from Marantochori.
Also Vasiliki is a nice clean water beach with large pebbles. It is an ideal place for wind surfing. There is a parking space near the beach and a paved road all the way to the beach so access is easy.
A bit towards the northeastern part of the island is Nikiana a sandy beach with crystal clear waters only 9km away from the village Nikiana. Near it you will find cafeterias and a mini market.
Ligia is also a beautiful beach with green clean waters situated on the northeastern part of the island 6km away from the town.
And finally Milos, an excellent sandy beach and one of the most idyllic spots of the island. Ideal for watersports.
White and blonde sand, pale turquoise blue or bright turquoise waters, impressive scenery with wild and imposing rocks, that's what you will find in Lefkada; amazing, breathtaking beaches that look like heaven on earth. So just write the names of the beaches on a piece of paper, maybe get a map and start searching, visit as many as you can or just. just keep in mind that Lefkada has ravishing beaches with wonderful water that you should not miss.