Santorini Nightlife
Fira
TownClub - santorini
Town Club in Fira area of Santorini, is one of the most famous ones in the island and counts more than 25 years of success.
The fact that the owner and general manager remains the same through all those years, says a lot by itself. Top quality service is guaranteed as nothing less is acceptable here.
Except from our main premisses indoors, you can enjoy your drink at the patio whith the exclusive atmosphere, facing the main square of Fira.
Special events are organized in a regular basis.
HAPPY HOUR (2 - 4 -1) daily between 21.00 - 24.00
Cocktail and shot of the day on special prices all night long.
Special prices for groups over 12 persons are provided. Don t hesitate to ask for that our staff at the club entrance.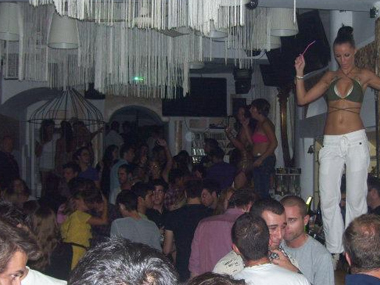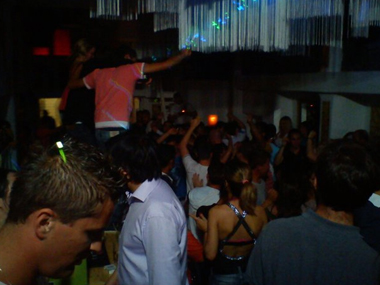 Koo Club
I'll mention Koo Club first since it seems to be one of the most popular outdoor clubs in Fira by far. It is playing progressive, mellow, house, trance and Greek music and it is full of people on a daily basis and not just the weekends. The parties and dancing are endless since it is the definition of the summertime club. It will be turning 20 this year and has remained faithful to its winning formula, great music, five bars and professional staff from top Athens clubs. Inside or outside, beat or chill out, socialites, celebrities or simply savvy swingers, Koo club is the place.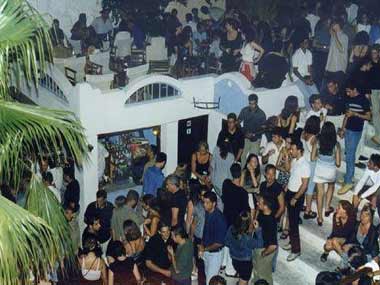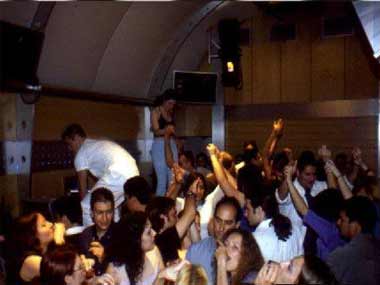 Kira Thira Jazz Bar

Kira Thira is a nice jazz bar operating in Fira, the capital of Santorini, for over thirty years with great success.
The place is usually swamped with tourists and a few Greeks especially during the summer all drinking sangria. There are only a few very small tables and the music played by the DJ is mostly Jazz and ethnic, latin, African and more. Regularly, the music is live performed by small bands.
The decoration of the bar is very distinctive with a huge viola-like instrument hanging from the ceiling and the atmosphere is very relaxing for a more laid back night out. Kira Thira stands out in the nightlife of Fira.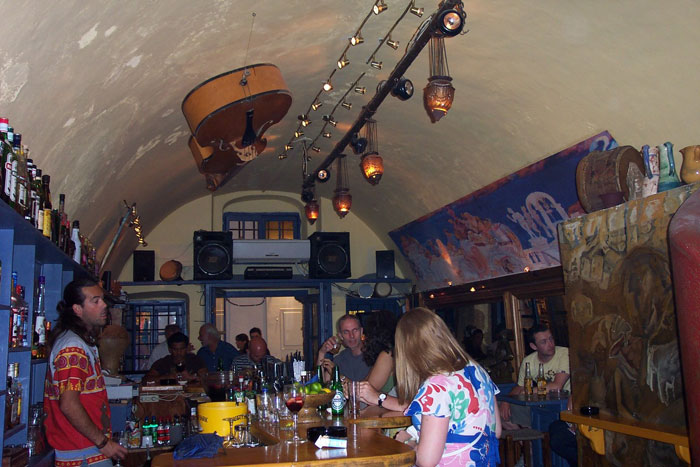 Enigma
Enigma club was established in the summer of 1979 and since then, it is considered a must. It is said that if you leave the island without dancing in Enigma club, you haven't done anything. Well, I know this is a bit over the edge but the part about the dancing is true. When I was there everybody was dancing and that put me in the mood to do so myself. I really had a blast. The atmosphere is very impressive from the time you reach the entrance to the time you get in, the decoration, lights and music make the scenery truly magnificent.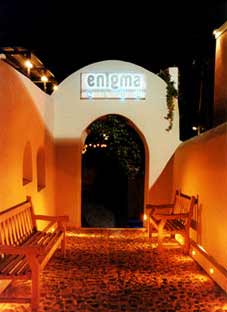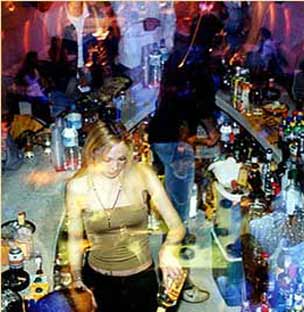 Taj Mahal
Taj Mahal is definitely one of my favorite nightclubs. Ok, my friends told me it is a bit kitsch but I really don't see that. I like the atmosphere that it gives out, the oriental style, the colors and the lanterns, the place gets you in the mood right from the beginning, when you first set your foot in the entrance corridor. I liked it so much that I also drugged my friends to the other Taj Mahal cafe - club which is in Perivolos but I'll talk to you about it later on. The music was mainstream with some oriental breaks as a tribute to the atmosphere.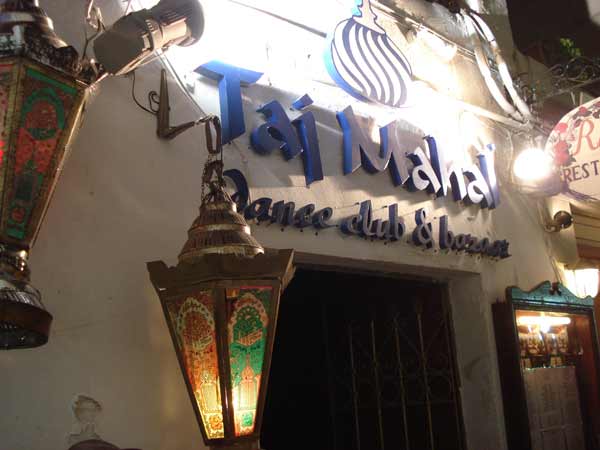 Franco's Bar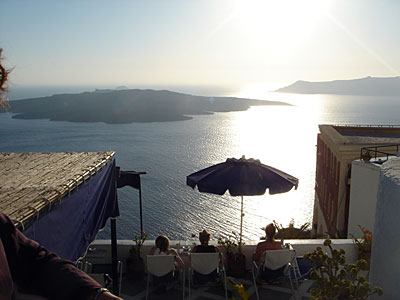 Now Franco's Bar, is famed throughout the world and it's an all time classic. This is the cocktail bar which made classical music the indispensable soundtrack for caldera bar life. Opera music in the background, a beautiful sunset view, comfortable chaise longues turned to face the caldera. Believe me when I say it's a must. You will relax more than you could ever think is possible.
Ok, it is a bit expensive but let me assure you that it's worth it. Some people during the summer months wait in line just to have the opportunity to lie back on the chaise longue and have one of the fantastic cocktails served on the premises. There's nothing like it! If a chaise longue isn't available after all and you don't want to wait any longer sit indoors in an area cut into the island rock. The last word in chilling out.
Tango
Tango is a bar - club that you will find next to Franco's. You pay the ticket at the entrance which includes one drink and go down the stairs that will lead you to the right spot. Just follow the music...
When I went there the place was swamped with people, the music was loud, some people were dancing while others were sat on the small tables or standing up with their glasses in their hands looking around. I liked the music, the current tunes, and the people, tourists and Greeks. Everyone seemed to be having fun. There are some tables, chairs and benches that you can leave your glass on but most people were standing as is the usual case with bars. Tango is an open bar so heat is not an object. The view is excellent if you stand by the balcony but even if you are below the covered part of the bar where the drinks are served it is certain that you will still see it. Stylish, up to the minute 'chill out' atmosphere, and stunning views of the caldera are its characteristics.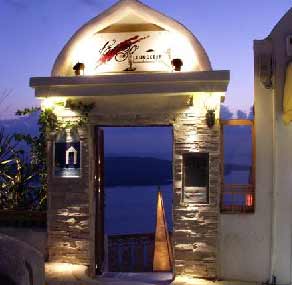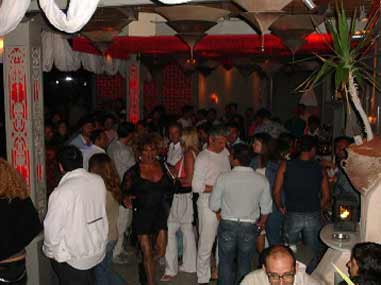 cafe del Mar
cafe Del Mar e Sol is a chill-out place ideal for your first drinks before you start dancing in Santorini's night clubs. It has a large patio with a view of the caldera, torch-lighting, blue and yellow sofas. The menu runs from burgers to caviar and it is open for many hours during the day so you can go there for breakfast if you like but the best time is around sunset or later just before you start your dashes in the island's bars. I never forget to pay it a visit when I'm around.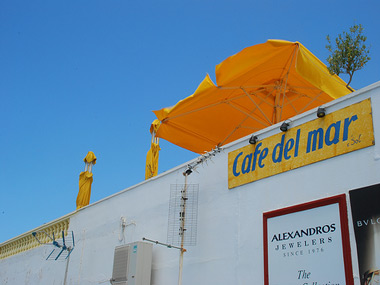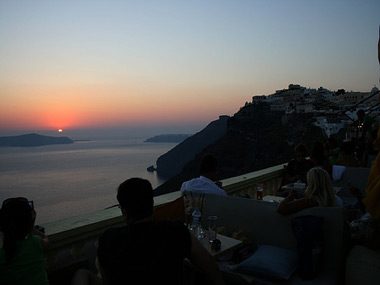 Vertigo
Vertigo is not one of the most famous cafes or bars of the island but I like it because it has a great view and the sunset seems even greater from that location. It is near the cable car station in Fira and you can visit it early for a cup of coffee or later for a drink if you want a night off from dancing in crowded clubs.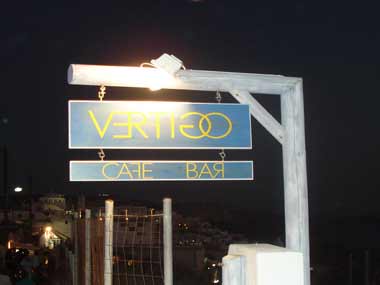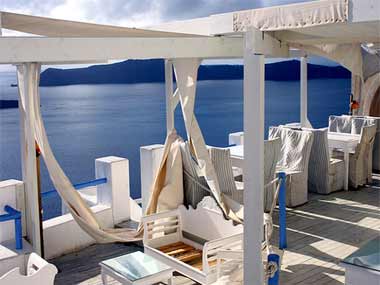 Tithora
I saved Tithora club for the end since it provides an alternative way of entertainment. It is ideal for my rocker friends since it plays rock music and it attracts many people who like that kind of music. Its fans are loyal and the place is always full. They wear their tight jeans and do some head banging so you will see a lot of hair moving around but they all seem to have fun. The club exists for many years and if that music isn't your favorite you should just visit it for the sake of variety. Who knows? Maybe you'll like it.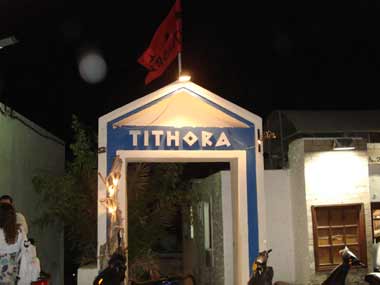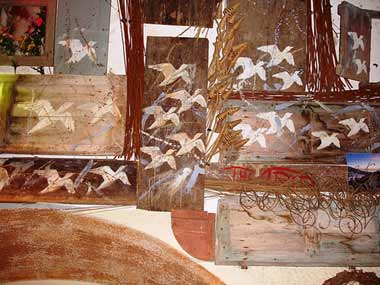 Kamari
Ethnic cafe Snack Bar
Right next to the beach of Kamari Ethnic cafe Snack Bar will impress you with its decoration. I think it is open all day long since I've never seen it closed so you can go there for your morning coffee or in the afternoon after swimming and of course it's a must at night time when it is transformed into a bar and floods with people who have their drinks while listening to the atmospheric music.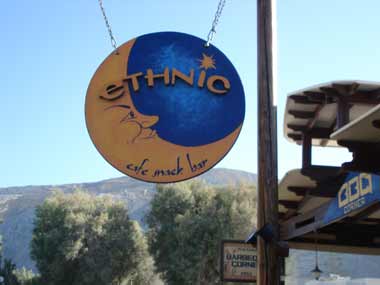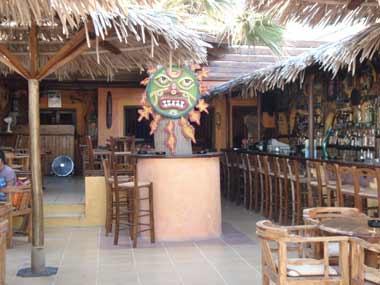 Dom Bar and Club
Dawn in Kamari finds everyone here, dancing to house, rock, disco and reggae in the famous dance floor cage that is the emblem of the place next to the d. j. 's console. Austrians and Scandinavians at the beginning of summer, Greeks and Italians later on, everyone comes here for uncomplicated, feel-good clubbing in a stylish wood and metal décor. You will find it right by the beach of Kamari.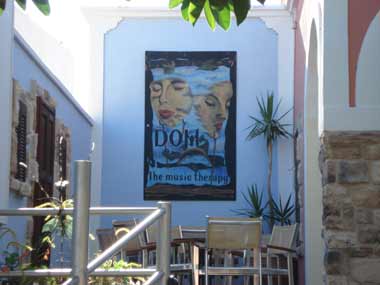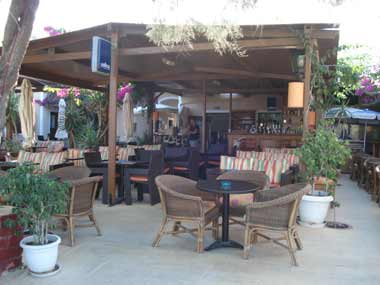 Levante cafe Restaurant Cocktail Bar
If you are not a party animal and you just want some peace and quiet then maybe Levante is the best choice for you. It is operating all day long as a cafe and a restaurant while at night it becomes a very nice bar with lounge music where tasty cocktails are served. So with that, I think I've covered everybody's tastes.
In Kamari you will find many cafes that turn into bars later on. Its nightlife is not as wild as in Fira but many people visit it, the bars are full, the people great and the fun guaranteed so don't hesitate to go to Kamari. Many of the bars have what is called the happy hour which usually starts at eight in the afternoon and during that period there are discounts to drinks according to the quantity consumed. Enjoy consciously!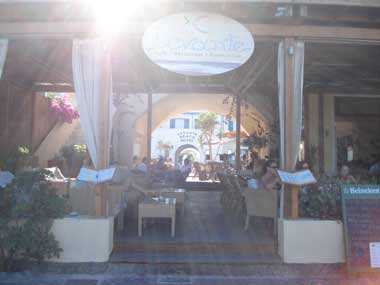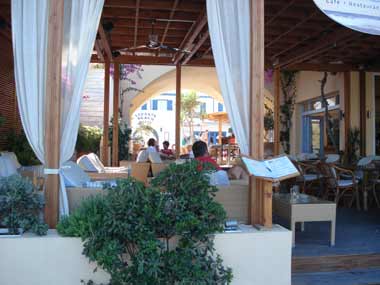 Firostefani
Galini cafe Bar
One of the magical places in Firostefani is Galini cafe bar which looks so small from the outside. When you finally decide to enter you get impressed by the decoration and the romantic environment and don't get me started on the view. You have no idea! When I went there I was staying at a hotel nearby and as I was tired I decided to spend some time there because it was the bar closest to my hotel. This couldn't be a better choice! The barwoman was very friendly and kind and she sat down and told us which sweets were the tastier and what drinks to order. I ate a cherry sweet accompanied with yoghurt and we also ordered a milk shake and some drinks. The sweet was so tasty that we had to re-order some and the music along with the view and the environment makes me think that this was one of my best nights out. In the end they bring you the check in small wooden decorated boxes and every single detail from the chairs and the lamps to the smallest decorative item is chosen with taste.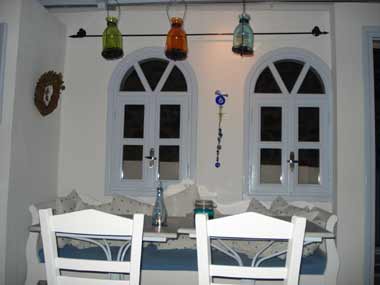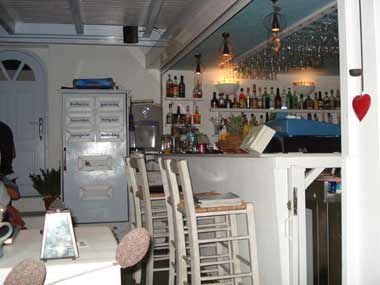 Mylos cafe
Mylos cafe is one of the most noticeable in Firostefani since it is resided in an original wind mill transformed into a cafe. The view of the caldera from its porch is simply magnificent especially during night time when all the lights of the island's villages are lit up. This place is preferred by couples since it is so romantic so don't hesitate to take your sweetheart there if you want to impress her. This will definitely work! If on the other hand you are single don't worry, take your friends and go there to have your drinks and enjoy the music while gazing at the view. Nearby there are also a few good restaurants that you may want to visit afterwards.
Vanilia
And speaking of good restaurants Vanilia comes instantly to my mind. You will probably wonder what's the place of a restaurant inside the bar list. The answer is simple! Vanilia also operates as a bar so visit it either to taste the delicious dishes or have a drink. Needless to say that the view is splendid, don't even ask! The music and the environment are atmospheric and the place is always full. Don't miss it!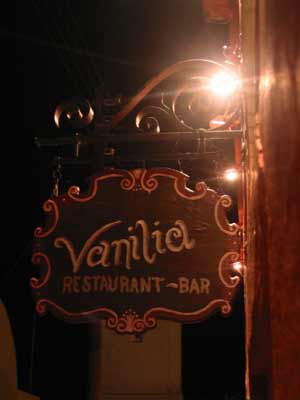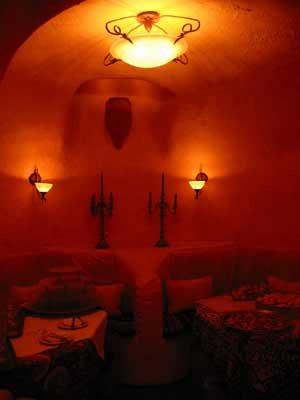 Remvi cafe
And last but not least I have to mention Remvi cafe and restaurant really close to the public parking area for those who do not like walking although the narrow streets of Firostefani are magical and ideal for strolling around. Now back to Remvi so as not to forget mentioning that the view is incredible, what a surprise! The food is great and the scenery ideal for a night cup although the place is also open for breakfast in the morning . The choice is yours!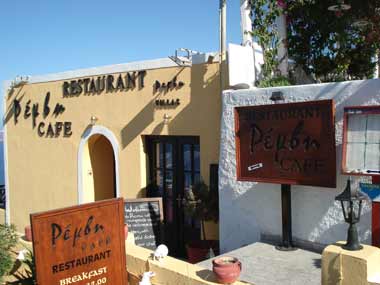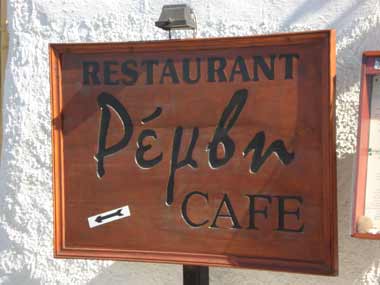 Imerovigli
Oceanos cafe - Bar
Oceanos cafe - bar was the first cafe that I visited the last time that I was in Imerovigli. I chose to sit there because it was obvious that the view was magnificent before entering, just looking at it from the street. The waitress was kind enough to let us charge our mobile phone batteries and the bar tender prepared a fruit cocktail with pears and apples that was very delicious. Oceanos is open as a cafe from the morning till late at night that it turns into a bar.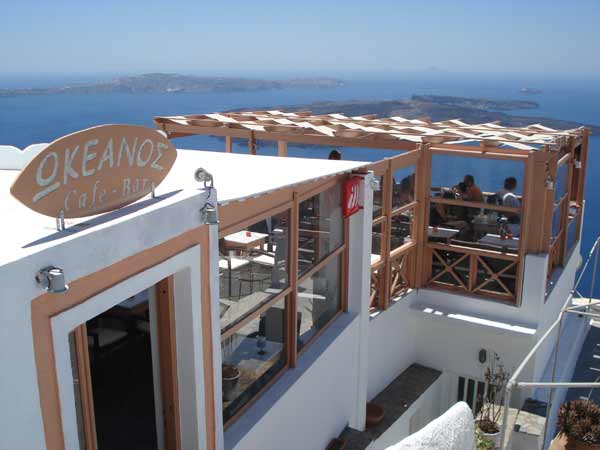 Oia
Pelekanos cafe - Restaurant
Pelekanos cafe and restaurant is in the center of Oia in a very nice location with traditionally furnished bars and the most incredible terrace for the long warm summer nights while the musical background of softer melodic Greek music, classic pieces as well as blues and jazz create a beautiful atmosphere.
As I was informed the restaurant uses the finest quality ingredients from all over the world for the recipes prepared. In the cafe-bar the best Greek and Italian coffees are served as well as wonderful desserts and pastries and drinks to satisfy the most demanding customer.
My friends and I tasted fresh summer salads and home made pizzas and then we couldn't resist to the idea of eating some waffles which were also home made. As I heard the pasta was also delicious. I am stopping with the food descriptions because I am starting to grow an appetite...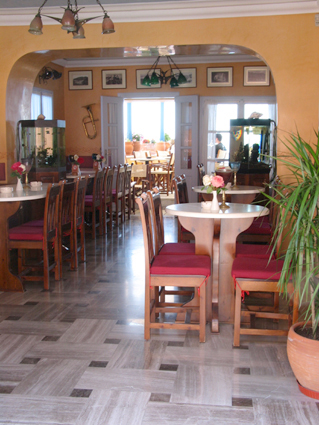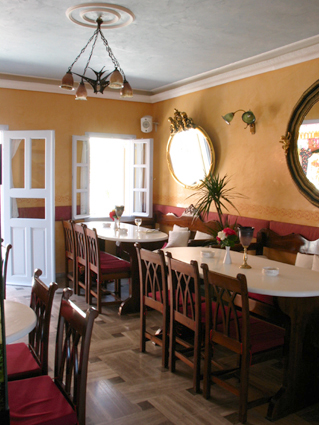 Skiza cafe
Skiza or schiza means a piece of burnt wood and in the older times this is what they called the dried bread rusk in Santorini. These information are printed on the first page of the menu so don't be surprised that I am aware of it.
The cafe has two floors. The first is the one you see as you enter right after the glass window with the delicious homemade pastries. The view from its balcony is incredible but usually there are no tables available there so you have to go up the stairs to the second floor which is outside. I like it better there anyway. There are white chairs and plants all over the place and a tent to protect you from sun. The menu had many choices to offer and the waiter was very polite although he kept climbing on the balcony ledge to stretch out. Go figure. maybe he does that to impress girls! The cafe is open from early in the morning for breakfast till late at night for coffee and drinks. Don't miss the opportunity to taste the pastries, the waiter will fill you in on which one to choose.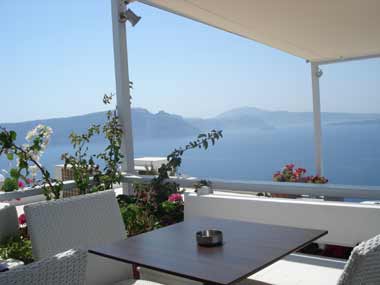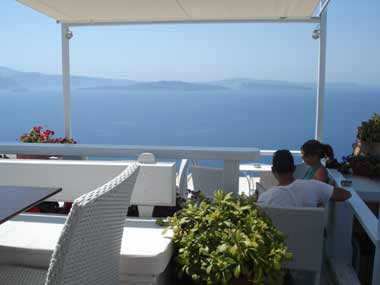 Perivolos
Jo Jo
Ok guys, I will start with Jo Jo since this is the place which organizes the best events. The last time I was there Dj Portia Surreal was invited from New York to play some music. For those of you who don't know her I have to inform you that she is a rather famous dj that plays music topless so it is only logical to expect crowds of young males waiting for her on the premises while drinking and dancing. I waited along to see with my own eyes the topless Portia although I had already heard about her from parties organized in Athens. And around three o'clock in the afternoon she makes an entrance. and yes she is topless! She just wears some underwear underneath and that's it. The crowd yells at her and tries to touch her (what a surprise!) and then she starts dancing with them and the boys get even more excited than they already were. The party is a hit for sure!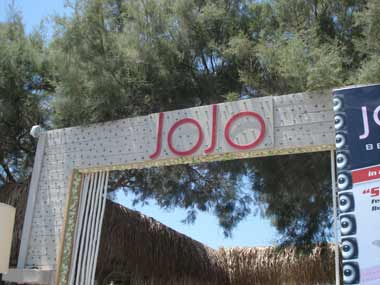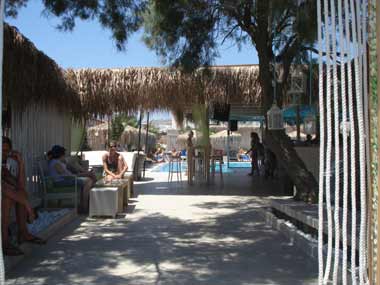 Generally Jo Jo is a great place with a nice decoration in a friendly environment so if you like loud music and crowds this is definitely your place. The events organized are usually a success so don't think about it twice. Just go an have fun!
The beach bar owners offer the most amazing sun beds (that really look like beds with thin mattresses and tents on top) and grass umbrellas at the beach if you don't want to swim at the pool or if you are just fed up with dancing.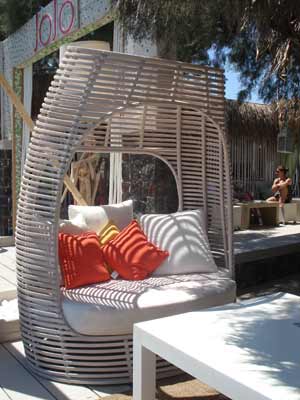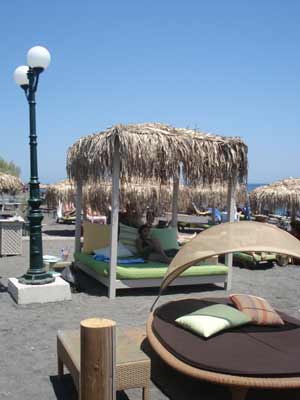 Taj Mahal
Now moving on to one of my favorite places, the Taj Mahal, I have already promised to talk to you about it when I mentioned the bar of the same chain situated in Fira. The reason that I like it so much is its decoration. Bright colors, an oriental ambience and the most amazing furniture.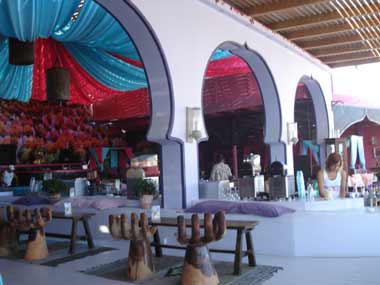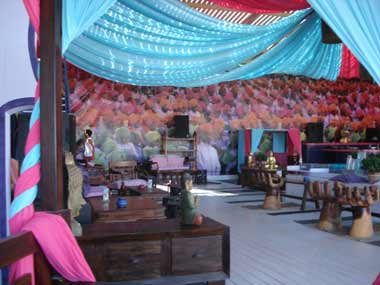 The bar serves drinks, coffee, snacks, sandwiches and the most delicious fresh salads. I ate a very nice green salad and my friend took the so-called summer salad which contained fresh tropical fruit, both served in gigantic stylish plates.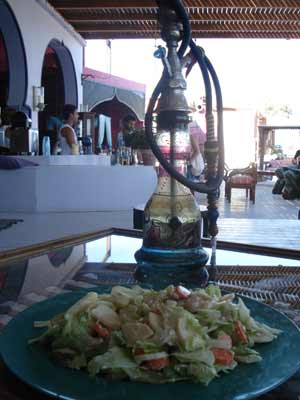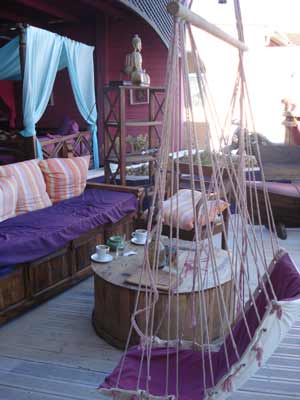 The music played was oriental at times, Greek contemporary music with a beat as well as all the current hits. The people were drinking shots and were dancing from noon although this bar wasn't as crowded as Jo Jo. It also had umbrellas and sun beds by the beach and a small store (or better yet a bench) where a cute brunette from Athens was selling jewellery such as bracelets and so on. A small tip for those who want to buy something from the store is to wait till Sunday because they give a 50% discount.
Sea Side Lounge
Sea Side is a very popular spot! This is also the place where you will find people older than 20. It is ideal for drinks, coffee or food. The cuisine is magnificent and the dishes are absolutely delicious and don't get me started on the desserts. So you can choose between a variety of main dishes such as turkey in peanut sauce, paella, Indonesian chicken fillet and small crayfish with basmati rice and crème brulee, panacotta, tiramisu, banofi and choco cake with ice cream or yoghurt with honey as a dessert. Are you drooling too?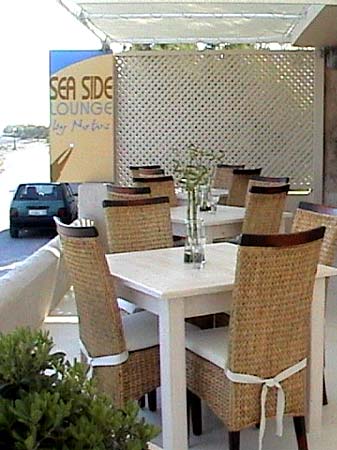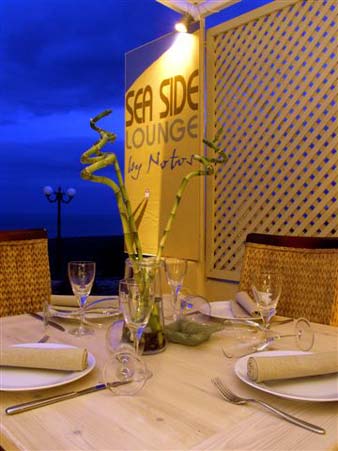 Many of the tourists organize their wedding receptions there so it is not uncommon to see women in their wedding dresses and guests in their best clothes although everybody else is wearing a bathing suit.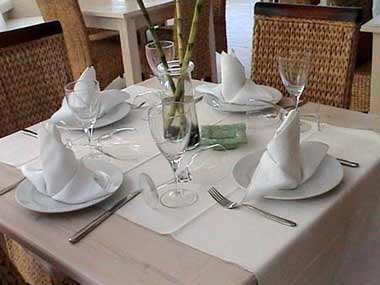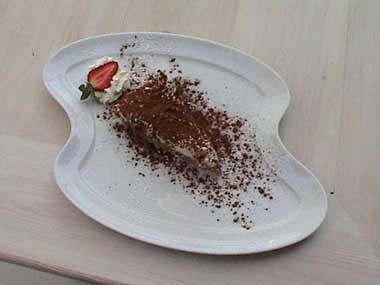 As you will notice there are many carpets spread on the beach (!!) on the sand which can be used by swimmers for sunbathing while they drink their refreshing cocktails or coffees. I felt like a true maharaja, If I only had a water pipe as well...
Wet Stories
Wet Stories is the last of the popular beach bars in Perivolos that I am going to talk to you about although you will find many more while you are there. The decoration is great and the furniture the most comfortable ever. Apart from the tables and chairs that all cafes have this one has a few beds at the front with soft mattresses and cushions to adjust your posture. This is the best place to lie down for hours sipping your drink and looking around. When you get bored wear your bathing suits and go for swimming and then come back again to move on with doing nothing except looking at the passers-by. Isn't that what vacations are all about?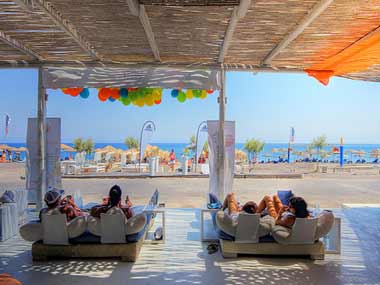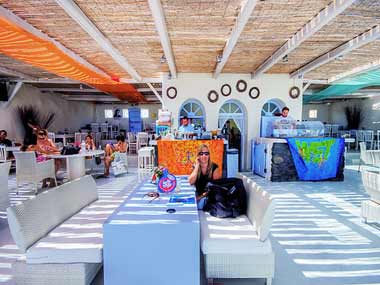 Perissa
The Magic Bus
The Magic Bus is a classy chill out type bar as a friend of mine appositely described it. Its decoration is interesting and I really liked its sign. During the happy hour, meaning from 18:00 to 22:00, the drinks are cheaper but they serve coffee and snacks during the whole day anyway. They play jazz and R & B music and generally it is a popular place preferred by both tourists and Greeks.