Alonissos Beaches
The first beach that I am going to talk to you about is Rousoum Gialos, the first beach after the central port of the island, Patitiri. It is small and crowded, with big pebbles and it is not organized but it has a snack bar, tavernas, a beach bar and rooms nearby.
Then Milia, is a natural bay with white pebbles, crystal clear waters and pine trees all around it. It is situated in one of the most characteristic locations of Alonissos, 4km away from Patitiri. Unfortunately there used to be a taverna right by the shore which is no longer open.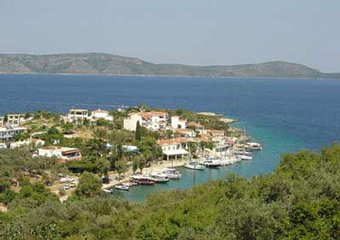 Moving on with my recommendations, Chrysi Milia Beach, Tzortzis and Leftos Gialos are consecutive beaches to the eastern part of the island right opposite the deserted island Peristera. These beaches are organized, with many rooms and hotels and these spots are considered as some of the most popular. Chrysi Milia has shallow waters and a golden sand, ideal for small children, while the other two have small pebbles and sand. You will find tavernas on both Chrysi Milia and Tzortzis beach.
The next one up is Kokkinokastro, my own favorite, a protected sandy beach at the roots of a rock. The waters are shallow, warm and transparent. A legend says that if you swim far enough you may be able to see the ruins of an old village under the water. This is one of the best beaches in alonissos so don't miss it. (kokkinokastro Beach)
Now Agios Dimitrios beach, is a long stretch of sand and white pebbles, quietly isolated especially on the north side. This spot is ideal for family vacations since there are a lot of newly built rooms. The area combines beauty and quietness. Watch out for the sea urchins though!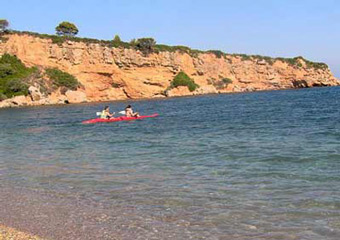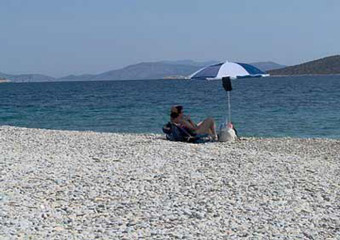 Moving on, Mourtias, Marpounta and Vithisma are also consecutive, small, sandy beaches surrounded by white carved rocks and the dense forest of the southern part of the island. Here you will find some of the best hotels in alonissos.
Then there's Gyalia, a small beach with dark sand towards the southeast. You will reach it following a 4km dirt-road from Chora. This is a very nice beach that you should avoid in case there are winds.
Tskalia, Ag. Anargiri and Megali Ammos are full of small pebbles and sand. These are some of the most impressive locations in alonissos since they are full of greenery. To reach them from Patitiri you will have to drive through difficult dirt-roads so it would be better to follow the trails leading to it that are quite beautiful.
Finally, I left Glyfa beach last because it's the one my friends loved the most, especially Leela. It's near Steni Vala and you can even find water-sport facilities. ( ag. Dimitrios Beach)
To offer some more selections, visit Agios Dimitrios, Kura-Panagia and Spartines, all beaches with crystal clear waters. Note that in Spartines you can also go by boat.