Rethymno Traditional Villages

Having stayed at Rethymno town for almost 3 years, I've visited with friends couple of times the villages surrounding the Rethymno town. As I am more familiar with Rethymno as with any other Prefecture, I'd like to expose extensively here my views on its villages and towns - an maybe one of you readers, will some day pay them a visit!
Anogia
If you find yourself in Rethymo Prefecture DO NOT FORGET VISITING ANOGIA!! Having not visited a village like Anogia, is like having not visited the Crete island. Around 55km on the southeastern of Rethymno town, lies this village, which is one of the most famous of Crete. bI've been again and again there, with my parents, my friends by myself and later on with my family.and I have savoured the delicious local cuisine of Anogia at the very best tavern, Aetos, which is at the beautiful central square Meidani.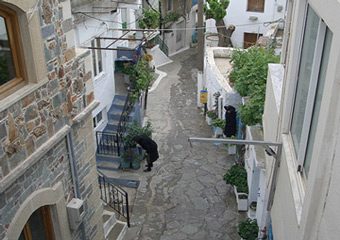 Let's forget for a moment my tales.
Anogia is a word deriving from the Greek " ano + gaia" (meaning up + land). The name can be justified by the location of the village; Anogia is built at Psiloritis Mount - the famous Cretan highest mountain - at an altitude of 700-800m. The access to the village is not that easy, as the road has lot of turns, but this should not discourage those searching the real Crete!
The reason for visiting Anogia is not its natural beauty and the architecture. Neither is it one of the recognized traditional settlements nor can it provoke to the visitor the feeling of a traditional village. The houses at Anogia were reconstructed fully after the Second World War.
And since we mentioned the Second World War, I need to mention here the horrifying story of the village at that time:
In 1944 the Nazi troops, that have occupied the island after the famous Battle of Crete, have taken revenge for the kidnap of a Nazi general by commanding the demolition of Anogia and the execution of all males.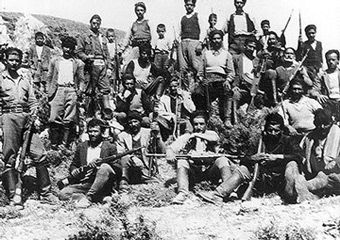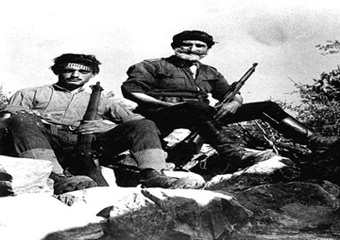 So, getting back to the reason why one should visit the Anogia village of Crete.
Due to the Cretan tradition that is vivid and can be seen at every corner of the village. Cretans generally are very connected to their island and village and show great respect to their roots by following their old traditions. Even today that vivid relation with tradition can be seen at Anogia.
Almost all men, young and old, wear black shirts, the women are still create with great virtuosity woven items, Cretan mantinades ( see below) are heard everywhere as well as the Cretan lyra.
Oh, and the special dialect should be mentioned; in Crete, much more than anywhere else in Greece, the local dialect is preserved and still spoken by the majority. There are various dialects of Greek all over the island, and Anogia village has also its own. The dialect of Anogia ( which I barely understand) contains many ancient Greek words and the 2500 inhabitants of Anogia feel proud for keeping this dialect alive.
Since we mentioned ancient Greece, the local cuisine of Anogia, which I have a couple of times enjoyed at taverna of Manolis Papastrakis Aetos, is believed to have many things in common with that of Ancient Greece - I do not know if that's true, but I know that the roasted beef they prepare and their pasta taste uniquely.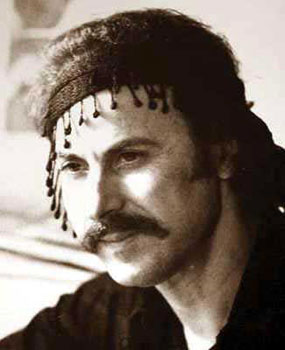 As mentioned above many men - with their traditional black clothing - improvise small and smart fifteeners lines, which are called mantinades. This is not a custom of Anogia, but of the whole Crete. It is believed that this habit started 600 years ago and even today Cretans in their daily life express their happiness, love, anger, political beliefs with these small verses.
Many famous madinades-creators come from the village of Anogia. Additionally famous lyrists come from this village of Rethymno. Psaradonis and mostly his brother Nikos Xilouris were born and have lived at this little corner of Crete. I am almost 100% that the name Nikos Xilouris doesn't ring any bell to you. But if you spent your vacation in Crete, you will for sure pump intocds with traditional Cretan music played and sung by him, Nikos Xilouris, at a souvenir shop. He was the one that made famous Cretan music all over Greece back in the 60s and has sang also songs of Mikis Theodorakis. His house, at the main square of Anogia, is today a small museum.
Maybe all these information on Anogia will persuade you visit it, if you find yourself in Crete. In case you do so, do not be intimidated by the locals that may have a suspicious and wild look, as you will soon discover how friendly and hospitable they can be. Moreover accept any treats - it is a insult to reject them or pay for them - and in case the local women press you to buy some of their woven products, do not forget to bargain!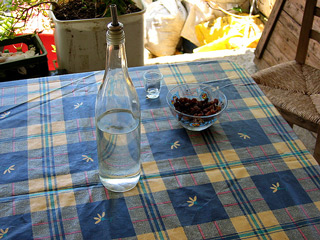 Going to Myloi can become a wonderful short excursion for everyone using Rethymno town as his base. The reason for visiting this traditional settlement is drinking raki in the middle of a wonderful gorge. In particular access to Myloi is easy.it lies just 7-8km from Rethymno town and you can easily go there by car. The village of Myloi, though, is not as nice as the Gorge of Myloi.I have several times gone there with friends - we used to leave our car in front of a sign of a scack bar and walk approx. 10m at a stone footpath up to a café and tavern, which are literally built in the forest of the gorge. My advice to those who want to go to that tavern at this earthy paradise gorge of Myloi, is not to drink a lot.as it might be hard to get back.
Another daily excursion for those having Rethymno as their base is to village Argiroupoli. The natural beauty of Argiroupoli is extraordinary ( the village, though, is nothing special). The springs of Argiroupoli with their small waterfalls and crystal clean running natural water is a unique scenery, that - thank God - the locals have preserved. The are is full with platan trees, which create a cool atmosphere .as a result there is no way you will be able to resist to the small taverns in the area. Stop by and enjoy a delicious meal.
And after Argiroupoli one can visit the famous though tiny village of Asi Gonia. I've been once to Asi Gonia, but it didn't really make me want to go back again. One could not refer to its residents as hospitable.Actually around Crete island the residents of Asi Gonia are renowned for being hardcore and loyal to the Cretan traditions. A visitor can understand that by the way they stare of the local, "always-dressed-in-black" men of the village.
It is said - though I have no more information on it- that the celebrations of the Saint George on the 23th of April at the village of Asi Gonia are amazing.as the locals bring even their sheep herds to the churche, so that they are also blessed. (sometimes the traditions are a bit nut - so are the Cretans, too!)
But lets move on to another village of Rethymno, which is more hospitable, friendly and easy to reach.
A small traditional settlement with the funny name Maroulas, can be found 10km from Rethymno city. The settlement dates back to the 13th century and therefore is under protection. The ruins of the old Ventian mansions are scattered around Maroulas village. Another reason that makes this small village a famous - and worth visiting - one is its spring. The natural spring found in the nearby forest is believed to have healing attributes.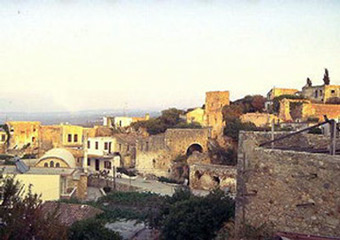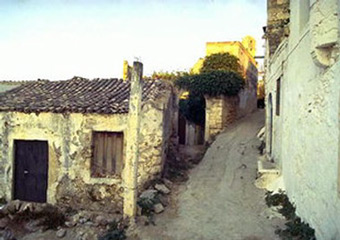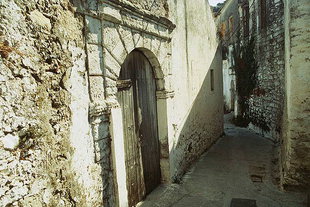 At the eastern of Rethymno lies Maragites village. As you can understand the name means Margarets...but surprisingly does not derive from the flower.
It is believed that the village's name is related to the Bynzantine word "magarikon", as it was years ago referred to as Magarites. And why is this story of the strange name of a tiny village of Rethymno are so interesting to narrate?
Well the Byzantines referred to objects constructed out of clay (plates, vases, glasses) as "magarika". Years after the creators of clay items were referred to as Magarites...and interestingly today this is a surname. Moreover still nowadays there residents of village Margarites have a tradition in constructing items out of clay.
The rest about this village are up to the one's interested to discover.!
And the truth is that I can go on narrating stories about the villages of Rethymno Prefecture. But I'll maybe do it at another section.
Last few recommendations are the numberous traditional villages of Rethymno Prefecture, which are under the states protection:
Episkopi ( next to the famous sandy Episkopi beach), Kastellos, Krasounas, Mourtzana, Patima, Stavromenos and Filaki. Actually I've never been to Filaki and Krasounas and I cannot recall a lot from my visit to Patima; after my next visit to Crete I intend to have more information to post here.