Traditional Easter soup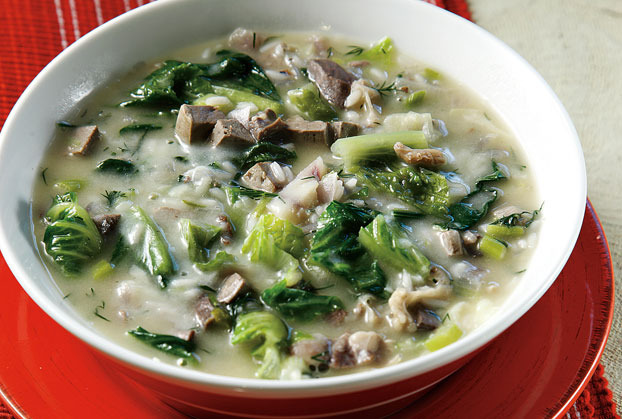 Ingredients:
1 pluck
intestines
1 cup oil
2 chopped lettuce
10 spring onions, finely chopped
1 onion, chopped
1 cup rice
3 eggs
2 lemons
Dill (optional)
METHOD:
Wash well the pluck and guts. The intestines have washed very well and turned upside down with a straw. Add to pluck and gut in boiling water and Scald. Just cook the chop into very small pieces.
Put in a pot to burn oil
Add the onions, and fresh and dry fry the pieces of pluck and guts.
Add lettuce and dill.
Season to taste
Add 4 cups water
Reduce heat and let simmer
Once boiling add the rice
Once everything is ready turn off the heat, beat the egg whites to a soft meringue and the yolks separately.
We squeeze lemons, add yolks and beat the meringue
Add a little bit of lemon juice
Add a little more broth from the soup beating rapidly and constantly
When you have enough to throw around with the pot
Gently shake the pan to go in lemon sauce everywhere.