Rice spinach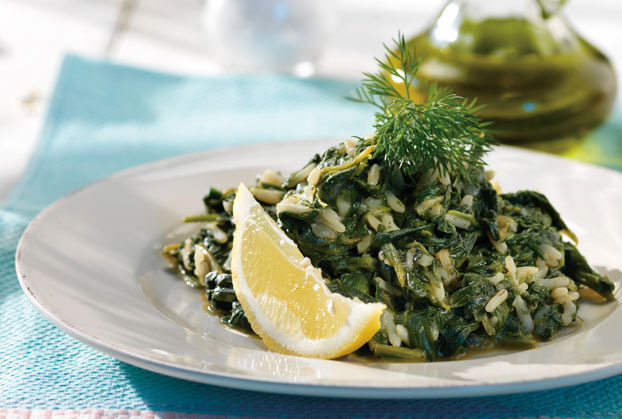 INGREDIENTS:
1 kg spinach, washed and dried
1 tea cup of extra virgin oil
1 dried onion, finely cut
a bunch of spring onions, finely cut
1 leek, finely sliced
1 tomato, finely sliced
3/4 tea cup of rice
a bunch of dill, finely chopped
juice of 1 lemon
salt
freshly ground pepper
METHOD:
Chop the spinach coarsely. In a shallow, wide casserole-type pan warm the olive oil. Add the spring onions, dried onion and leek and stir fry them gently for 3-4 minutes, until they get translucent. Add the spinach, the finely chopped tomato and the rice. Give everything a good toss and leave them to wilt. Then pour over 1 glass of water, season with salt and pepper and simmer for 20 minutes. Finally sprinkle with the dill and add a good squeeze of lemon juice. Give everything another good toss and serve.