Octopus stew with onions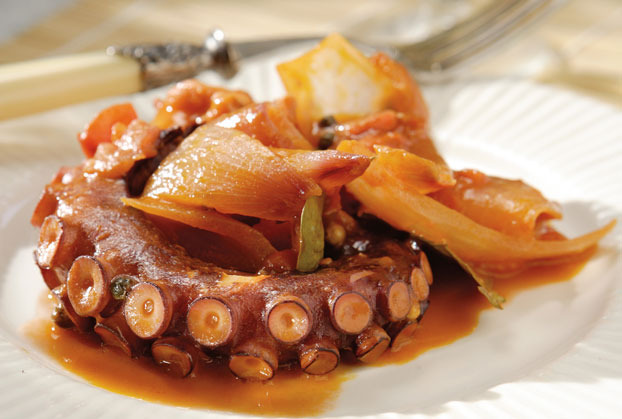 INGREDIENTS:
1/3 tea cup of extra virgin olive oil
1 X 1500g octopus, cut in bite-sized pieces
6 medium onions, scored with a cross
1 dried onion, finely chopped
1 clove of garlic
2 tomatoes, scored with a cross
2 bay leaves
a piece of orange zest
5-6 allspice berries
1/4 tea cup of vinegar
1/2 tea cup of dry white wine
freshly ground pepper
METHOD:
In a casserole-type pan warm the olive oil and wilt all the onions for 10 minutes over very low heat.
Add the garlic, octopus pieces, tomatoes, bay leaves, allspice berries and orange zest. Pour over the vinegar and wine and simmer for 1 hour, uncovered.
Towards the end of cooking time add the pepper and remove it from the heat The sauce should be completely thick.Serve with French fries.