Loukoumades - Honey Puffs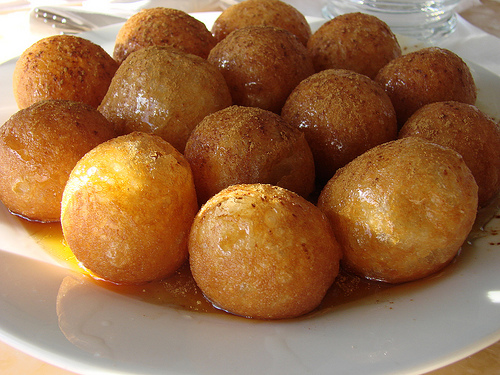 INGREDIENTS:
1/2 kilo flour
2 teaspoons yeast
1 teaspoon salt
1 teaspoon ground cinnamon
oil for frying
SYRUP:
2 teacups honey
1 teacup sugar
stick of cinnamon
2 teacups water
METHOD:
1. Dissolve the yeast in lukewarm water.
2. Put the flour and the salt in a bowl and gradually add the dissolved yeast mixing by hand.
3. Gradually add some lukewarm water until you have a paste that is neither too fluid nor too thick.
4. Cover the bowl with a towel and let it stand in warm water for about an hour.
5. When the batter doubles in size and forms "bubbles", heat plenty of oil in a pot, until it is scalding hot.
6. Drop teaspoonfuls of the batter into the hot oil and allow the loukoumades to turn golden brown.
7. Remove the loukoumades (honey puffs) from the oil with a slotted spoon and place them onto a plate.
8. In the meantime prepare the syrup : in a pot boil the honey, the sugar , the water and the cinnamon stick for about 10 minutes.
9. Pour the syrup over the loukoumades and sprinkle with cinnamon.
10. Serve hot!