Peinirli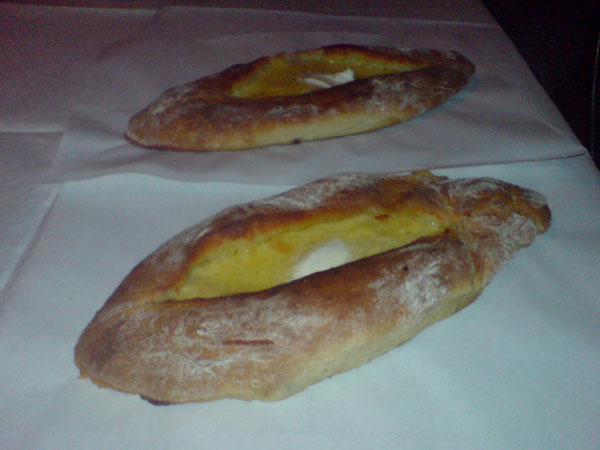 INGREDIENTS:
1 envelope active dry yeast
1 1/4 cups warm water
4-5 cups bread flour
salt
cornmeal
1/2 pound kasseri cheese
2-3 tablespoons milk
6 eggs (optional)
1 large, firm, ripe tomato thinly sliced (optional)
butter, as desired
METHOD:
Dissolve the yeast in 1 1/2 cups of warm water and let it bubble up for about 20 minutes.
Sift 4 cups of flour and the salt together. Make a well in the center and add the yeast mixture. Combine with a fork until a dough mass forms. Sprinkle a worksurface with some of the remaining flour and knead, incorporating m ore flour as needed, until a smooth, soft dough forms. Cover and let rise in a warm, draft-free place until doubled in bulk.
Punch down the dough and divide into 6 equal pieces. Cover and let rise again until doubled.
Preheat the oven to 200 degrees Celsius (400 F) and lightly dust a baking sheet with cornmeal. Grate the kasseri and mix in the milk.
Take one ball at a time, flatten it into an oval and then shape into a thick "canoe", pinching it together to form points at both ends. Add one-sixth of the kasseri mixture. Add a slice or two of tomatoes and break an egg carefully into the center of desired. (You can also just fill it with nothing but the cheese mixture.) Repeat with remaining ingredients. Bake for about 15-20 minutes. Remove and immediately dot with butter. Serve hot.