Kourabiedes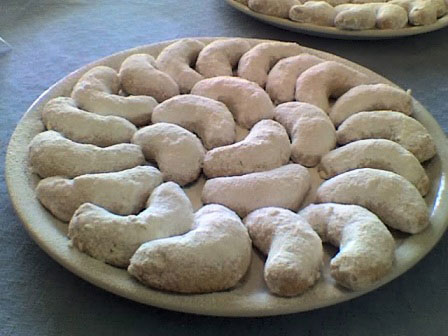 INGREDIENTS:
2 kilos soft flour
1 kilo butter
300 grams powdered sugar
300 grams crushed roasted almonds
1 small glass koniak
1 teaspoon baking soda
Rosewater
METHOD:
Preheat oven to medium (175c).
Whiten the butter by beating by hand for ½ hour. Add the sugar, cognac, almonds and finally the flour, mixed with the baking soda. Continue to beat until all ingredients are well mixed.
Mold into the familiar shapes of the kourambiethes and place on a cookie sheet. Bake for 20 minutes until golden. Remove from oven and immediately sprinkle with rosewater, then roll in the powder sugar.