Baklava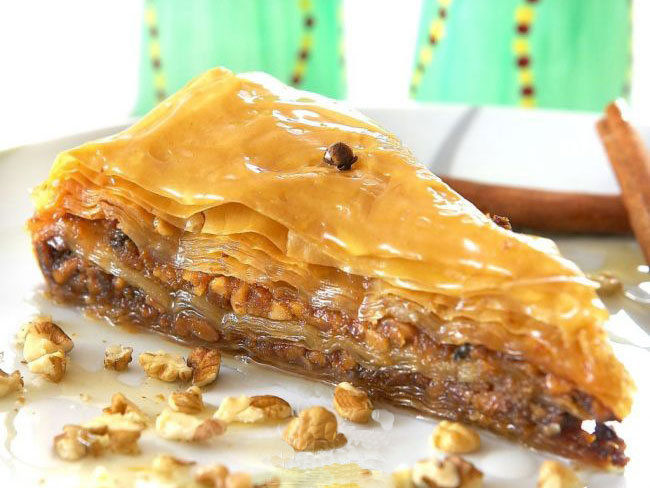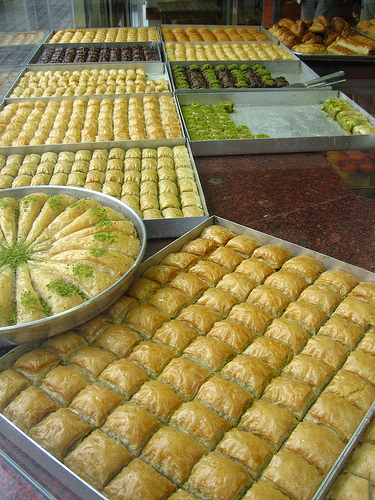 Ingredients:
75grams almonds fine chopped
375grams walnuts fine chopped
500grams filo dough
1/2 cup breadcrumbs
1/2 cup sugar
1/2 teaspoon cinnamon
1/2 cup of melted butter
1/2 cup canola oil
Grated rind of two lemons
For the syrup:
2 cups sugar
1 cup honey
2 cups of water
1 tablespoon rosewater, or vanilla essence
Juice and grated rind of one lemon
Preparation method: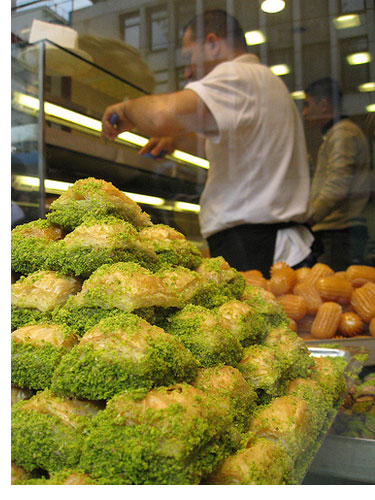 Mix almonds, walnuts, bread crumbs cinnamon and sugar. Melt butter and mix with canola oil for brushing the filo sheets.
For the first layer lay 4 sheets of filo in a 25x36cm baking pan and brush them one by one with butter-oil. After sprinkle with walnuts-almond-breadcrumb and sugar mix
Then every layer two sheets of filo butter and spread walnuts-almond mix.
Follow the same until all the mix is used. Fold in the sides of filo each time you create a new layer.
Place the last 4 sheets of filo on top brush each one with butter-oil. Brush again the last filo with melted butter mixed with tablespoon of warm water.
Cut baklava to 24 triangle pieces. Bake 150c or 300f for about one hour and half.
Syrup:
Boil the water sugar, and the lemon juice for about 8' minutes. Then add the honey and continue boil for two more minutes. Remove from the heat and add rosewater or vanilla.
Pour the syrup on the cold baklava and let it absorb the syrup and for at least 4-5 hours before served.
Tip: Do not refrigerate, keep it in a cool place in its syrup covered. Last up to 10 days.
Pour hot syrup on cold baklava