The Roman Agora in Athens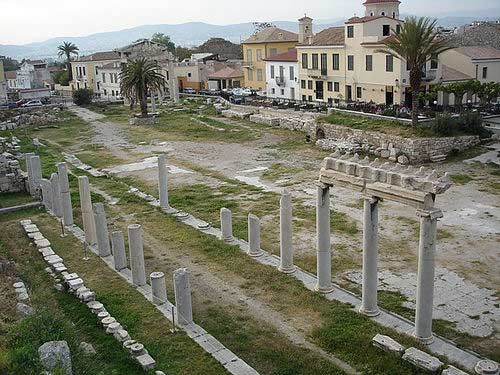 The Roman Agora is the natural extension of the ancient Greek Agora. It has been formed during the second half of the first century BC with donations of Jules Caesar and Augustus.
The building of the Agora (111 X 98 m) had a large rectangular atrium surrounded by archways, shops and storage rooms. Its preserved Ionic peristyle dates back to the 2nd century AC. Better preserved are the colonnades of the south and eastern side along with the western entrance of Athena's Gate. A second, Ionic, propylon and a series of shops defined the eastern side while on the north the ruins of the ancient, public restrooms (1st century BC) are obvious.
The Roman Agora became even more important after the horrendous destruction of Athens by the Erouli (267 AC) and as a result many activities were transferred to it.